From heartbreak to joy or just plain awe, iconic sports photographs can bring any fan back to the historic moment where they viscerally felt that emotion.
Sports photographers have captured moments that we still look back on with admiration. These transcendent images capture much more than just what lies on the surface.
These are some of the most iconic sports photographs in recent years:
---
Jake Paul knocks out Nate Robinson via Joe Scarcini
Few people expected Jake Paul to beat Nate Robinson in a boxing match, much less knock him out. Paul shocked the world when he laid out Robinson in the middle of the ring.
We all can remember the moment and that feeling of disbelief. Truly, this will go down as one of the most iconic sports photographs of the '20s.
---
U.S. Women's National Soccer Team wins World Cup via Anne-Marie Sorvin
Megan Rapinoe, Alex Morgan, and Carli Lloyd are some of the most recognizable names in the sport of soccer. They cemented their legacies when they won the World Cup in 2019.
And Anne-Marie Sorvin's iconic photograph of their historic sports accomplishment cements them further.
---
LeBron James Blocks Andre Igoudala via Joe Murphy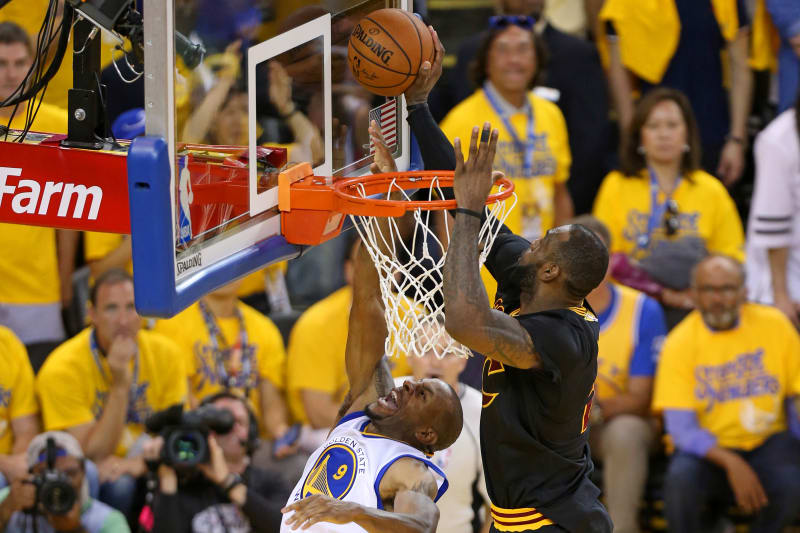 The 2016 NBA Finals gave us so many moments to look back on, but none more amazing than LeBron's chasedown block on Andre Igoudala.
LeBron and the Cavs were eventually able to bring Cleveland the team's first-ever NBA championship, in large part due to the play, the iconic sports photograph is now known as "The Block."
---
Usain Bolt 2016 Rio Olympics via Cameron Spencer
Usain Bolt is one of the most accomplished athletes ever. Whenever Bolt was set to race, the only question that remained was who was going to come in second.
This is evident in this wild photograph that captures Bolt smiling back at the camera as he wins a race at the 2016 Olympics. Given that if you asked most people what photo they know of Usain Bolt and they would say this, this picture is one of the most iconic sports photographs of this early century.
---
LeBron James and Dwayne Wade alley-oop via Morry Gash
This iconic sports photo encapsulates just how special this iconic duo was in their primes. The Wade and James connection was special, and this photograph shows that they did it with grace, power and flare.
The sports photographer spoke on the iconic picture to the Milwaukee Journal Sentinel:
"This particular one has a life of its own… Dwyane Wade's agent wanted a copy of the picture to get it signed for LeBron, and now they're all getting copies of it."
"I've never had a picture signed for me in my career, but they're both going to sign it for me."

– Morry Gash, Photographer
---
Colin Kaepernick takes a knee via Michael Zagaris
When Colin Kaepernick decided to kneel for the National Anthem, he helped bring attention to a movement that is still underway in America today. Kaepernick sacrificed his career when he kneeled, and that action has had an immeasurable effect on the country.
Kaep himself is an icon, and thus this picture is one of the most iconic sports photographs ever taken.
---
Floyd Mayweather Jr. Fights Conor McGregor via Christian Peterson
MMA and Boxing collided when Floyd Mayweather Jr. and Connor McGregor decided to box one another. It was one of the most anticipated fights ever, and also one of the biggest pay-per-view events in recent memory.
---
Michael Jordan "The Shot" via Fernando Medina
Michael Jordan's shot to win his sixth NBA championship is one of the most iconic moments in NBA history. It also happened to be his last shot ever with the Chicago Bulls.
Even if you were too young to watch it live, you can still picture Jordan raising up at the free throw line, drilling the shot and holding up his follow-through.
---
Zion breaks shoe via Streeter Lecka
Zion Williamson was one of the most hyped college athletes ever. His ability to jump out the gym captured everyone's attention, but no one ever expected Williamson to literally explode out of his shoes.
The iconic sports photo of his shoe breaking in half in the middle of a game is something we won't soon forget.
---
NBA social justice protests in the Bubble via Kevin Cox
When the NBA returned to play in the Bubble, one of their biggest concerns was to make sure they brought attention to the social justice movement going on in America.
They did just that when they boycotted playoff games and kneeled for the National Anthem. The iconic sports photograph of NBA athletes wearing Black Lives Matter shirts while kneeling is something that will stick with us for a long time.
---
Sports photographers capture some of the most iconic sports moments and photographs of all time.
Not only do these pictures give us images teeming with intrigue, but they also give us historic sports moments that take on so much more than what appears on sight.
Where were you when Jake Paul knocked out Nate Robinson and stood over him? What were you doing when you saw the U.S. women's national soccer team win the last World Cup? What part did you play in calling for social justice when the NBA players in the bubble were doing the same thing?
See there is so much more to these iconic sports photographs than what initially meets the eye. To be iconic, something needs to not only be prestigious, but also take on more meaning than its strict design.
These iconic sports photographs do that in abundance, and because of these immensely talented sports photographers, we will always remember the moments they captured.