From Diddy calling it a modern day masterpiece to the countless glowing reviews, it's safe the say that Pusha T's Daytona is already one of the best rap efforts of the year.
The seven-track long album is Pusha's third solo effort under the G.O.O.D. label, of which he is President, and was fully produced by Kanye.
Pusha T brings lyricism to a forefront on this project and Kanye, still showing he has it,  throws him perfect pitches every time. As he described in several interviews during his press run, the album's title was named after Pusha's favorite watch, the Rolex Daytona. It represents the luxury of time. In an interview, Push said,
"I feel like me and Ye are letting the world see that this album is us having the luxury of time to create it. A lot of people don't have that luxury, a lot of people gotta keep throwing out trash, whatever the case may be. We really crafted this."
With that time Pusha and Kanye managed to do something special. Here are ten of the hottest bars from Daytona.
1. "Games We Play"
This ain't for the conscious, this is for the mud-made monsters
Who grew up on legends from outer Yonkers
2. "Hard Piano"
Never trust a bitch who finds love in a camera
She will fuck you, then turn around and fuck a janitor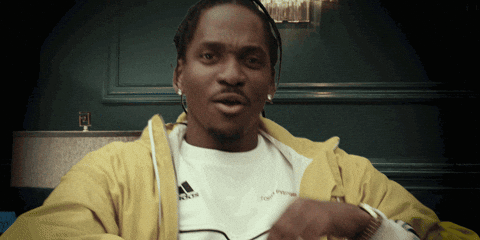 3. "Santeria"
We don't do vegetables, niggas get flatlined
Welcome all beef, then we heat 'em with flat irons
4. "What Would Meek Do"
Angel on my shoulder, "What should we do?" (we do)
Devil on the other, "What would Meek do?"
Pop a wheelie, tell the judge to Akinyele
https://giphy.com/gifs/hot-97-Es8wZxRF1Cqxq
5. "Infrared"
The lyric pennin' equal the Trumps winnin'
The bigger question is how the Russians did it
It was written like Nas, but it came from Quentin
6. "The Games We Play"
This is for my bodybuilding clients moving weight
Just add water, stir it like a shake
7. "If You Know You Know"
You don't take these type of risks, boy
'Cause this boy been throwin' that D like Rich Boy
8. "Come Back Baby"
All my dopeboys, we like kinfolk
BMore burnt spoon, DC glass pipe
VA sent bales, 'bout that trap life
9. "Infrared"
Salute Ross 'cause the message was pure
He see what I see when you see Wayne on tour
10. "Infrared"
So I don't tap dance for the crackers and sing Mammy
'Cause I'm posed to juggle these flows and nose candy