"CHA-CHING!" should've chimed every time someone walked through the front doors at Alec Monopoly's "CA$H CA$H BANG BANG" celebration at the Eden Fine Art Gallery in SoHo.
Outside the gallery was a red carpet rolled over a sidewalk to protect Alec's Balenciaga sneakers, his motorcade of Ferraris and Lamborghinis decorated the intersection of Broom St and Mercer, and the gallery's windows were lined with scattered balloon letters spelling happy birthday.
It's easy to understand why the atmosphere felt almost heaven-like. Alec was in a room full of his creations and amongst people that put a price on what he made with his hands. Eden's four-level gallery was separated by glass staircases – each having their own bar, curated sounds by DJs Alexandra Richards and Alix Brown, and unique artworks at the event.
This was all while a gorgeous waitstaff served pink grapefruit Bellini champagne cocktails and food trucks made cheese covered french fries in miniature Monopoly-inspired top hats.
Guests on the bottom floor were entertained by a virtual graffiti board as they weaved through two sperate rooms trying to get a grip on what to do next.
The main floor was filled with gold and black balloons which were blown up in celebration of two birthdays Alec's 32nd and his new gallery-artist partnership with Eden Fine Art.
On the third level, people waited for the B-day boy as they stood in a room that had an illustrious graffiti-covered cake topped with a Monopoly man and handheld cash counters loaded with Alec Monopoly money.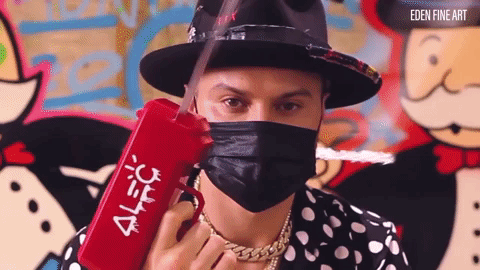 The top floor is where I met Alec, as gold chains encrusted with diamonds swayed around his neck, keeping Alec's body balanced with his aristocratic aura.
Kulture Hub caught up with the graffiti artist to see what he had to say about how far along his artwork has come, the Eden Fine Art Gallery partnership, his Robert De Niro inspired art installation, and what has kept him hustling.
Imagine selling your first piece of art at 12-years-old for $500 to having your works priced at $250,000 20 years later. This is a destiny Alec dreamt daily.  Every birthday he would blow out his candles wishing for one thing — to become a famous artist.
From day one, he believed in himself. Alec explained,
"I've known ever since I was a little kid. Every birthday I would blow out the candles and wish that I  would be an artist, a famous artist. Now I'm living my dream…"
In a way, Alec has painted his reality. His depictions like that of the Monopoly Man playing "Goyard Golf" with Richie Rich is definitely a representation of a fantasy he's always wanted to live in. Alec spoke of painting his reality into existence. He said,
"I'm living my dream and I'm creating a fantasy world with my artwork that I live in as well."
Even though Alec has developed himself into a world-renowned street artist painting his depiction of American socio-politics on many foreign urban spaces, he hasn't forgotten his NYC graffiti roots.
That's why he felt "very grateful" and had to "bring it back home" to one of the best art galleries in NYC after a whole decade. He's so NY and his show which was inspired by Robert De Niro's films proved that an upbringing in the Big Apple is apart of your soul that is really hard to shake. Alec vocalized how he was inspired by the Taxi Driver actor and how important his NY roots are to his art. He said,
 For me, I'm just inspired by Di Niro. I think he is an NY icon and he's done a lot for this city. So, this is me honoring him as one of the best actors of all time…
Alec continued,
I'm blessed and I'm very grateful to be showing here [NYC]. Graffiti was born in NYC and to be a street artist that has developed since then, it's amazing. I'm very grateful.
With all of this success, my guy, Alec should retire soon right? No way! He is perfecting his craft every day.
He can't give up his addiction to seeing vibrant colors quickly escape an aluminum can cage onto a canvas. "Spray painting is instant gratification," said Alec. He won't ever let clout get to his head either. In regards to becoming a product of American greed, Alec thinks that staying humble, getting out there in the streets, and continuing to graffiti keeps him grounded.
This is definitely a path young artists should take — painting your fantasies into existence. But in order to paint the perfect portrait, it takes practice, dedication, and self-confidence. Alec had a message for up and coming artists across the globe. He said,
"Just keep working… Working works. You have to be dedicated. You have to work every single day, all day at it. That's what I did!"
Pull up to Eden Fine Art Gallery and check out some of Alec and other talented artists' artworks. Who knows? Maybe the Monopoly Man swag surfing on a dollar sign might inspire you to go out there and get what you want. Stay inspired!