Armani White is a West Philly-based artist who's been taking the world by storm for quite some time now. Radiating in all-around positivity, White's music anonymously lends a smile to those who are going through a tough time.
Since he follows the common expression "every cloud has a silver lining," White delves into his own experiences to show others that he'll always thank his lucky stars. Likewise, the once enlisted TIDAL's rising artist carries a voice that is prone to move crowds.
Between tongue-twisted flows and enunciation, White maintains a high-energy and carefree spirit. In turn, he keeps listeners engaged and leaning over for more.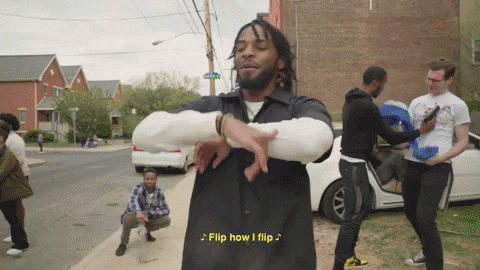 To Philadelphia Weekly, White said:
"As long as I'm preaching positivity in some form or [another] … producing something thought-provoking, then I could have various messages. [The songs] could portray for you to do something or for you to be something or for you to learn something or for you to take something away whenever you press play."
In other words, White possesses a lyrical prowess that can only be defined as a God-given talent.
In 2015, Armani White got his big break in the hip-hop scene. White was just a student at Delaware State and when his eventual manager contacted him off of "Stick Up," a song the rapper uploaded to Sound Cloud, things began looking up.
"Stick Up" did so well that it garnered traction and was featured by Pharrell and Scott Vener on OTHERtone. From there, White never looked back.
Instead of attending classes at Delaware State, he was opening for Big Sean and PARTYNEXTDOOR at his alma mater. Eventually, White was invited to open for BIG K.R.I.T. on tour. But things took a turn for the worst.
White had an on-and-off relationship with his father since childhood and hadn't seen him in at least five months, but on March 15, 2016, he decided to visit him in hopes of making things right.
Once he drove to his father's house to squash the beef, White noticed that his father looked different. His father had been diagnosed with prostate cancer and had started chemotherapy since the last time White had seen him.
View this post on Instagram
Afterward, White sped off without his father seeing him, pushed his feelings to the side and went to perform his show at The Foundry at Fillmore in Philadelphia, as planned. Although he took a short-lived hiatus, White came back with a bang.
His new debut album's name, Keep In Touch plays as an ode towards this phenomenal figure.
Like his previous work, Keep In Touch shows the wit he upholds. As a whole, White's project takes the bad with the good and celebrates his ongoing growth. Granted that White isn't afraid to admit his faults, he creates a common ground between himself and those who listen.
In terms of the sound, Keep In Touch is an amalgamation of soul, jazz, and hip-hop. Rather than carrying a melancholic tone, Keep In Touch opts for one more upbeat. By nature, White's chipper energy is infectious and by the time Keep In Touch is over, you'll find yourself in a great mood.
The first track "Onederful," celebrates all that life has to offer. Since the age of time. White has overcome every hurdle thrown his way and "Onederful" highlights some of those specific moments. The song's backstory stems from a time when White had a creative block.
And ultimately it was his niece who helped him break out of it. According to Billboard, his niece came in to have her uncle fix her toy, as five-year-olds do, then she started singing, "This my type of day, my type of day, my type of day-ay-ay!"
And just like that, the catchy hook for "Onederful" was born. He says that the song came together like a perfect accident.
Next, White spent months fine-tuning it to perfection. In an interview with REVOLT, White recalled a time when he lost access to the studio. " We even lost access to the studio we were using in the middle of the process of making the song and had to sneak in late at night to record the choirs and drums." He added,
"Every time I listen to it now, it revitalizes that energy of rebirth for me as an artist and a lifts my soul and smile."
To put it further, "Onederful" is a feel-good track, full of instrumentation that triumphs at White's triumphs. It really plays on the idea of being a ray of sunshine on a cloudy day.
Notable lyrics:
"24/7 ain't come from a day job, But fuck it we lucky to wake up." and "I ain't socials on them networks! Till my social is my net worth!" shows how grateful White is.
The soundscape is draped with vigorous trumpets, which seems to be a laser progression and a booming bassline. From the very start, White has fun with his cadence. Dragging his words in a playful demeanor, White proves that life's too short to not enjoy it.
Amid blaring trumpets, admiration from others, soulful croons, and a booming 808, "2maro" goes on to say that White did the damn thing!
Surprisingly enough, White even gets some leeway. With every break in the beat, he makes sure to spit vigorously, let the drums roll and in turn, the "Flip" rapper leaves fans tongue-twisted between syllables and his enunciation. But, it wasn't always this way. Spending habits came with a price.
One that emptied his pockets and left him scrambling for more change. White's bridge in "2maro" emphasizes this point, "I need a job, I need a ride, said I need patience/My priorities to need straightening a bit/Still ain't handle my car note/Still ain't cancel my card though."
These lines go to say that at a certain time, White spent money on things he wanted rather than needed.
View this post on Instagram
"Miss3d Calls" starts with different monologues, some could even assume that they're historical. Then, this minute-long interlude transitions into a soulful vibe that meshes light vocal riffs with tranquil cymbals.
As "Miss3d Calls" continues, listeners can hear White's greeting for his voicemail box and the many messages that come in after the beep. Towards the end, a tape recorder can be heard and "Miss3d Calls" transitions smoothly into the next track.
To Complex, White unveiled that "Public School" was themed with the clash of a careless spirit and it's neglected responsibilities. And when I say this track executed his concept perfectly, I'm not bluffing. Not only does the soundscape bring out a line of bright xylophone riffs and booming bass.
But it also comes with a bouncy vibe and gets listeners in-tune with his pen game. Take, for instance, this line. It shows that White exceeds in hip-hop's true element.
"So many things on the table I need to relax — my niggas eating though/So many shooters in that booth be booming on tracks — Not when we linking though."
It displays a relatable side to others and the true colors of those who try to be something their not. "Public School" really plays on its title.
When you get an earful, you'll hear White's blunt, fun rhymes go from 0 to 100. Another notable piece of this track can be found at the 1:59 mark. Here, you'll hear deep, soulful hums.
In "Black Oak Park," White taps into his vocality and leaves listeners mesmerized from the very, first note. Surprisingly, White transitions from his rapping state to a soft, singing one and it's safe to say that he's complex by nature.
Through his mesmerizing delivery, White tells an enchanting love story based in the park between his mother and father's home growing up. For instance, his first verse elaborates on this concept,
"The sky looks closer with you on my shoulders/What was life before they clipped your wings/Head harder than my liquor when I fell for ya/But this time love there ain't no in-between."
Equally important, the beat itself makes this track sound like a dreamy, R&B ballad.
"Saywhaat//Long Car Ride" is a song that White often performs onstage during intimate moments with fans. Every so often, the West Philly brings out a soulful vocalist and in turn, crowds worldwide find themselves singing along. Instead of just hearing the words, you feel them.
And somehow, you take that warm, secure feeling home.
In a word, this is, for sure, a bright, feel-good, playful love song filled with jazz-inspired instrumentation, snaps, skit-skats and oscillating flows that come in strongly.
After the listen, you'll want to shoot your shot at the cutie nearby. "Long Car Ride" is a quarrel between two lovers, one of them is just not happy with how things are going. Then, it seeps into the next track.
"Fortnights" carries a beach vibe full of echoey crooning and an acoustic guitar progression. At 0:47, however "Fortnights" adds more into its soundscape — a bellowing bass, electric guitar roars and drums that just go off in the best way!
White reminisces on times like this, "we smoke bowls in the backyard/And I would tell you my pipe dreams."
View this post on Instagram
Regardless of what happens, White assures that he'll ride for those who did for him way back when. Amid the fame, he'll always stay true to himself and people.
An example can be read in "White's chorus for "Fortnights," "Call me when you make it in I know you good nigga/I might just pull up in a crown I'm still a hood nigga/And you ain't even gotta say I know what's good witcha."
As the track moves forward, you can hear soulful riffs, a subtle violin chord breaking from the white noise and scattered pattern of piano chords.
Lastly, "Thanksgiving" shows a reflective side of White. He spills over the track in a powerful, elaborate rap delivery and allows weight to fall off of his shoulders.
Over the light piano riffs, harmonic chants and 808, White gives listeners more insight on things he's been through. As he reminisces the stormy days, White sheds light on his gratefulness for being where he is now.
It's chorus even says, "Look around us, look around us, son you finally got something to be proud of." In means of showing that days might be numbered but it still counted.
Towards the end, "Thanksgiving" lets a violin cry out. Overall this track shows others that there is beauty in the struggle.
View this post on Instagram