Winter is here and sh*t is real: 'Game of Thrones' season 7 episode 1 recap
It's back and we still can't believe it. After a year absence since last season's finale of HBO's hit TV show Game of Thrones aired, fans have been desperately waiting for its return.
But now, the wait is over. GoT is back with episode one of season 7, titled "Dragonstone."
This season we will be treated to seven episodes, which means that the next seven Sundays, social media will be bombarded with nothing but GoT related posts.
But enough about these details. Let's go over what happened last night. Obviously spoilers are ahead.
A Cold Open Indeed
We begin the episode in the Riverlands. Even though Walder Frey (David Bradley) died in the season 6 finale, he still happens to be alive, which threw a lot of viewers off.
Frey has gathered his entire family in the dining hall. As they are toasting to their victories, he starts to scold them because they forgot to kill a certain Stark member. Everyone at the tables begins to choke on their wine and collapses.
Then, the twist that no one saw coming. Walder Frey removes his face and we find out that it was Arya Stark (Maisie Williams) posing as Walder.
She tells one of the surviving members to let people know that "the North remembers" and that "winter came for House Frey."
This scene was certainly chill-inducing.
---
Ed Sheeran
Later on in the episode, we are treated to a guest cameo by none other than Ed Sheeran.
Maisie Williams is a big fan of Sheeran so it only made sense that he would appear on the show.
He portrays one of the soldiers that is sent to the Twins where Walder used to rule on behalf of the Queen to keep the peace.
Arya talks to the soldiers and listens to how each one got to where they are. We almost get a sign of sympathy from Arya but when asked why she's going to King's Landing, she replies "I'm going to kill the Queen."
There is an awkward pause but both the soldiers and Arya play it off as a joke.
---
The Starks in the North
In the beginning, we get a glimpse of the army of the dead. They even have the wildling's giants.
Bran Stark (Isaac Hempstead Wright) sees the Whites in one of his visions. He, along with Meera Reed (Ellie Kendrick) have finally reached the Wall. We wonder how much longer it will take before Bran is reunited with his siblings.
Back in Winterfell, Jon Snow (Kit Harington), along with Sansa Stark (Sophie Turner) and most members of the North, are planning on how to defend themselves from the White Walkers and the army of the dead.
Jon thinks that the Wall is the main priority at the moment and that the other castles that are close to it should be properly armed and ready. He tells everyone that Dragonglass is the best weapon to use against the White Walkers and is willing to let children from the age of ten aid in the process of making more weapons.
However, there is a sense of tension between Sansa and Jon. They have different views on loyalty. Two houses that used to pledge loyalty to the Starks switched over to House Bolton and Jon is deciding who should keep their castles.
He believes that it is not the fault of the descendants for their parents' decisions and tries to reason with Sansa. However, Sansa believes that the members that helped the Starks gain back their home should be rewarded these fortresses.
Jon decides to go along with his plan. He's afraid that by questioning his decisions, Sansa is undermining his status as King in the North. Could this spell trouble for the Starks?
Another moment of tension occurs when a raven is sent from King's Landing to Winterfell. Queen Cersei Lannister (Lena Headey) is asking for Jon to come to King's Landing and declare his allegiance to the Queen or suffer the consequences.
Sansa believes that he should take this threat seriously, seeing how she's witnessed all of the cruel things Cersei has done to others, as well as Sansa herself. Sansa states that she has "learned a great deal from her."
However, Jon believes that his battle is in the North against the Night King. We also get a moment with Petyr Baelish (Aidan Gillen), aka Littlefinger, asking Sansa if she is happy and safe.
However, the interaction is cut short when Brienne (Gwendoline Christie) comes by. Littlefinger is a character that a lot of fans have come to hate because of his hidden intentions.
---
Queen Cersei
In King's Landing, Cersei speaks to Jamie (Nikolaj Coster-Waldau) about their brother, Tyrion Lannister (Peter Dinklage) and his new position as Hand of the Queen to Daenerys (Emilia Clarke).
She is still furious at Jamie for releasing Tyrion when he was being accused of killing King Joffrey in season 4. There's a lot of tension between Cersei and Jamie.
Their argument is almost the same as the Starks': they don't know if their attention should be focused on their enemies or the cruel Winter that is coming.
They are worried about their legacy and how they are the last of the Lannisters, especially after the suicide of their son, Tommen, which was never spoken about. Jamie was not there at the time that it happened so he wants to know the details.
Euron Greyjoy makes his way to King's Landing after being invited by the Queen. He proposes that they join forces, especially since he commands a great fleet of ships. He mentions his nephews and where their loyalties lie.
He wants to fight for Queen Cersei and even proposes marriage in order to solidify their alliance. However, the Queen refuses. Euron promises to get what Cersei wants and leaves with his army.
We are left to wonder if he will get his revenge on his nephews.
---
Maester in Progress
We finally get an in-depth look at the Citadel, which is where Samwell Tarly (John Bradley-West) is learning all he can in order to aid Jon Snow in his quest to defeat the White Walkers.
However, it is not exactly the way that Sam thought it would be. He basically does all the chores and house duties. He also keeps the library organized. But he's particularly interested in the barred restricted area of the library.
When Sam brings up the proposal for him to read books from the restricted area to Archmaester Marwyn (Jim Broadbent), the Archmaester declines and gives him a brief history on the times that there has always been danger but nothing catastrophic has happened.
However, times are different and it seems like this time things will not end the same way.
Samwell goes against the Archmaester's orders and decides to take books from the restricted area. With him is Gilly (Hannah Murray) and they try to discover the secrets behind Dragonglass.
There is a map that shows Dragonstone. It is the place where Aegon Targaryen resided after his conquest of the Seven Kingdoms. Samwell writes to Jon, letting him know about the Dragonglass at Dragonstone. This might be the reason why Jon will eventually meet Daenerys.
We get a brief moment between Samwell and Jorah Mormont (Iain Glen). However, it's not looking good for Jorah. It seems as though he has decided to stay away from the outside world. Greyscale seems to have taken most of his arm. He also asks if Daenerys has made her way, to which Sam replies no. We can only hope that he finds a cure soon.
---
The Brotherhood
The Brotherhood without Banners, along with Sandor Clegane (Rory McCann), aka The Hound, stop to rest at an empty hut.
They soon realize that the corpses of the original owners are still in the house. The Hound realizes that it is the bodies of two people he has met, and murdered, before.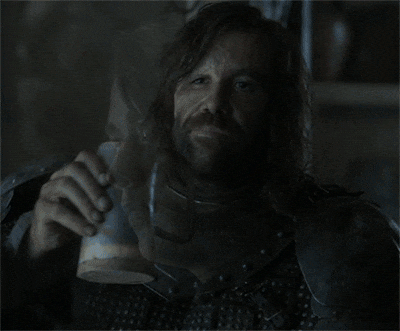 While questioning two of the Brotherhood members about the so-called Lord of Light, he is told to look at the flames of a fire. He does so and what he sees shocks him. The Hound sees the army of the dead making its way past the Wall.
At night, he tries to make amends to the deceased family by burying their bodies. It is one of the few times we see The Hound feeling something other than rage and fury.
---
5 Minutes of Silence
Finally, the last scene shows Daenerys and her legion of followers finally land on Dragonstone.
When she makes it to the shore of her homeland, she touches the soil, as if she is still in disbelief. What's remarkable about this scene is that no one speaks a word for the last five minutes of the show. Daenerys passes the gates and walks into the hall.
Before her arrival, it was the now-deceased Stannis Baratheon that occupied the island and castle. She sees his banners still hanging and decides to tear them down.
She takes a hard look at the throne. Finally, she makes her way to the room that Stannis used when planning out his attacks.
Along with her is Tyrion Lannister, who also says nothing. After taking everything in, she looks at the table and asks "Shall we begin?"
And then, the credits roll in. We hope to find out what strategy she has up her sleeve and also when her dragons are going to tear sh*t up.
The next episode will air July 23rd. Until then, let me replay this episode again and again.