The Transformation of Tyler, The Creator: From Bastard to Flower Boy
The yellows sing "Hello" and the burnt oranges invite you in with a hug.
Layering over the moody sky — whose color gradient drips from the honey oat heavens to the Mountains' indigo tips — are larger-than-life bees, accenting the sunflowers and conveniently covering the face of the scum fuck himself.
From the intricate detailing of the pin-dot sized Maclaren to whatever the hell Tyler is looking at, there is a stark difference in the cover art of Tyler, the Creator's Scum Fuck Flower Boy. But there is more than what meets the eye.
Tracking back to 2009, it seems as if Tyler has intentionally used his two year per release method to give himself time to grow.
The blood-red album cover and creepy class picture that his debut mixtape, Bastard, gave us a forever classic and how can we forget Goblin? The only thing darker than his pitch black eyes and title of the album is the upside down cross on his forehead.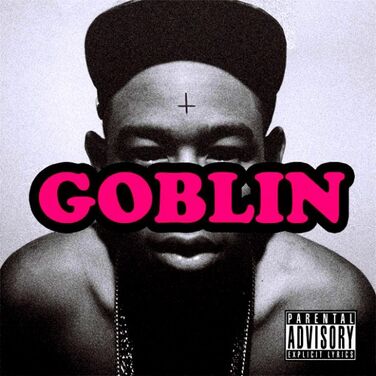 But then we saw a shift.
Right on time, two years following Goblin, Tyler released Wolf. Not only was it softer than the two previous album titles, for the first time, the album cover was visually palatable for ages under eight years old. Two years later and you have Cherry Bomb (arguably Tyler's most experimental project).
Again, not intimidating at all. You have soft blues and an animated head for what seems to be a healing Tyler.
From reds to blues and slightly less triggering title names, it wouldn't be farfetched by any stretch of the imagination to guess that the 19-year-old's life went through a metamorphosis almost a decade later, now leading to Flower Boy. 
Tyler the Creator in 2011 vs Tyler the Creator in 2017 pic.twitter.com/nsRCLpW9DQ

— evan. (@Circles) July 10, 2017
tyler the creator's fanbase In 2011 vs Tyler the creator's fanbase in 2017 pic.twitter.com/aSu1k4l6Vz

— ya homegirl leo (@garunzo) July 1, 2017
He said it best himself on the opening track of Bastard: "I'm not a fucking role model I'm a 19-year-old fucking emotional coaster with pipe dreams." And when you listened to his music you could tell he wasn't lying.
From his flippant use of the word f****t, to lyrics denouncing his father, it's almost as if Tyler was following an Eminem rap how-to with a lot of his earlier stuff. Take Yonkers, for example.
The video, which brought Tyler to the forefront of hip-hop's consciousness, besides dissing Bruno Mars, Haley Williams, B.o.B., and even Jesus Christ, features him hanging himself and eating a cockroach. 90 million views and a Kanye co-sign later, a star was born.
Between the Pharrell-inspired production, brash, diary-spilling lyrics and intentionally offensive bravado, the OFWGKTA sound was cemented in all Tyler knew and felt. I don't think shock value was his intention. Rather, the aggressive and hate-filled bars were his way of letting out the pain.
The California native, son of an American mother and absent Nigerian father, went through emotionally difficult times, like all of us, discovering who we are. Only, Tyler has the creativity to paint it with his words. No matter how deep the snarl.
"Love? I don't get none, that's why I'm so hostile to the kids that get some
My father called me to tell me he loved me
I'd have a better chance of getting Taylor Swift to fuck me"
Although still battling demons (the newest being the death of his Grandmother), Wolf really was the first time you could tell, through his music, that Tyler began accepting who he was. Tracks like "Answer", "Treehome95", "Lone" and "Slater", while still showcasing his patented high-energy sound and jaw-dropping lyrics, offered much softer tones and mellowed out cuts.
I mean, at this point Tyler was creeping on his mid-twenties and was also successful in establishing himself outside of music. His fashion brand Golf Wang, his music festival Camp Flog Gnaw Carnival, and his television show Loiter Squad just scratch the surface of Tyler's creative ambitions and he was actually living them out.
You get to Cherry Bomb and you can almost feel the liberation. It's the first time you hear Tyler use rock elements musically and you even catch him talking his shit. Joints like "Find Your Wings" and "2Seater" are almost like final products of the jazz/instrumental feel that he's been toying with since Bastard and displays a composing side that is far beyond any his peers. He even goes bar for bar with both Lil Wayne and Kanye West and references his dad once the entire album —  a personal best for him.
Leading up to Flower Boy, his fifth studio album, you get the sense that Tyler is in a different headspace. While the single "Who Dat Boy" is vintage Tyler, counter culture anti-trap, "Boredom", "911", and "Garden Boy" have an openness that purity that you only found in spurts in the past efforts.
When you listen to the album, it's as the cover implies: radiant, purposeful, and cohesive. It seems like all the therapy sessions that took place on the Bastard and Goblin paid off. Here Tyler is spilling his guts in a way that makes you want to sit down and hear it all.
Peep "Garden Shed":
"Truth is, since you, kid, I thought it was a phase
Thought it would be like the Frank 'poof, gone'
But it's still going on"
Is Tyler toying with the idea of his sexuality? Is this a confession? Artistically crafted, Tyler brilliantly shows that, among an being entrepreneur, provocateur, and actor, he is a musician first, showing songwriting skills and production touches that already put the project in the upper tier of work put out this year.
Now 26, Tyler isn't the same kid who eats cockroaches. He's becoming more confident in his vocals, he's becoming more comfortable wearing his loud colors — he's becoming more himself.
As tempting as it can be, we can't really deem this effort a classic or not. What we can do, though, is appreciate growth. The growth we as fans rarely allow artists to have.