Shoutout the Squad: Meet the creatives behind Princess Nokia's 'Balenciaga'
"Dress for myself, I don't dress for hype. I dress for myself, you dress for the likes"
Bars.
Don't let the title of Princess Nokia's latest drop fool you. Balenciaga is anything but a tribute to high-end fashion designers.
What might have started out as a friendly collab between producers Tony Seltzer and Adam Pallin turned into a music video that breaks down the essence of style; something that can't be bought.
The video is distinctly raw, artistic, queer influenced and most notably New York. So, who is the squad behind the making of such a unique departure from mainstream hip-hop music videos?
---
ROYALTY
---
Destiny Frasqueri AKA Princess Nokia
Princess Nokia's influence on the project is impossible to ignore as Creative Director of Balenciaga.
With Nokia's love for ballroom culture, "Balenciaga" serves as an ode to high school friends who vogued. The queer culture is vibrant and for much of the video front and center.
Actors behind Nokia's psychedelic movements remain stoic, posing boldly with the fiercest and most extravagant looks. The video takes place on Pell Street in the heart of China Town, New York.
It's obvious that Nokia's love for the city streets has not waned.
---
Paulette Agnes Ang
Paulette Anges Ang is a Director and Producer based in L.A. Well acquainted and versed in the imagery of high-end designer fashion, Ang helps create beautiful grunge and authentic look to the uniquely styled subjects in the video.
Ang has worked on fashion shows like the autumn/winter 2015 Tom Ford show, and Versace's Pre-Fall 2019 I Love NY project. Ang has also numerous music videos in her portfolio including Land of the Free by Joey Bada$$, Matrix by A.Chal and Housewives by Bas.
Ang also brings her experience with more Rock n' Roll elements to "Balenciaga" having previously worked on Rock music videos like 88 Palms' Bright Lights and Sweat by The All-American Rejects.
---
CINEMATOGRAPHY
Logan Triplett
Cinematographer
For cinematography on Balenciaga, you have NYC based Logan Triplett to thank. The talented creative shot the video flawlessly in one take, an insanely impressive feat.
He's also worked on music videos including Ozuna and Rosalía's "Yo x Ti, Tu x Mi" and narratives like Cosmic Likelihood. The style of soft grainy visuals is noticeable across his work.
This style gives the imagery an authentic almost nostalgic feel.
---
Elias Nousiopoulos
Colorist
Onset as a colorist is Elias Nousiopoulos. The NYC based colorist regularly works on SNL Digital Shorts and HBO's Random Acts of Flyness.
His work also includes Kali Uchis' Ridin Round music video and 88 Palms' Bright Lights. In Balenciaga, the color is still vibrant despite the soft grainy overlay.
https://www.youtube.com/watch?v=bUANL9WoB90
---
Blake Steigerwald
Steadicam
Toronto native Blake Steigerwald is an award-winning cinematographer and Camera Operator based in New York. As Steadicam operator for Balenciaga, Steigerwald help create the single-take shot of the music video.
Steigerwald also works with SNL regularly as well as HBO's Last Week Tonight with Jon Oliver. His projects also include Rap History, Quantum Chess and American Psycho.
---
Giacomo Favaron
Editor
Giacomo Favaron completed the editing for the music video. The creative has also worked on the Music Video for Aeroplane by Petite Meller as a production assistant.
The dizzying editing adds another layer of psychedelic to Balenciaga and we're here for it.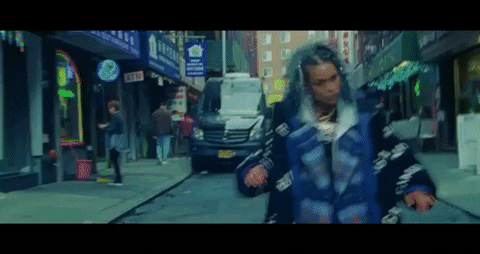 ---
The Mill New York
Editor
The Mill NY has worked with celebs like 2 Chainz, Ariana Grande, Zayn, Nikki Minaj and more. His work on 2 Chainz' Rule The World ft. Ariana Grande video was nominated for the 2019 VMAs.
---
CHOREOGRAPHY
Jean Carlos Pinae Escolastico "Robot MoonJuice"
Chief Choreographer
Jean Carlos Pinae Escolastico AKA "Robot MoonJuice", gave us the essential choreography of Balenciaga. Without his direction and work, there would not be the seamless transitions of movement within that one-take continuous shot.
Robot Moon Juice is an NYC queer rapper and performance artist. Born in the Dominican Republic, he moved to Harlem at the age of 12 and dreamed of being an actor.
In addition to planning the choreography, he also stars in Balenciaga.
---
STYLING
Marcus Ivory
Marcus Ivory did the styling for the entire Balenciaga shoot. The outfits were both unique, bright and high fashion. Ivory regularly styles Princess Nokia and has styled other celebrities as well.
His resume includes Cardi B, Offset, Chloe & Halle, Zendaya and Model Afiya Bennet amongst others.
https://www.instagram.com/p/B45X2kBhT37/?utm_source=ig_web_copy_link
---
CAST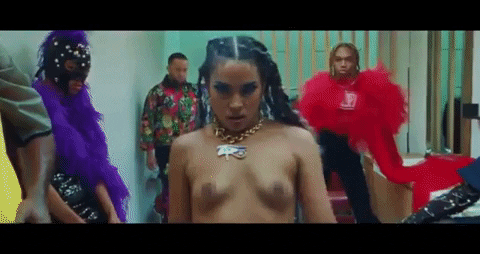 Mela Sierra "Mela Murder"
Melanie Sierra AKA Mela Murder starred in Balenciaga. The Nuyorican dancer, actor, and activist founded "Let's talk Mother" an organization that aims to provide mental and emotional support for single mothers.
Infinite Coles
Infinite Coles is a model, actor, and vocalist who's starred in Apple Adverts, Fenty Beauty and Gucci. He was originally known as Ghostface Killah's son and was close to his uncle and fellow Wu-Tang member RZA.
Infinite Coles has begun to build his own name in an industry that loves his talents.
Ziggy Mack Johnson
Influencer and model Ziggy Mack Johnson stars in Balenciaga as well. From Brooklyn New York, Ziggy is a creative styler and blogger.
His style is the most immediately noticeable feature. Ziggy's aesthetics are colorful, fun and outrageous.
Jesús Hilario-Reyes
Born in San Juan, Puerto Rico to a Dominican family, Jesús Hilario-Reyes grew up in PR and Milwaukee Wisconsin. Hilario-Reyes is a performer in sound and film.
He also regularly DJs along with acting, modeling, and dancing.
Elyanna Banes Sanchez
View this post on Instagram
Elyanna Banes Sanchez is a freelance model, painter, fiction writer, and poet based in New York. She's Filipino, Puerto Rican, and Japanese. She went to college for creative writing and English Literature.
Overall she's a creative person who loves the arts and writing.  Elyanna stars in Balenciaga as well as several ads. She posed with unshaven armpits for Calvin Klein stirring controversy.
Nicholas Wolf
Model, director, and overall creative Nicholas Wolf has worked with Vogue on several shoots as well as Paris and London Fashion Week.
Aarron Ricks
Aarron Ricks also stars in Balenciaga. He is a fine Arts model, stylist and movement artist. Ricks identifies himself as a Rising Prince of the Underworld.
Amanda Baez
L.A. based dancer Amanda Baez is a creative at heart with her own choreographies.
Neon
Neon is a Dominican model who's walked Fashion week.
---
HONORABLE MENTIONS
Executive Producer Jannie McInnes with Scheme Engine
Scheme Engine has produced fire videos like Future's "My Collection" and Smino's "L.M.F." as well as Doja Cat's "Go To Town."
management:
---
Check out the BTS video for Balenciaga below
View this post on Instagram