Real friends: 12 prolific duos that taught us how to secure the bag
They say not to go into business with friends. The relationship could suffer; tough conversations might have to be had; the emotional stakes are higher.
It's hard to separate the business from the personal. There's even an expert from Forbes who strongly advised against it.
Still, sometimes, friends in business prove to be extremely fruitful partnerships. Here are some friends, creatives and long-term collaborators who have proven the old advice wrong.
1. Seth Rogen and Evan Goldberg
In 2011, Rogen and Goldberg launched the production company Point Grey Pictures, a nod to Vancouver's Point Grey Secondary School where they met. Together, they've produced numerous successful films, including This is The End, Sausage Party, and Neighbors. 
The Disaster Artist, their exploration of Tommy Wiseau's The Room, widely known as one of the worst movies ever made, was one of the pair's best, garnering an Oscar nom. We can also thank them for the character of McLovin: they wrote the screenplay to Superbad back in 2007. They've also written for TV, creating the show Preacher together on AMC.
Now, the creative duo– perhaps building off of Rogen's image as a huge stoner– are dipping into the cannabis industry, launching the Canada- based company Houseplant.
---
2. Desus and Mero
The childhood friends, who call themselves the Bodega Boys, launched their eponymous late-night talk show in Feb. 2019.
Since then, the comedians have hosted AOC, Spike Lee, Ava Duvernay, Seth Rogen and Wu-Tang — just to name a few. Their show has also become an important spot for presidential candidates to make their pitch. Senators like Kirsten Gillibrand and Cory Booker have made guest appearances.
---
3. Kanye and Kid Cudi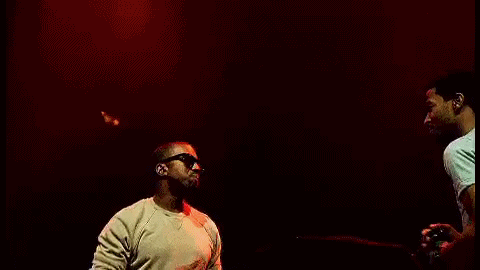 These two have a lot of history that dates back to 2008. After Cudi released A Kid Named Cudi, Kanye shortly thereafter signed him to his G.O.O.D Music label. They co-wrote several songs on Kanye's 808s & Heartbreak, most notably "Heartless," and Kanye executive produced Cudi's debut album Kid on the Moon. 
In 2010, Kanye called Cudi his "favorite artist" and Cudi was quoted saying, "Always fuckin with Yeezy, for life. Period. A true friend." He also appeared on a song off of Kanye's My Beautiful Dark Twisted Fantasy.
Still, 2016 proved to be a tough year for their friendship, as Cudi went on a Twitter rant calling out Kanye and his label. However, Ye soon forgave Cudi, telling the crowd at his concert:
"I just want to take this time out to say Kid Cudi is my brother…The most influential artist of the past 10 years."
And the two– following extremely public breakdowns and subsequent hospitalizations– released their joint album Kids See Ghosts in 2018.
---
4. Abbi Jacobson and Ilana Glazer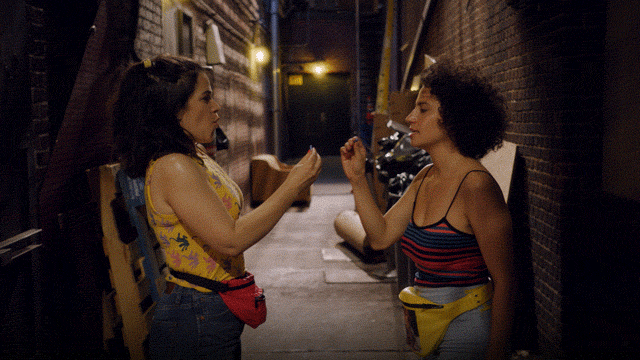 The comedic and creative duo met in New York City in 2007 as members of the improv team Secret Promise Circle. They were also both taking improv classes at the Upright Citizens Brigade, founded in part by Amy Poehler– who would go on to produce their show Broad City. 
Before Broad City made its way to TV, they first debuted it as a web series– and got Poehler to star on their Season 2 finale. In an interview, Poehler called Jacobson and Glazer "partners in all the best ways. Young women figuring out the world and having each other's backs as they do it."
The two are now producing partners, and have their names attached to many of the upcoming offerings on Comedy Central, including Mall Town USA and Young Professionals. Many former Broad City cast members and writers are also starting new shows on Comedy Central, and look to the two as mentors.
Of their new roles, Glazer said, "Not only can we make double the content, but we can usher in more people…I want us both to bang out business, get shows and movies going that have other voices. I want to get the next generation of talent going…"
 "Women need to be in more decision-making positions, and now we are." 
---
5. Rich Paul and Lebron
In a meeting Paul calls "fate," the high schooler LeBron spotted Paul's Warren Moon jersey and asked where he had gotten it, learning that Paul was selling jerseys out of his car trunk.
The two became friends, and Lebron hired him as a personal assistant of sorts after getting drafted in 2003. But Paul didn't just want to be a member of his squad, and instead learned more and more about the sports industry. Of that decision, he said, "LeBron had no obligation to me. I was not entitled to anything. I wanted to be valuable."
Paul now represents Lebron as his agent and helped orchestrate his move back to Cleveland in 2014. He also founded Klutch Sports Group, where he's added Anthony Davis, Ben Simmons, and Draymond Green to his roster.
---
6. Kali Uchis and Jorja Smith
The young R&B stars both lived outside of the US for extended periods of time. Uchis is Colombian-American and was partially raised in Pereira, Colombia, and Smith was born in England to a Jamaican father and British mother.
Uchis featured Smith on her song "Tyrant" from her debut album Isolation. The duo recently co-headlined an 18-show tour, which kicked off in April and concluded on May 30.
---
7. Dapper Dan and A$AP Rocky
Both Harlem natives, the two, star in the short film "Kings of Style," telling the story of Dapper Dan's contributions to the fashion world — specifically in the realm of street style.
It chronicles his rise from selling goods out of his trunk, becoming known as the "tailor of Harlem" and collaborating with Gucci. It documents the low points as well, including when he was raided by the police for allegedly copying other labels, and luxury lines sued him, putting his boutique out of business.
A$AP Rocky, who has come to be known for his style, is the perfect collaborator for the project.
---
8. Nipsey Hussle and Dave Gross
The rapper met his future business partner at a Lakers game, only a few years before he was murdered. The two became friendly chatting about Vector 90, Gross's plan for an inner-city co-working space.
They would ultimately go on to create Vector 90, linking kids from impoverished neighborhoods to potential opportunities in Silicon Valley.
They also teamed up to purchase a plaza in Crenshaw, which Gross called, "the quintessential Opportunity Zone investment. The law is supposed to support ground-up entrepreneurship, giving opportunities and jobs to all communities and improving the neighborhood."
The plan was to create jobs and encouraging local entrepreneurs, bringing money to Crenshaw. In the spirit of Nipsey, the Marathon continues.
---
9. Chicklet and Maleni Cruz
The Brooklyn-based YouTube comedy couple detail the origins of their relationship, which started off as a friendship, in Brooklyn Magazine.
Their videos hilariously show the side of a relationship that often isn't put out there, including the arguments, the fighting, and roasts. In one of their videos, Chicklet is trying to flex for the gram and pretend he's drinking Jay-Z's cognac Dusse; Maleni calls him out for it being ice tea.
Cardi B reposted the video, and after that, the two really took off. Chicklet says he just "stopped showing up" to work, not even bothering to say he quit.
Their combined Instagram accounts have more than 5 million followers– Drake is one of them– and they're starting a live show series called Love at First Fight.
---
10. Serena Williams and Virgil Abloh
View this post on Instagram
These trailblazers are recent collaborators for Williams' statement-making ATP tour outfits. For Williams' latest French Open appearance, Abloh created a black-and-white outfit for her that contained the words "Mother, Champion, Queen, Goddess" in French.
Abloh, Louis Vuitton's first black artistic director menswear designer, founder of Off-White, and longtime create director for Kanye (the two cried together at the end of his LV show), also worked with Williams on her US Open outfit.
---
11. Oprah and Ava Duvernay
Winfrey and Duvernay have collaborated on the films Selma and A Wrinkle in Time. In both films, Duvernay directed while Winfrey starred (she also produced Selma).
It's clear that they support each other beyond their joint projects. Winfrey moderated an emotional interview with the cast and producers, as well as the real-life subjects, of Duvernay's latest, powerful offering When They See Us. 
---
12. Steve Stoute and Jay-Z
View this post on Instagram
Steve Stoute, the CEO of Translation and member of the American Advertising Federation's Hall of Achievement, has had a huge impact on the landscape of American advertising and branding.
He also recently launched UnitedMasters, and secured an exclusive deal with the NBA, allowing his platform to showcase up-and-coming artists on NBA highlight reels. As part of the deal, the NBA will tag all artists in each post.
Stoute counts Jay-Z as a friend, and they have a decade's long relationship. He secured an exclusive deal with Reebok for the rap mogul, and back in the day, got Hov to name-drop the Motorola Two Way phone on the song "I Just Wanna Love U" (Give it to Me) way back in 2000, exploding the sales for the brand.
He also helped Jay-Z create and launch his annual "Made in America" festival, and counted the rapper among his guests to his 2015 wedding to Lauren Branche.
Now, do you really have to ask yourself what are friends for?