Melo is washed: Why the aged superstar is worthy of all the slander
Carmelo Anthony is washed.
The 15-year vet, 10-time all-star, former scoring champ and so on and so on, has absolutely no more left in the tank; at least not like he used to. And it seems that only he and his loyalists can't see it.
The Atlanta Hawks for a brief moment thought he was Melo of old before quickly seeing that he wasn't and now his current team, The Houston Rockets, after boasting Melo had bought into team's vision and was motivated to prove his critics wrong have, too, found out he's not who they thought he was.
After missing two games due to illnesses, two days ago the New York Times' Marc Stein reported on Sunday, that Anthony's recent absences could be a prelude to him being waived.
The Rockets have denied they are waiving Carmelo Anthony, but two sources close to the situation say Anthony has been informed that his brief time with the team will soon be ending. Anthony has been listed as "out" for Houston's game tonight against Indiana due to illness

— Marc Stein (@TheSteinLine) November 11, 2018
After Stein left NBA twitter in a disarray, Adrian Wojnarowski came back to drop a bomb on Monday evening, saying Anthony's reps are reaching out to other teams in hopes of finding a possible landing spot for the veteran. Via ESPN:
"With no ongoing discussions about Carmelo Anthony rejoining the Houston Rockets, his representatives spent Monday gathering information from NBA front offices about a potential landing spot for the 10-time All-Star forward, league sources told ESPN."
Both Anthony and front office officials around the league are privately expressing surprise at the speed in which Houston is short-circuiting this partnership, especially after the Rockets' courtship of him this summer.
While Carmelo Anthony is absent with an illness tonight against the Spurs, the Rockets and Anthony are discussing his role and how they might still be able to proceed together for the rest of the season, league sources tell ESPN. Talks are fluid.

— Adrian Wojnarowski (@wojespn) November 11, 2018
The shock around the league is valid. This is a mighty short tenure especially considering how the Rockets' courted Anthony this summer, then you have the discussion of Melo's play: has his talent really diminished or is are there greater factors at play which deserve blame as well? I hate to say it, but it's the former.
Carmelo Anthony is currently averaging 13.4 points in 13 minutes, shooting 39% from three and averaging a plus-minus of -6.3. In his last game against the Oklahoma City Thunder, Melo struggled mightily off the bench, scoring two points on 1-of-11 shooting.
The Rockets are 5-7 and not looking like the Western Conference finals contenders that took the defending champs to seven games a year ago. And it's not like he wasn't ineffective just a year ago in OKC, either. As a starter he only put up 16 points per game, a significant dip from his year prior in New York.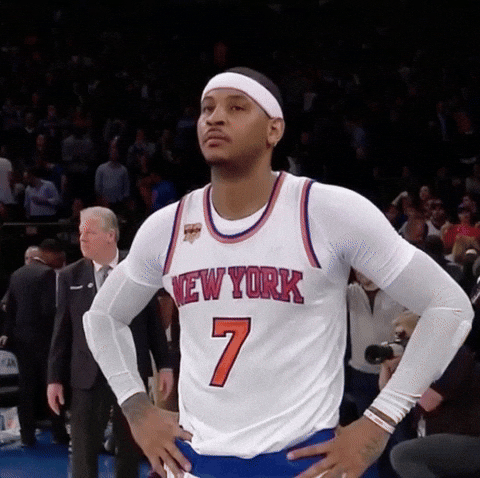 However, some are still clinging on to this narrative that he's being singled out or that he's not as ineffective as he seems. Former NBA player and part-time commentator Stephen Jackson took to his Instagram to go on a spill about how Melo was being done so wrong.
"Let me say this…. Me, A.I., and a couple other players. They trying to blackball Melo. Why? The season just starting, why they coming up and saying 'your time with the team is almost up,' and the season's just starting? You see what I'm saying? They trying to blackball Melo and push him out of the league and make sure it looks like he can't play no more, or make sure it looks like every team he goes to he's a problem or he's a cancer on the team in the locker room. Which is so far from being true.
Stephen Jackson continued saying,
I can name 50 people Melo better than right now in the NBA. I can name 50 people he's a better teammate than. So don't believe this narrative they're trying to put out there that Melo is just a cancer and he can't play and he just makes every team bad. That's BS."
I get how it's easy to get lost in his 62 points in the Garden and winning gold with Team USA and his duels with Kobe as a Nugget — but those days are long gone.
https://giphy.com/gifs/basketball-nba-rS2F3m6vOP47m
Unlike LeBron — who is also in his 15th season — Carmelo's entire body of work has taken a step back and even though Carmelo has agreed to come off the bench, maybe an even lesser role might be better suited for him.
Hoodie Melo, L.A. Fitness & Lifetime Melo, Melo on the beach, or whichever Melo he decides to unveil next, we're over it; the sham is up — quit with the dramatics.
We're all ready to accept Melo is not the same player he once was, I just wish he would, too.