Low on funds? Here's how you can still serve justice with no money
There are many different ways to support the #BlackLivesMatter movement. Some ways to show solidarity are by signing petitions, attending protests, and donating to bail funds. However, not everyone has the money to donate.
The COVID-19 pandemic exposed a lot of racial disparities and left many Black and brown people financially insecure. Luckily, there are ways to be a part of the cause without money. We've compiled a list of actionable items that can help you support #BLM.
The YouTube Video Project
YouTuber Zoe Amira created the "how to financially help BLM with no Money" YouTube Video. The video is a compilation of ways to support the #BlackLivesMatter movement without spending anything.
In the video's description, Amira mentioned that 100% of the video's ad revenue via AdSense will be "donated to the associations that offer protester bail funds, help pay for family funerals, and advocacy listed in the beginning of the video."
She asks viewers to share the video and leave the ads running. By letting others know about this, we can help those who don't have the financial means to support BLM at the moment.
Link here.
---
Sign Petitions
Petitions are the "old-school" way of enacting change. Signing one can take very little time. But if you've got more than a moment run through these whenever possible. Keep in mind the sooner you sign the better.
We've also included international petitions while you're here. Police brutality against Black bodies is a global issue.
---
We call for an END to the systemic racism that allows this culture of corruption to go unchecked and our lives to be taken. See the Demands. Sign the Petition. #DefundThePolice #blacklivesmatter https://t.co/xGULtImAOY

— Black Lives Matter (@Blklivesmatter) May 31, 2020
This petition helps spread the word about nationally defunding the police and investment in Black communities.
Sign here.
---
The COVID-19 pandemic heavily and disproportionately impacts Black communities. By signing this petition, you opt to demand racial data on coronavirus and more from the government.
Sign here.
---
On May 25, 2020, a Minneapolis police officer murdered George Floyd on camera. This sparked outrage in the United States and in other countries.
https://www.instagram.com/p/CAwRTjcgGJX/?utm_source=ig_web_copy_link
This petition aims to reach Mayor Jacob Frey and DA Mike Freeman's attention so they can charge all four officers involved in Floyd's murder. The petition's goal is 16,500,000 signatures. Over 15,000,000 people have signed.
Sign here.
---
The George Floyd Act proposes law reform that will confront police training, procedures, evaluations, education, and human rights. By signing, you are in support of this reform. The goal is 25,000 signatures. So far, over 17,000 people have signed.
Sign here.
---
It has been two months since the murder of #BreonnaTaylor in her own home by police. We will continue to put pressure on the Louisville prosecutor to hold the officers accountable. Sign this letter. #blacklivesmatter https://t.co/SMJf0Ajjns #SayHerName

— Black Lives Matter (@Blklivesmatter) May 14, 2020
Breonna Taylor, an award-winning EMT, worked on the frontline during the coronavirus pandemic. Police officers showed up at Taylor's house unannounced, shot her eight times, and killed her.
The police department has not charged her murders. Over 3,100,100 people have signed for Breonna's justice. The goal is 4,500,000.
Sign here.
---
An ex-police officer shot and killed Ahmaud Arbery while he was running on February 23, 2020. The encounter was not public until over a month after the murder.
This petition will help the efforts to seek justice for Ahmaud. Over two million people have signed the petition. The goal is three million signers.
Sign here.
---
On May 19, 2019, Matthew Kinne killed Dominique Clayton in her home. Kinne is a former policeman who she allegedly had an affair with.
He has pled not guilty to all charges and there is still yet to be a trial. Signing this petition will help the City of Oxford hold Kinne responsible for his crime.
Sign here.
---
An Arizona DPS trooper fatally shot Dion Johnson after accusing him of "partially blocking traffic" on May 25, 2020. To help hold the DPS trooper accountable and offer closure to Johnson's family, sign the petition above. The goal is 10,000 signatures. About 9,000 have signed.
Sign here.
---
David McAtee was killed by the Louisville Metro Police Department and National Guard on June 1, 2020. McAtee's killers have not been identified. By signing the petition, you help bring justice and peace to his family. The signature goal is 1 million; over 680,000 people have signed.
Sign here.
---
Petition to reopen the case of Sandra Bland
There are many holes in the story of Sandra Bland's death. By signing, you help Bland's family get one step closer to justice.
Sign here.
---
Petition for Danroy "DJ" Henry, Jr. recognition on Pace University campus
An off-campus officer killed Danroy "DJ" Henry, Jr. on October 17, 2010. DJ was a student at Pace University. Signing this petition will help honor his legacy on the campus by designating a "DJ Day" on October 21. The petition is close to its goal of 15,000 signatures.
Sign here.
---
Willie Simmons has been incarcerated for 38 years for stealing nine dollars. This petition's goal is to hopefully commute Simmons's sentence. Over 1,300,000 people have signed. The goal is 1,500,000 signatures.
Sign here.
---
No one has been arrested since Alejandro Vargas Martinez was shot seven times while walking to school in December 2018. By signing, you help raise awareness to find and charge his killers. The creator of this petition set a goal of 500,000 signatures; more than half have signed.
Sign here.
---
Justice for Tete
Tete Gulley, a queer black transient, was found hanging from a tree on May 27, 2020. This petition was created to show the Oregon medical examiner that there is indeed public interest in this case.
Police ruled Gulley's cause of death a suicide. However, they did not give Gulley's mother any paperwork.
https://twitter.com/onivu/status/1266801519963316230?s=20
Sign here.
---
Petition to dismiss charges on Marshae Jones
On December 4, 2018, Marshae Jones was shot while she was pregnant. Unfortunately, this caused her to lose her baby. The woman who shot her was arrested but the charges were later dismissed.
Marshae allegedly started the altercation and was charged with manslaughter. Sign this petition to help drop the charges against Jones.
Sign here.
---
António Domingos was fatally shot by a policeman on May 9, 2020 for allegedly not wearing a mask. The petition requests the resignation, arrest, and trial of the officer.
---
Petition to drop all charges against incarcerated trafficking survivor Chrystul Kizer
The justice system charged Chrystul Kizer with life in prison for defending herself against her trafficker. To support Chrystul and bring her case to DA Michael Gravely's attention, sign this petition.
Sign here.
---
Petition to stop Julius Jones from being executed by the state of Oklahoma
At 19 years old, the state of Oklahoma convicted Julius Jones of a murder he said he did not commit. Jones has been on death row for almost two decades and is held in solitary confinement for 23 hours a day.
Please also sign this petition to help find justice for Julius Jones who is going to be executed for a crime evidence points he did not commit.

Share to your family, friends or anyone. We need justice for all black lives. #BlackLivesMatter https://t.co/8T0ATA3REd

— Pop Base (@PopBase) May 29, 2020
To demand justice for Julius, join the other 3 million people that have signed this petition.
Sign here.
---
A person with COVID-19 assaulted Belly Mujinga in a London train station. She has since passed away. Her family wants answers as to why her job required her to work in direct contact with "general public passenger flow".
By signing, you push the railway company to give an explanation to Belly's exposure to the virus.
Sign here.
---
A group of racists attacked Siyanda and in turn, the justice system sentenced her to 4 1/2 years for defending herself. Her attackers said they did not touch her, but her injuries say otherwise. To free Siyanda and bring her justice, sign this petition.
Sign here.
---
Uwa's assailant raped and beat her with a fire extinguisher in her local church. Olakelan Aremo, the creator of this petition stated, "The security personnel in the church is the main suspect because even hoodlums fear to attack a church not to talk of rape and murder."
An update shows that the Nigerian police have a suspect in custody but the investigation is still ongoing. Sign to show your support.
Sign here.
---
The case of Kendrick Johnson left many with unanswered questions. Johnson's body was found inside a school gym mat in 2013 and was initially ruled an accident.
The police department closed the investigation of his death, but we are encouraging citizens to still dig for information.
Sign here.
---
Police pulled Emerald Black and her husband over on June 7, 2019 for "bad registration tags." The officers pulled her out of her car, threw her to the ground, and stomped on her stomach which caused her to miscarry. They then arrested her. This petition demands an investigation of the San Leandro Police Department.
Sign here.
---
The anger and frustration we feel at this moment must be channeled into working towards a better future. For too long we have marched and protested and mourned our lost ones as the world and our allies watched on.

It's time to stop watching and take action. #WeAreDoneDying pic.twitter.com/0blzdiOk4m

— NAACP (@NAACP) May 31, 2020
In order to help fight for a fair, and unproblematic judiciary, sign NAACP'S Take Action petition.
---
Text petitions
Text petitions are another way to use your voice. Here are some numbers you can text:
– Text "JUSTICE" to 668-366 for MoveOn's petition for George Floyd
– Text "ENOUGH" to 551-56 for justice for Breonna Taylor
New Yorkers: Text "Sign RISTUS" to 504-09. The state legislature met Tuesday, June 2, 2020, as there has been "a call to repeal 50A which allows the NYPD to hide records of police misconduct." Follow the instructions via text to ask representatives to repeal this law. More information on the law here.
---
Attending protests
https://twitter.com/KultureHub/status/1268255442418962432?s=20
Protests for George Floyd and the Black Lives Matter movement, in general, are happening throughout the U.S. Graphics show that at least 430 cities and towns have participated in demonstrations, some of which have had a National Guard presence.
If you would like to attend a protest, follow @USAProtests on Twitter for information and updates on current protests. Follow members of your community, too. They may be the ones organizing demonstrations on a local level.
A reminder: we are still undergoing a pandemic, so be safe and wear your mask. Read our guide to safely protesting in a pandemic. 
---
Contacting elected officials
Picking up the phone to call your federal, state, and local representatives is more impactful than you may think. The USA.gov website provides contact information for the leaders you seek to call.
When you call, you most likely connect to an office staff member. Do your research beforehand and feel free to share how current events have impacted you.
On June 3, 2020, Campaign Zero launched #8CantWait. According to this project's data, police violence can be decreased by 72 percent. The website allows users to select their city to see which policies have been enacted. It also provides you with your mayor or sheriff's contact information so you can let them know that eight can't wait.
---
Email templates to reach out to officials

Artist Maasai Godwin created a link that will redirect you to an email template you can send to Minnesota officials in regards to George Floyd's murder.
All you have to do is fill in your name and city/state and send. To demand justice for Breonna Taylor via email, follow this link. Activist N'Dea Godwin created it.
Defund12 is also a great online resource with pre-written email templates you can send to your officials. The templates are separated by state, making your call to action more specific. Don't only limit yourself to contacting representatives in your state, email the other ones throughout the U.S.!
---
Educate Yourself
It's okay to not have all the answers. Do your research so you can understand how the Black community is affected daily. Don't be afraid to pick up a book, speak to an expert, or even have a deep conversation with a friend.
Don't depend on a Black person to educate you–you have to do the work by yourself!
---
VOTE!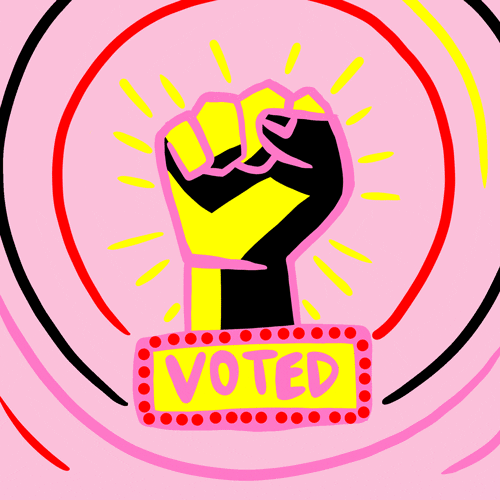 If you have the right to vote, exercise it! Use your resources to educate yourself on what a candidate (no matter the level) represents. Registered voters can now vote via absentee ballot for the primary elections due to the COVID-19 pandemic.
One common misconception is that non-presidential elections aren't important, therefore, people don't participate in them as much. However, voting in smaller elections impacts you more directly.
If you haven't received an absentee ballot yet, click here to request one. To check your voter registration status, click here. For the 2020 state and presidential primary election dates, click here.
In a time where people are fighting for Black lives, it's important that we get to choose who will be in office making and passing and executing laws.