Is Kanye collaborating with Trump on merch? Ya boy investigates
Could we be endorsing a madman? Kanye West is obviously not ok and without surprise, he has started to sign the name "Trump" on his merchandise.
As seen on White Trash Tyler's IG story:
Most clout gods would praise this as the boldest move in 2018, but we can only hope Kanye is just trolling us by throwing a political deviant's name onto "Saint Pablo" gear.
The move would be even more clout worthy if Kanye was signing Trump's name for album promotion. It would make sense as he has two projects dropping in June.
https://twitter.com/HOT97/status/988751406915096576
But who are we kidding? It's Kanye and he's definitely not "cooning for cash,' as Ebro noted. He's doing this because he has been low key brainwashed by the white folks out in Calabasas.
Somehow, someway, whatever group Kanye is chilling with, has had an influence on his way of thinking.
High key Caitlin Jenner voted for President Donald Trump, and Kanye fucks with her heavy. The two became very close after Jenner's gender reassignment surgery.
Two years after, Kanye was seen hanging out with the Cheeto Jesus in NYC to discuss "multicultural issues." The FOH, there is no way this is a coincidence – homie has been brainwashed by the Jenners and the Kardashians.
How do you go from interrupting a national broadcast and speaking out against Republican President George W. Bush to having a conversation with Ebro about how much you love Donald Trump?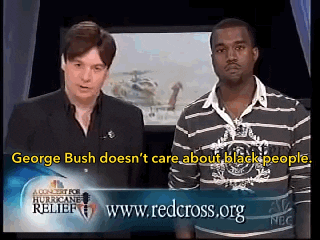 Kanye has the American right to endorse whatever political party he wants or go on whatever free thinking rant he needs to but it's crucial that he stays true to himself.
'Jesus Walks Kanye' would never have said anything like this. Even the fact that homie believes in the words of Candace Ownes, a black and far-right journalist, is beyond me. Plus, Owens supports the MAGA movement and claimed that BLM protesters are whiners,
At a University of California event, Owens viciously spoke on the BLM movement. She said,
"Victim mentality is not cool… "'We're oppressed! Four-hundred years of slavery! Jim Crow!' By the way, none of you guys lived through that. Your grandparents did and it's embarrassing that you utilize their history. You're not living through anything right now… I don't know why people like being oppressed, it's the weirdest thing I've ever heard."
Kanye's tweet,
https://twitter.com/kanyewest/status/987696355341553665
This is not the Kanye I grew up on. This is not the Kanye I want to endorse or support. I really miss the old Kanye. Hopefully, he'll wake up out of this brainwashed phase he's in.
It's time to come out of your Calabasas bubble homie. Wake the fuck up Kanye! It's time to touch the hearts of those whose thoughts really matter.
Stop reaching for souls that will exploit you.