Remember when Lil Uzi Vert told Zane Lowe on Beats 1 Radio that he was working on a Hayley Williams-influenced rock record?
Well, now another icon of rock is stanning for Uzi and possibly even working with him.
This icon? A certain Marilyn Manson.
https://giphy.com/gifs/90s-kiss-middle-finger-povZkpeEzhhxm
Manson told Zane Lowe about meeting the young rapper,
"So, I'm at this hotel and I'm having dinner with Rick Ross, who said his dream is to work with me. He ghosted me a bit. But the same night, I hung out with Lil Uzi after we had talked. And we talked a lot. He ghosted me also. I don't know if by the time this airs, he will have still ghosted me."
Y'all rappers gotta stop ghosting Marilyn Manson!
Besides ghosting him, it's clear that modern rappers have an affinity for Manson, which is kind of weird on the surface, but makes sense when you really think about it.
Manson told Lowe about appealing to the new generation of rappers because of his authenticity,
"There's a lot of bands that do things and they try to seem authentic, but you can't fake real. You can't. I mean, I can fake it pretty good, but I don't have to. But I think that's where my relationship with a lot of these hip-hop artists is. Because they're hardcore and they have a different lifestyle that's unlike mine. I'm white from the midwest. They're from a different lifestyle. But people know real when they see it. And real scars show it. Mental, physical, musical, all of them."
Marilyn Manson is real as fuck, that is for damn sure. But Manson sees Lil Uzi Vert as a possible heir to the rocker's throne of weirdness.
He knows of Uzi's plans to work on a new rock album and Manson wants to facilitate it. Speaking to Consequence of Sound, Manson spoke of Uzi's rock aspirations,
"[Uzi] wants to do a rock album next, and I would love to see that happen because I think that he could make a new thing. Not some rock/rap type of thing, something special and new that I think needs to be created just to fuck the world up more."
Manson went further to find some comparisons to Uzi in the hardcore realm and the similarities between Uzi and himself,
"I think that if I had to pick what Lil Uzi Vert should be, if he's involved in rock, it's an early Bad Brains or Faith No More, but with a catchier element. I think he has punk rock in him. He's a little crazy motherfucker. And good. Smart as fuck. He has an attitude like I did, and I like that about him."
I don't really see the Bad Brains comparison but I think Uzi could make some fire pop punk, in fact it seems like his calling.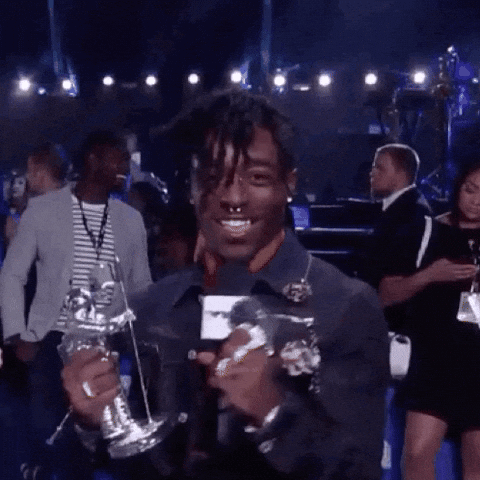 If Manson helps him on this album shit could truly be legendary, I am officially here for this weird new era of music in which Marilyn Manson is collaborating with young rappers.
As for Marilyn Manson, his 10th studio album Heaven Upside Down is coming out October 6th and he dropped the first single "We Know Where You Fucking Live" today.
Music is so awesomely weird right now.