The Napoleonic trend has officially taken over the rap game. FACTS! It's a brazen statement, I know. But, just sit back and think about it for a second.
Your wifey is listening to a dude that can't even match her height when she's wearing pumps. Burn, but it's true.
Kendrick Lamar swept the Grammy Awards, proving that the reign of tall rappers is over as Kenny won four out of his seven nominations.
Homie looks mad little standing next to Rihanna. Peep how short the mic is.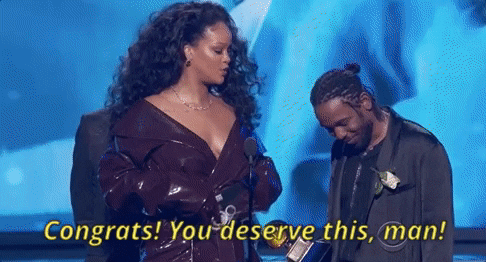 How can we forget Lil Uzi Vert? Name one other hit radio rap song that came out in 2017 that wasn't named "XO Tour Life". That's what I thought, so brolic.
FYI, Uzi stands at 5'4″ To put his height in perspective a Great Dane would eat him, when standing on its hind legs. It reaches 7′ tall.
By the way Uzi, I'm still tight you didn't win the Grammy for the best new artist this year, lil' guy.
When did this all go down? When did lil rappers like XXXTentacion and 6ix9ine, who both stand at 5'6″, take over the game?
I'm thinking rappers like Too Short, Phife Dawg, Lil Wayne, or maybe even Big Boi started the short boy wave, but NAH.
It was Skee-Lo who might've started it all, with his "I Wish" video where he gave hope to shorter than short rappers everywhere.
Can you remember the bars he spits? "I Wish" is the short man's anthem.
"I wish I was a little bit taller. I wish I was a baller. I wish I had a girl who looked good, I would call her. I wish I had a rabbit in a hat with a bat and a six four Impala"
The OG throwback but you better get used to seeing more short rappers as it doesn't look like they're going anywhere anytime soon.
For now, just appreciate the grind of Napoleonic rappers everywhere. They are making music people of all heights can vibe to.
Lowkey, we might have to do an investigation because being short is no cup of tea.
You know, always having to prove yourself in a world where rappers' egos are not only big but so are their statures.
Imagine being Lil Uzi's height standing in a room with Dre, Snoop, Wiz, and Nipsey Hussle. French Montana's presence would be too much to handle. It's actually insane as they would all stand more than a foot taller than you.
Who knows? Maybe the shorter you are the better your bars are, but that's for you to decide.
Shoutout Bushwick Bill!