The R&B scene has not been the same since Rihanna and Frank Ocean walked away, but in that absence, a new star is born: r&b introvert Summer Walker.
In the vein of H.E.R., Ella Mai, Ari Lennox, and SZA, the soulful Over It seductress joins the party with beautiful vocals and real content matter. But Summer Walker is different in her approach to fame, she's all about minding her business and keeping things lowkey.
https://twitter.com/senpaiikris/status/1181351934965374976?s=20
---
Non-Sociable Club
Nearly every interview with the singer is distinctly calm and almost uncomfortably awkward for the interviewer. It's as if Summer Walker is almost willingly open about her disinterest in the hype.
She identifies as a non-sociable person. Even when excited about her success and the attainment of her goals she emphasizes her introverted-ness.
"I like my own space."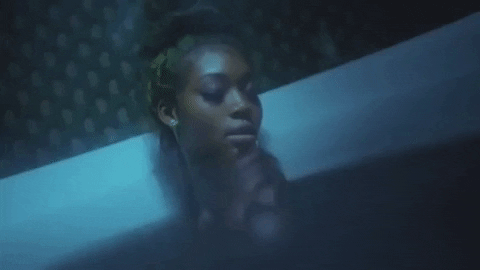 This is jarring to most of us who are used to celebrities and newly famous people who are loud and outspoken, especially women. We've gotten used to Cardi's energy and Rico Nasty's anger.
We can easily identify with the bubbliness and excitement of Doja Cat. We love Lizzo for her humor. We're not prepared however for laid back demeanors that refuse to match the energy of hype men.
"I didn't wanna do interviews 'cause I just feel like I've said what I've had to say in my music."
And that's absolutely okay. Introverts are extremely creative but often feel like they need to conform to a media personality that doesn't fit their own.
Summer Walker is a perfect example of someone who is undeniably talented and finds herself in the limelight but doesn't flinch. She's the same in-and-out of fame.
---
Ultimate Introvert Dreams
Summer's previous profession was stripping and she says she misses the pole, but mostly in a therapeutic way. She'd like to get one back in her room, put on some music and candles and swing in the air.
When asked if she had any other plans besides making music on an Up Next Beats 1 interview, Summer said,
"I just wanna make soap"
When pressed for more information, Summer Walker explained that she'd like to have a house with a garden to grow herbs and roots and everything necessary to make soap. The perfect homebody pastime.
"The goal here is getting a garden and a home, and going to get a Benz right now would not be very intelligent."
---
Confidence in your Craft
It's obvious that Summer's social preferences don't mean that she's not confident. Walker even low-key curved Champagne Papi himself. Drake was inspired by the song Fun Girl and reached out to Summer.
A collab may be in the future but Summer Walker is anything but an obvious fangirl.
She simply does not like talking to others and prefers to share her thoughts and feelings through music. Your goals can be simple as long as you stick to them and it seems like Summer Walker is well on her way to achieving them.
So if you're a homebody, an introvert or just not that social, hone your craft make a few key moves and pursue your dreams small and large.
---
In the meantime stream Summer Walker's Over It below.