You're on a roller coaster ride and you're approaching the peak of the ride. There's a brief moment of weightlessness, where everything is calm. This is bliss. At this moment, you're thinking life is pretty good.
Then, all of a sudden, you're going downhill at 80 plus MPH. Now, imagine that experience as the two big-loop roller coaster ride known as Tiger Woods' career.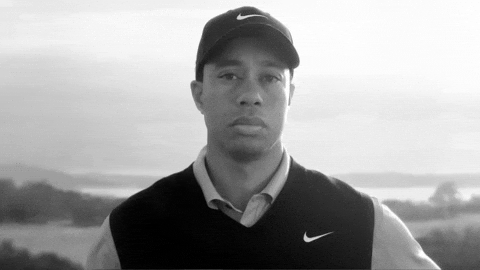 It was smooth sailing for the once great golfer. His career started off red-hot, winning major championship after championship. Proving his "goatness," he burst on to the professional golf scene in the summer of 1996, quickly made waves, and was named the Sports Illustrated 1996 Sportsman of the Year.
Adding to his resume, he was awarded PGA Tour Rookie of the Year and won his first Masters. He even ascended to No. 1 in the Official World Golf Ranking.
This all happened in just his first year of his professional career. With such a hot start to a potentially legendary career, Tiger never looked back and ruled the golfing world for the next decade and some change.
However, his career took a 180 degree turn when he was involved in a scandal that exposed his extramarital affairs. This was the most immense loss of his career as people questioned his character, powerful brands rescinded their sponsorships, and his personal troubles became public.
And that was just the first big loop on his roller coaster of a career.
After overcoming the trials and tribulations of his personal life, Tiger made his return to golf. Now, for Tiger, this wasn't going to be the typical comeback tour; it was no walk in the park for him.
Unfortunately, his attempt at reviving his once dominant career was plagued by a series of injuries. They ranged from pinched nerves to severe back spasms that required spinal fusion surgery as a remedy.
Additionally, these injuries severely derailed his performance, and with that came questions. Questions that brought forth doubts in which Tiger's career had come to an end.
I had Tiger reminiscing about his glory days #THEPLAYERS pic.twitter.com/xsvJQNXBwj

— Thomas Wesling (@ThomasWesling23) March 16, 2019
Redemption is the greatest story ever told in sports and Tiger's recent adventure falls right into that category. There's always something about the underdog that invokes great emotions from our spirit.
In the case of Tiger Woods, he put that on full display during an eccentric weekend at Augusta National Golf Club. He did the unlikely. He won his fifth overall Masters and put on the illustrious green jacket once again. Particularly, he had not won at this level since the 2008 US Open. Many questioned then if that was the end of an era.
He gave the answer fans and doubters were looking for last weekend. Tiger fired back by winning the 2019 Masters and secured his spot as one of the all-time greats in golf. Notably, this is one of the greatest career revivals in recent memory and one of the most recent examples of overcoming adversity in sports.
His performance has golf-legend, Jack Nicklaus, "shaking in his boots" as Tiger captured his 15th win in a major tournament. In reality, this win put him closer than ever to Nicklaus' record of 18 wins in a major tournament.
This adversarial journey comes full circle. But the trials and tribulations of life started before Tiger went pro. He was aware of his impact on the sport from an early age.
Peep this interview of Tiger at 14-years-old.
"Since I'm black, it might be even bigger than Jack Nicklaus. I might be even bigger than him to the blacks. I may be…it…So, like a Michael Jordan in basketball."
His awareness of the position he was in was evident at 14. Obviously, he fully understood how his career would impact others. To him, it was more than just golf. After a roller coaster of a career and a hell of a weekend, there's no wonder why Tiger exuded this much emotion.
This is bliss.
What does pure Joy and Redemption look like?? #TigerWoods🐅 #MastersChampionAgain pic.twitter.com/lb3McMSJR4

— Jedijoe (@Jedijoe89) April 14, 2019