Earlier this week, Kid Cudi has announced that he's dropping his first solo album in four years, sometime in the near future, and he's teaming up with Netflix to do it.
The forthcoming LP is titled Entergalactic and is expected to feature Black-ish creator Kenya Barris as executive producer as well as Ian Edelman from How to Make it in America as executive producer and writer.
Entergalactic will be something you've never experienced. I promise it'll be a fun ride. Lot of good friends involved. Great songs too! The cast is coming together. I know a year from now seems like forever but itll be here before u know it!

— The Chosen One (@KiDCuDi) July 22, 2019
The innovative series is the next step and evolution of what we've been seeing with album bundles and packages. Except, instead of selling action figures like Travis Scott or merch like DJ Khaled, Cudi has a television show.
The series will showcase music from Cudi's new album which, according to a Netflix press release, will  "follow a young man on his journey to discover love."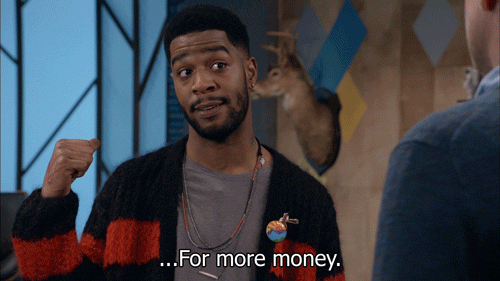 The Netflix show is also the first of it's kind with it being an animation completely based off of an LP. The only thing close we've seen is a movie soundtrack, making this collaboration extra special.
The animated project becomes the third show that Barris has premiered on Netflix in the past year after he negotiated an early exit from his ABC Studios overall deal and signed with the streaming juggernaut.
If "Enter Galactic" rings a bell for you, it's the name of a song on his 2009 album Man on the Moon: The End of Day, signaling, at the very least, a revisit to themes of past albums that earned Cudi his cult following.
The record is to be released on Republic but does not yet have a release date. He only says, "it'll be here before u know it" in a tweet, so there's real time table on when it's coming out but one could assume next year.
Between 2016's Passion, Pain, & Demon Slayin', which was an experimental rock album for Cudi and 2018's joint venture with an unstable Kanye, one could argue that we haven't seen a pure Cudi album in a good four years.
Entergalactic deserves to come in with a bang that it steaming up and it's good to see that Cudi is in a good headspace to deliver it.
In the meantime, Cudi is also set to star alongside Chloe Sevigny in the HBO series We Are Who We Are from Call Me by Your Name director Luca Guadagnino, further adding to his growing filmography as well.
View this post on Instagram
Kid Cudi is booked and busy. Still his fans, I'm sure, are ecstatic about the content he's getting ready to unload