Dear LeBron James,
You are a superstar, a global icon, and your greatness in this game of basketball has already been solidified.
There is nothing else you can do to propel your legendary career. To Millennials and Generation Z babies, you are the equivalent of Michael Jordan and Kobe Bryant.
However, there is one thing that separates you from Jordan and Bryant and that is the dunk contest, or rather your absence from it.
Here are 5 reasons why you should enter the next All-Star Weekend dunk contest.
You could be the savior of the dunk contest
LeBron James, you would go down as the savior of the dunk contest. People want to see the best participate in the events that make All-Star Weekend special.
It's a once in a lifetime opportunity for fans and athletes. I know basketball players are interested in the business side more than ever nowadays, but this act would further demonstrate the love that you have for the game.
---
You'd win
It'd be a landslide victory! Yo LeBron, we've seen the dunks that you perform during pregame warmups and they're absolutely insane. They're bananas.
Why wouldn't you want to have fun and put on a show for the whole basketball landscape?
---
The memories would stand the test of time
Correct me if I'm wrong, but there are not many memorable LeBron James moments. Besides "The Block" he had vs the Golden State Warriors, we know LeBron for his ferocious dunks and being a walking triple-double.
As great as LeBron has been since any of us can remember, he's more known for being ridiculously consistent instead of single moments that would define his legacy.
If he shut down the dunk contest, it would be talked about for generations to come. It would be the most watched dunk contest of all time (think Jordan from the free throw line).
---
More stars would participate
It would bring more life to All-Star weekend!
If LeBron was in the dunk contest, more big name superstars like John Wall, Russell Westbrook, Paul George, Lonzo Ball, Giannis Antetokounmpo, and Andrew Wiggins would be eager to participate on a consistent basis.
Who would not love the pressure and level of competition that superstars bring out of each other? Wouldn't it be crazy to see LeBron James face off against Zion Williamson in 2020?!
---
The Kulture needs it
In a world full of egos, it would be a beautiful demonstration to show that you're not too big for an event. The dunk contest used to be a highly-acclaimed event but has turned into a joke of late.
Kids who dream of playing in the NBA used to talk about being in the dunk contest and would practice dunking religiously to one day be able to show the world what god-given abilities they are capable of.
Let's give the future something to be excited for! You can restore its legacy while further cementing yours. The dunk contest is the NBA's most electrifying event during All-Star Weekend.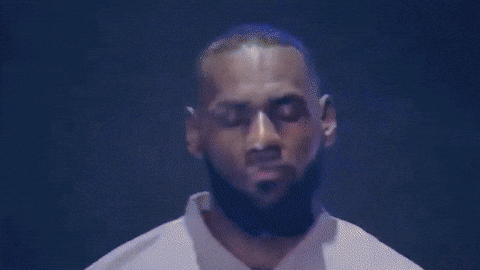 It is still an affair that everyone crowds around the television for, hoping it returns to its glory days when the NBA's brightest stars used to participate.
Besides Zach LaVine and Aaron Gordon's 2016 showdown, every year Magic Johnson is forced to say that the dunk contest is back when in reality we know it's trash.
King James, you would be forever immortalized if you made a surprise entry into the 2018 dunk contest. There is nothing left to prove, so have fun with the rest of your career. On behalf of all NBA fans, LeBron James, please do it for the the Kulture.
Sincerely,
Spencer Pullen