Christmas for some may include winter traditions, the gathering of family and all that other festive hoopla, but for others, the most wonderful time of the year is the third week in March where college basketball's finest duke (pun intended) it out to see who's the best team in the country.
Yes, I'm talking about the rollercoaster of bewilderment that is March Madness.
Every year, Divison-1 teams from all across the country compete in their respective conferences for the hopes of punching in a ticket to compete in the NCAA tournament.
The final team gets locked in on Selection Sunday (March 17th), giving viewers like you and I the next couple of days to fill out an NCAA tournament bracket. 
There are 64 games to pick and what makes them 'mad' is that anything literally anything can happen.
Because the tournament is single-game elimination, teams that made it — from the largest programs to the brand-spanking new ones — get a fair shot at winning the title.
Picks that may appear as no-brainer lock-ins and squads that on paper look like they should win, can undergo a 360 change-up in March. It's every basketball's fan fantasy and somehow, by the good graces of heaven, it comes around every year.
Filling out one of these brackets and following the games is an experience like none other. However, you don't want to look silly in front of your co-workers and friends. Not to mention there's a lot of pride on the line.
That's why we've outlined five hacks you can use in filling out your bracket. Now, we're not saying these tips are fool-proof, but we are saying it can make you look smarter if you haven't watched any games this year.
1. Believe in at least one "First Four" team
Let's start with the basics — pick one of the "First Four" in.
First Four refers to those four games in Dayton on Tuesday and Wednesday featuring the lowest-seeded four teams in the field and the last four at-large teams to get in.
A team coming out of Dayton has won at least one game in the tournament's "main draw" in every year since the First Four became a thing in 2011.
This year the four were Belmont, Fairleigh Dickinson, Arizona State, and North Dakota State. Again, every year at least one team coming out of the Dayton four-game nighter flys to its first-round site and pulls off an early tournament upset.
Who will it be this year?
2. Have at least one non-top seed in your Final Four
As tempting as it may be, please do not pick all the number-one seeds in the name of 'playing it safe' —  because that literally wouldn't be safe at all.
The last weekend of the tournament has featured all four No. 1 seeds just one time (2008) since the event expanded to 64 teams and only three No. 1 seeds have made it to the Final Four overall.
Pick at least one sleeper for your final four.
3. Pick at least one "major" upset.
There can't be March without out madness and there can't be madness without upsets. It's one of the best parts of the tournament and one that almost always throws everyone's bracket out the window.
Know your upsets and pick them well.
4. Don't pick a No. 5 seed to win it all.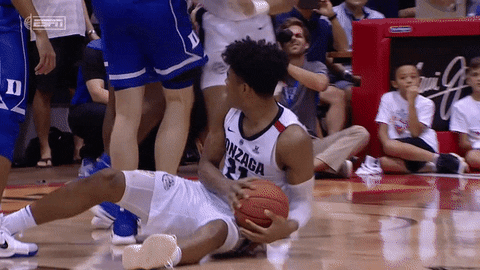 Here's a freebie — a No. 5 seed has NEVER won the whole thing.
Every seed line from 1-8 has produced at least one national champion besides the 5-spot. The No. 5 seed has even made it to the title game three times but still hasn't won it.
By the numbers alone, not picking a No. 5 is in your favor and should be an easy way to help you make a decision when you fill your bracket.
5. Peep the conference tournaments
Probably the best advice that not too many of your friends may be on is studying the conference tournaments.
No team has ever lost the first game of its conference tournament and gone on to win the NCAA tournament. If you're rooting on a quad that went one-and-done in its league tourney to win the Big Dance, you may want to reconsider.
The first round of the tournament begins on today between Minnesota and Louisville at 12:15 ET.
Tap here to open up a printable version of the March Madness bracket pictured below in a new tab or window.