You don't have to be from New York to know the influential impact The Diplomats aka Dipset have had on music and fashion because the wavy group of kings has overall "stunted on the game" for the last 20 plus years.
In rare form, the squad is giving an intimate look into the making of their latest drop, Diplomatic Ties in a mini-documentary of the same name streaming exclusively on Tidal.
It's been almost 14 years since we've last seen Cam'ron, Juelz Santana, Jim Jones, and Freekey Zekey drop an official project together and damn did we need it.
It's hard to believe that it has been so long since as each individual member has built their own cult-like following while still linking up for collabs and hopping on each other's tracks over the years.
Despite their fair share of ups and downs, the brotherly bond has never died, and it shows. Throughout Diplomatic Ties, the group touches upon coming together to make Diplomatic Ties. At one point Jim Jones said,
"It feels good to be back with my brothers recording and doing new music. It's been a choppy road for the last umpteen years back and forth trying to get the Diplomat thing together, I mean really get it together as far as making a complete album, making a great effort. Recording is a little bit different now a days, but it's still a great feeling to be able to complete music with my brothers."
In the doc, each member recalls the origins of the group and how they truly defined Harlem culture in the late 90s and early 2000s. Dipset was cultivated in the heart of Harlem from a group of kids looking to live out their dreams and set a new standard in hip hop. Just ask frontman, Cam'Ron.
"They seen a group of kids from Harlem that had almost nothing, come up to be platinum-selling artists"
Before the independent artist age, Dipset rose to fame from dropping fire mixtapes that spread through the streets and eventually put them on the map. In Diplomatic Ties, Jones breaks down the difficulty in maintaining steam as an artist during the time where there were large gaps of time between album releases.
This gave room for the group to 'put pressure on the streets' by giving hella features and releasing mixtapes to always keep their rhymes in ears. To them, a mixtape was "printed money," it was guaranteed to be passed around and have exponential value.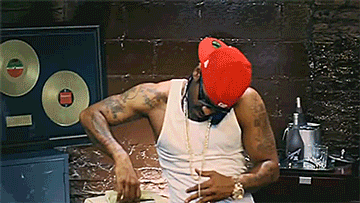 While Cam'Ron's popularity as a solo artist initially helped fuel Dipset's mainstream success for the clique, you couldn't help but notice the bars from his posse on tracks like "Oh boy" and "Hey Ma".
This laid out the blueprint for acts like G-Unit and A$AP Mob to flex both as a group and individual artists. Also featured in the film is the mastermind behind the beats of that classic Dipset sound, Rsonist aka Heatmakerz who speaks on the enigmatic artistry of the crew.
In the doc, the group is compared to Voltron and there couldn't be a more appropriate analogy. Whether it's Cam's smooth and snarky puns or Juelz's fresh and cocky lines, everyone brings something different yet impactful to the table, which translates in various genuine behind the scenes moments in the film.
From the studio to video shoots, to performing on stage, the synergy of Dipset is still so raw and strong. Watching them back together truly reminds you of how impactful the group was and how in many ways Dipset bridged a gap between old school and new school rap.
"I could see a 1998 hunger that was in our eyes that was completely gone at one point in time," recalls Zekey.
Hip hop has always been a mirror to the streets. Through Dipset's swag and fly verses, the world got an authentic taste of young Harlem that differed from other local rappers. Beyond the rhymes, the Diplomats are a pack of the illest trendsetters that pop culture has ever seen, period.
Killa Cam had every dude thinking he could rock a pink mink and matching pink timbs. And who didn't iron the hell out of their beauty supply bandana to stunt like Juelz and Jimmy? If they wanted to, the group could probably live off of merch sales alone that poke fun at their iconic fashion moments.
Atlanta rapper, YFN Lucci makes an appearance in the doc and chops it up about how his whole hood idolized Dipset and was inspired to rap and put on for their city just like they did.
It's heartwarming to see that the crew's steez has stayed the same even though their stomping grounds has. In one of the many hilarious scenes, Jones goes shopping for exclusives while saying hello to the many members of "New Harlem" aka gentrification nation.
Calling Diplomatic Ties a must-see is an understatement. The quick glimpse into the present-day Dipset leaves us craving for more from Harlem's finest. A craving that can only be fulfilled by diving head first into their latest album while bouncing back to the nostalgic jams that we all know and love.
"We had a chance to do something great in life, which we did."
https://tidal.com/album/99145749