It's safe to say that the video game, Fortnite has surpassed the realms of geek culture all the way into the corridors of hip-hop.
Fortnite in itself is an empire. The free-to-play title from privately held Epic Games Inc.is the most financially successful free game on consoles of all time, according to SuperData.
It racked in a whopping $2 million a day from players on Apple Inc.'s AAPL, +0.06% iOS after its April 1 launch and in May the game brought in $318 million across all platforms, MarketWatch reports. Superstars like Drake go viral playing with the Fornite master, Ninja, as well as others, like Travis Scott and JuJu Smith-Schuster.
But a big part of its success and multi-cultural crossover appeal, are the hip-hop dances incorporated in the characters. The game is making money by selling them to players.
'Tidy' is a move Snoop Dogg used in his 2004 number one hit "Drop It Like It's Hot," and 'Swipe It' is pretty clearly 2 Milly's 'Milly Rock.'
While the dance moves we're viral before Fornite got to them and thus popularized by masses, they still belong to the artist. Now, rappers like Chance the Rapper and BlocBoy JB are wondering why creators haven't been credited or compensated for the signature dance moves used in the game.
Fortnite should put the actual rap songs behind the dances that make so much money as Emotes. Black creatives created and popularized these dances but never monetized them. Imagine the money people are spending on these Emotes being shared with the artists that made them

— Chance The Rapper (@chancetherapper) July 13, 2018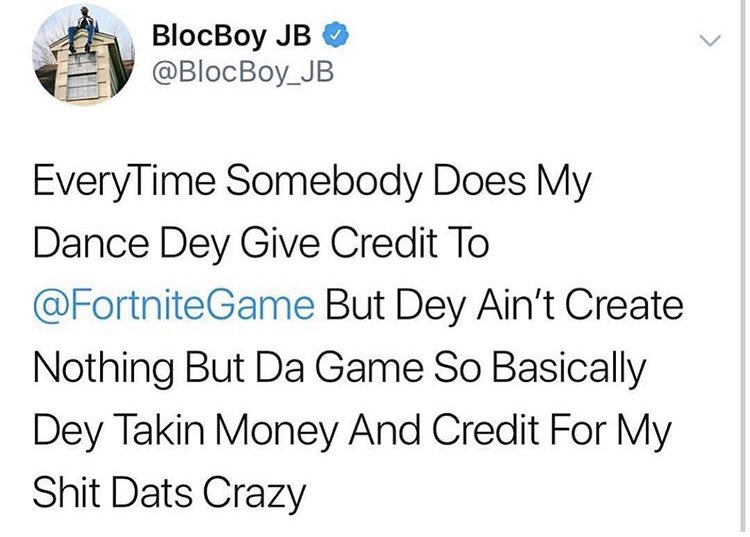 But, according to Soulja Boy, inventor of probably one of if not the most famous dance of all — the 'Superman' — his moves are impervious to the likes of Fortnite because he owns it.
Because I own my dance any copyrights they gotta cut a check 🕺🏾 https://t.co/mYHowpGSKU

— Soulja Boy (Draco) (@souljaboy) October 5, 2018
That's right, the first rapper to come-up off the internet is also wise in his ways. Superman caught trend riding the coattails of Soulja's hit song "Crank That," which rose to be the number one song in the country in 2007.
However, there may be little truth to Soulja's claim. Insider made a video diving into the topic of Fortnite using rapper's dance moves.
Fortnite's use of viral hip-hop dances has caused a debate over cultural appropriation in video games 🎮 pic.twitter.com/d6VeqZF8Bn

— Insider (@thisisinsider) September 25, 2018
Although Soulja claims to have copywritten the dance move, in the video, an attorney that specializes in American intellectual property law explains that the U.S. Copyright Office doesn't grant copyright for individual dance moves.
She goes on to say that they're treated more like words or phrases and that copyrighting them could infringe on other choreographers' creative expression.
Since its launch a year ago, Fortnite has made an estimated $1.2 billion USD in profits, maybe Soulja, Chance, and BlocBoy JB have a point.
One solution could be a partnership between labels and gaming companies. With it, artists who created the moves that are helping to drive Fortnite's success could be getting proper credit for their work.