In a recent interview with Zane Lowe, Billie Eilish revealed that she and Finneas wrote her latest single, "My Future," in just two days.
The setting was perfect. It was pouring rain — you know, the kind of rain that all artists appreciate at least once in a while, one that's conducive to utmost creativity, one that's on its own moving and even somewhat musical in its rat-a-tats and pitter-patters.
They then recorded the vocals in Finneas's studio — his basement. That, too, didn't take long. The original try felt right and she went with it.
"There was something about this one take that did it. I don't know," she told Lowe. "I was like, 'this is the only way that it can be.'"
Not only does Finneas' birthday coincide with the date of the release, July 30, but it also comes in tandem with Eilish securing a VMA nomination for "Everything I Wanted."
She is the first artist to score two of those nominations (last year, it was for "Bad Guy") whilst still being in her teens.
At the end of January, she also made history by becoming the youngest artist, since Christopher Cross in 1981, to have won four of Grammy's top awards — best new artist and record, song, and album of the year.
But ever since the pandemic struck, she has been musically silent, except for her participation in the One World: Together At Home concert in mid-April, when she covered Bobby Hebb's "Sunny," and her recent radio talk show with her dad on Apple Music's Beats 1 platform. 
"My Future" is her very own quarantine comeback.
Its underlying meaning goes on a tad of a different turn relative to her other songs. Somehow it feels like the first one to possess a balance between the world of doom, with which many of her fans are familiar — in pieces like "All The Good Girls Go To Hell," "Hostage" and "Xanny" —  and that of light.
In a similarly nuanced fashion, when the instrumental arrangement, the subdued piano, the electronic guitar, percussion, and bass, reach the world of light, the focus remains there from the second verse till the last line: "See you in a couple years."
The song starts out slowly and drearily, very lo-fi, very heavy, very wistful — "I can't seem to focus/ And you don't seem to notice I am not here/ I am just a mirror," she goes, practically talking along to a background of soft piano and sound effects that mimic rain. The music video put together by Australian director Andrew Onorato, is reminiscent of Hayo Miyazaki's animated films.
Similarly to "My Neighbor Totoro," and "Spirited Away," Eilish is made out to be the coming-of-age heroine in the short who, set in a forest that is drenched in a storm, wanders and finds herself at some point looking dreamily at the moon as if symbolically wishing to be reborn into a new version of herself. The whole arrangement is irresistibly and so obviously Studio Ghibli-esque.
From merely watching the video once, it's obvious that the Eilishian flair is still very much present: a bit of dark pop, though much more thematically uplifting than her previous hits from "When We Fall Asleep, Where Do We Go?" and James-Bond-film-tailored "No Time to Die"; a practically consistent crooning regardless of the song's low-to-up tempo range; and electronically textured layers with bass-like additions.
The most surprisingly optimistic transition lies in the second half of the song and video. There, the night passes and the sun appears. Plants begin to sprout and grow, one of whose roots encircle anime-Eilish's legs and bring her up. In her own right, she seems to bloom, too, getting nearer to the sky. As she is further elevated and inspired, she sings:
"But I am in love/ with my future/and you don't know her/And I, I'm in love/But not with anybody here." 
The very idea of a future that's personified through that imagery alone or through the word "her" touches for many, especially for youth hunkered in mainly isolation, the now ever-confusing topic of socializing, growth, and the overall idea of fitting in with the passage of their time. 
How is it possible to grow, as we know it when it's hard to hang out with friends or meet new people? How could certain relationships continue if some of them have become now long-distance? How to make yourself belong to you? How not to rush? How to be patient with yourself? How to get to love your own company? 
https://giphy.com/gifs/VirginRadio-fr-lkZ3MoN3tnVlO3uUlv
Those are only some of the questions that linger over "my future." The answer? Perhaps it feels cliche but it asks to be reiterated: Find happiness within yourself. Have a relationship with yourself first. Get to know yourself. Only then will you know what you need and want.
Let's be frank here. Billie Eilish's talent is, well, in one word, disarming. In other words, unraveling, riveting, soulful, fulfilling, chilling, introspective, somnambulistic, spiritual even.
Metaphorically, if it'd have a tactile texture, it'd be like the eye of a tornado — without giving you much of a choice, if you find yourself in its midst, it swoops you in and carries you into faraway, deep places that were previously unexplored within you. 
It doesn't matter which age-group listens to her, or whether or not those who do have even a modicum of understanding of musical styles and genres; notwithstanding, her music reaches well beyond the "captivating" level. It disorients, pries, lifts yet breaks you apart.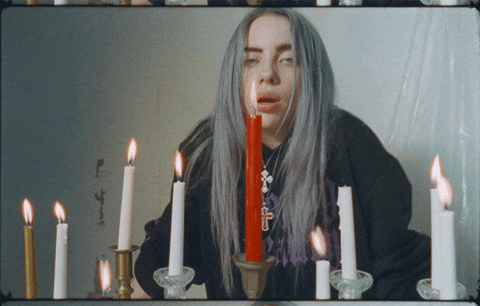 When Lowe asked about Eilish's favorite lines, she chose:
"I'd like to be your answer/ 'Cause you're so handsome/But I know better/Than to drive you home/'Cause you'd invite me in/ And I'd be yours again."
That's revelatory in itself. For so long, she said, she relied on others to maintain a sense of contentment in her life, but now she wants to be freed from that desire. Solitude, she learned, is sometimes also appealing.
Eilish might have told Lowe that nowadays even hoping feels hopeless but "My Future" mends. It consolidates the ties to the past with the threads to the future. Meanwhile, in between, in the present, it paves a path for a hope that feels, actually, hopeful.