On Monday, Aziz Ansari released his new stand-up special Right Now on Netflix. I actually found that out by accident, mid-searching for the new season of Stranger Things.
My first instinct was to turn away, to avoid watching the release. I still feel uncomfortable when it comes to Ansari, who I had watched for seven seasons on Parks and Rec as disastrous entrepreneur Tom Haverford, and both seasons of Master of None, but maybe his story deserves another look.
In the 2018 wave of #MeToo allegations, the since-shuttered (and previously unknown) website Babe published an article about the comedian titled "I went on a date with Aziz Ansari. It turned into the worst night of my life."
The story, about a young photographer named "Grace", presented a complicated case among the largely black-and-white allegations of the #MeToo movement.
As reported by Katie Way, Grace recounts that she met Ansari at the 2017 Golden Globes, where he sported a Time's Up pin. He asked for her number, and she gave it, and soon they began texting. They soon went on a date. He took her out to a fancy dinner; they discussed upcoming projects; he brought her to his apartment.
That's when things turned sketchy.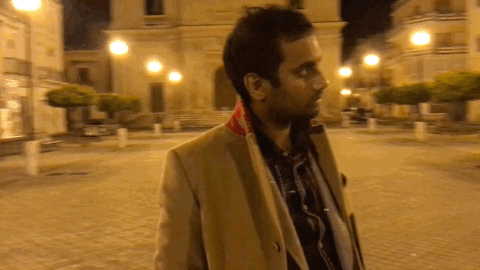 Grace asserts that she gave Ansari "verbal and clear non-verbal cues" indicating her discomfort and "felt really pressured" throughout the encounter by the "forceful" comedian. But it seems that Grace never explicitly told him no, or that he forced her to have sex with him. After Ubering home in tears, Grace was herself confused "if this was an awkward sexual experience or sexual assault."
Is it possible that Ansari, author of Modern Romance, could simply have been clueless? Grace describes one moment where, after telling Ansari she didn't want to feel forced, he responded, "Oh, of course, it's only fun if we're both having fun." But, adding another layer of complication to the story, the encounter continued soon after. Shouldn't he have known she was uncomfortable?
The article attracted a massive national response and sparked a backlash. Many argued that, instead of furthering the goals of #MeToo, the article was evidence to legions of sneering men (and women) that the movement had gone too far.
But there's also no denying that what Ansari did was wrong on at least some level– or that these events happened. Soon after Babe's publication, Ansari released a statement confirming that the encounter had taken place and that he had apologized to Grace after she texted him that he had made her feel violated. In a statement, he expressed his belief that what had happened between them had been consensual.
Ansari subsequently disappeared from the public eye. But, just as Louis C.K. speedily returned to the stage (mocking Parkland survivors and non-binary individuals), following his promise that he would "step back and take a long time to listen," Ansari also plotted his comeback.
In late 2018, he announced North American tour dates, signaling his return, as well as his desire to restore his image.
New tour dates for 2019. On sale this week. Click here for cities. See ya on the road ding dongs. https://t.co/qVcEQZXjfn pic.twitter.com/tS8Ia31OMQ

— Aziz Ansari (@azizansari) November 27, 2018
In the opening shots of the Spike Jonze directed film, Ansari walks the streets of Brooklyn, looking nervous, undoubtedly knowing he has to broach the personal, deeply uncomfortable subject.
And almost immediately after taking the stage Right Now, Ansari addresses the story, following a joke about a guy confusing him for Hasan Minhaj. For a performer known more for his goofiness than his introspection, he appeared slightly uncomfortable as he launched into the serious stuff, unable to look into the audience's eyes.
"I felt so many things, in the last year or so," the normally shouty comedian tells the room in basically a whisper.
"There's times I felt scared. There's times I felt humiliated. There's times I felt embarrassed. And ultimately, I just felt terrible that this person felt this way. And after a year or so, I just hope it was a step forward. And it moved things forward for me; it made me think about a lot. I hope I've become a better person."
It's hard not to feel moved by the soul-baring monologue, as well as his closing statement that circles back to the allegations. He tells the crowd how grateful he is — and how he actually meant it this time, unlike in other shows. Because for the first time in a long time, he knows he is lucky to be there. There was a world, he says, where he "never got to do this again."
He continues, calling the old, entitled "treat yo self" Aziz dead, and the Netflix shows "ephemeral." Instead, he promises to live in the moment: "This is our moment, right now," he tells the audience.
During Right Now, he also notes the positives of the potentially career-ending article. He tells the audience that his friend had approached him, telling him that he had rethought every date he'd ever gone on. Ansari concluded,
"This made not just me, but other people, be more thoughtful, and that's a good thing."
But, amidst the contrition and promises to be better Right Now, there is also anger. He critiques cancel culture and internet debate where, he argues, people "don't really care about learning and exploring and discussing.
They just want to chime in with their little programmed reactions." Undoubtedly, he sees himself as a victim of that crowd mentality. In Right Now, he also calls everyone "shitty people," himself included. But it seems that the whole point of his show is to prove to everyone that he's not.