Picture this: It's 2014, you're sitting in your car and "Get Lucky" is blasting through the radio. You go home, after a long day of school (at least for me, high school) and you flip on the TV. What's that? The Grammy's are on, awesome!
You stay glued to the TV, while you eat dinner. All these big categories and huge winners…then it happens.
Macklemore takes home Best Rap Album over Kendrick Lamar's "good kid, M.A.A.D city", which is arguably Kendrick's greatest album to date. You look at the TV, astonished at what just happened. You question the Grammys as a whole and begin to wonder if they'll ever get it right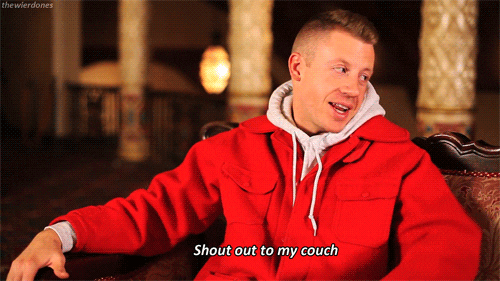 *FLASH FORWARD to 2019* and not much has changed…
It's that time of year again. The Grammys have some of the greatest musicians and creative minds together under one roof, the Staples Center (home of the Los Angeles Lakers). All this collective brilliance bound together by "Music's Biggest Night".
But… I have lost faith in the show completely. The Grammy's are supposed to be representative of the spirit and times of the era/year we are living in. Peep this statistics report based on the demographics of the United States and the music listened to.
It shows that the most widely streamed and listened-to genre in the States is Hip-Hop. Largely attributed to forces such as Kanye West and Drake paving the way (I know I didn't mention a LOT of other names, calm down), Hip-Hop has been interwoven in American society and popular culture.
But did a Hip-Hop album win Album of the Year? NOOOO. Do you know who did? Kacey Musgraves. KACEY MUSGRAVES!!!????!!!!????
You better stop playing with me, Grammy's…cause right now, you're telling me that, in a year where Country music is not even in the top 3 genres of music that was most listened to, it somehow overrides the main demographic and wins best Album of the Year!?
What metrics are you using to make your judgment? Because I'm looking at facts. I'm using the spirit of my generation, the millennials, to let you know, that we love and listen to HIP-HOP and RAP.
You have consistently used your "best rap album" award to dodge the real issue. You don't want to vote for the genre that has been laying the foundation for culture since the late 70s.
You don't want to delve into the nitty-gritty details and insightful truth that rap brings to light, in regards to the current socio-political situations happening in America. The Grammys want to paint a picture-perfect image of American society, but this is all wrong.
For God's sake, there wasn't even a picture of 21 Savage, to talk about the inequality that he and millions of other AMERICAN's are experiencing every day. The man is literally in solitary confinement and taken away from his children.
For an award show that is dedicated to music, which to many is defined by its openness, love and emotional catharsis, the Grammy's have proven once again that they're not ready to change with the times.
Let me be abundantly clear, that this is no slight to Kacey because she absolutely murdered her performance and has a stunning voice. However, when you have the "album of the year" winner muttering, "what?" "how?", under her breath, while on live tv, then there's an obvious issue.
Luckily, the overall hosting by Alicia Keys, along with the performances from the likes of Janelle Monae, Post Malone, Travis Scott, H.E.R. and Miley Cyrus kept this from being a completely abysmal night. So, enough of my ranting and I will end on this note:
Dear Grammy's,
Please get up to speed with society. I know we move a million miles a minute, but so does music. Please adopt a more equal way of voting. We know it's subjective, but it should be subjective of the objective, which is that Hip-Hop and Rap should be the album of the year winner.
Sincerely,
Society.