Destiny Frasqueri made her mark on hip hop culture with her first studio album 1992 Deluxe in 2017. Her second release was in a different genre, disappointing some fans and deeply affecting others.
After much anticipation, Miss Destiny returns to hip hop with her latest single "Sugar Honey Iced Tea (S.H.I.T.)" Princess Nokia journeys creatively for a reason. The reason is art.
---
The rise
The 2017 project 1992 Deluxe rose amidst a powerful time for female rappers and expanded on her 2016 mixtape 1992. Miss Destiny had long been making creative media with her Metallic Butterfly album in 2014 and several short films videos released on YouTube.
Still, 1992 Deluxe struck a powerful chord among young women and hip hop male fans alike. Her lyrics were both striking and expertly metaphorical. During interviews, the Tomboy showed us her feminine side, making it extremely clear that she (and women specifically, and people in general) could appear and exist in multifaceted ways.
---
The other side of Tomboy
Her many podcasts brought fans closer, as well as gave the public insight into Destiny's spiritual journey which in part informed the creation of the song "Brujas."
Destiny still often talks about Afro-Carribean culture and spirituality. She brings specific practices of healing, self-love, and self-actualization to the forefront, keeping things equally realistic and spiritual.
Since the success of 1992 Deluxe, the Gemini creative released A Girl Cried Red. The album was a complete departure from her popular hip hop sound and acted as an ode to her punk rock and emo youth.
Nokia said during a fundraising event for Puerto Rico in September 2018 that the album and the spaces she wanted to create were for girls to feel free and comfortable moshing, and during that event they did.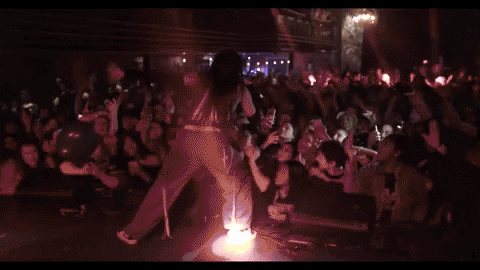 A Girl Cried Red received misdirected criticism due to 1992 fans expecting another fire rap album. The album instead touched those that Miss Destiny was intending to reach, teens dealing with dark feelings of depression, suicide, bullying and the overall shittiness of adolescence.
But shouldn't artists create as they see fit? You shouldn't need to wait for three to five studio albums in a genre that made you popular, in order to explore other creative routes.
Nokia's creativity is vast and becoming a clout queen is definitely not her style.
That said, being true to your creative self does not mean that one forgets about securing their bag. Known for her fly street style Princess Nokia appeared in several commercials for North Face, Calvin Klein, and others and as well as a spot on Timbaland's inspirational Erase the Hate commercial.
Princess Nokia appeared since the 2018 album, on her YouTube channel. Fans became more obsessed with her through mutual fangirling over Harry Potter and thrifting. But what hip hop fans were waiting for Destiny gave them on September 16.
---
The other-other side
Princess Nokia dropped the song and video for "Sugar Honey Iced Tea (S.H.I.T.)." The track will undoubtedly become a cult favorite much like several tracks off of 1992. The video departed from the visuals of Tomboy Nokia and relied on the diversity of beauty.
The video expertly placed Destiny in a beauty pageant for its entirety. Miss Destiny described the visual concept beautifully.
"My video concept is based on Santeria and the Matriarchal lineage of Afro-Carribean Women."
This was Nokia's response after an artist claimed she copied the idea after she only saw the 7-second clip trailer.
Speaking of haters, the lyrics spoke to the shit-talkers from the A Girl Cried Red era of criticism, making it clear that Nokia is still lyrically, musically and creatively superior. The New Orleans bounce influence is pretty well executed as well.
The ending brings everything back to Princess Nokia's most important message and that is that you are beautiful. Of course, we want more and if Princess Nokia's work and determination is any indication of more drops, we'll definitely be here for it.