September 14 marks the birthday of two music juggernauts, Amy Winehouse and Nasir Jones. And, as it turns out, they share more than just this date.
Individually the two are legends in their respective rights — Nas a King of hip-hop and Amy a Queen of jazz and soul.
The pair had a deep appreciation of each other and the music they made.
Although they were from completely different worlds their connection was undeniable, with Amy dedicating her single "Me & Mr Jones" to the Queens rapper and Nas recalling her voice saying it "immediately caught him."
In honor of their birthdays I wanted to celebrate the legend of Nas and Amy and what connects their legacies. Aside from the same birthday, the pair had a lot in common from their life to musical impact.
Timeless music that set the bar for other artists
https://giphy.com/gifs/amy-winehouse-xT9DPvCDCU6Sy44n16
Nas' Illmatic is widely considered one of the greatest hip-hop albums to date. On top of that, Amy's unique and powerful voice is one of the most iconic voices in music.
Both are regarded as revolutionaries in their respective genres with Amy influencing the likes of Adele and Lady Gaga, whereas Nas influenced acts like Eminem and Jay-Z.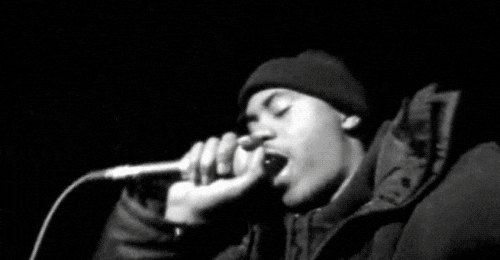 Amongst inspiring other artists, the two also managed to inspire each other all the time. Amy sampled Nas' classic "Made you look" for her track "In My Bed" and Nas was her only hip-hop collaboration, so it's clear to see the respect they had for each other.
Back to Black and Illmatic have stood the test of time and remain a study point for other artists looking to follow in their footsteps.
---
True Artistry
https://giphy.com/gifs/amy-winehouse-xT9DPInCt0x1MqvGNi
In memory of Amy Winehouse, Questlove of The Roots said "she taught me a lot about jazz" adding on "I thought I had my doctorate in jazz but she showed me there was so much more I could've learned."
Nas is regarded in the same tone amongst every rapper alive, his legacy is untouchable.
Drake said of Nas, "Nas was somebody that I used to listen to his raps and never understood how he did it." Nas and Amy alike shared an understanding of their craft that has yet to be duplicated.
Nas is on record calling Amy a true artist and if she were still alive today she'd probably speak the same of him.
---
Personal Lives
https://giphy.com/gifs/amy-winehouse-GGxtSUMNn6Wgo
This'll probably come off as a stretch to some but Amy and Nas both related to how they carried themselves.
Although they carried themselves differently, their disdain for glamor and publicity connected them more than anything.
Their laid back demeanor and preference for being alone influenced their individual struggles with alcohol. Both artists have confronted the issue on multiple records, Nas even naming their collaboration "Cherry Wine" (after her guitar Cherry).
The similarities go deeper than that as both artists were raised around strong jazz influence. Nas' father is jazz singer Olu Daru and Amy was raised around her jazz musician uncles, the pairing seemed to be set in the stars.
https://giphy.com/gifs/nas-flGeLGyj3GT4I
Last but most obvious is their shared birthday, which Amy mentions in her track "Me and Mr.Jones" dedicated to the 44-year-old rapper.
The pairing of Amy Winehouse and Nas is one that was never fully able to flourish. Maintaining their relationship over phone and Skype calls, the duo only managed to spend 1 weekend together.
We'll never know what could have come out of more time together but on their birthday we can take our time to celebrate the relationship they did have.
The impact they've made on music is legendary so let's appreciate these two icons by keeping them in rotation all day!