Earlier this year proceeding the outcome of the 59th annual Grammy awards, Solange's took to Twitter to express her disdain towards the academy's for album of the year.
They've since been deleted, but she express a critical issue with the academy regarding the history of winners in that category. She wrote:
"There have only been two black winners [at the Grammys] in the last 20 years for Album of the Year. There have been over 200 black artists who have performed." She concluded: "Create your own committees, build your own institutions, give your friends awards, award yourself, and be the gold you wanna hold, my Gs."
sad Solange deleted her apt Grammys criticism but here it is again: "create your own commitees… award yourself." pic.twitter.com/Dqm3cu6D83

— Jill_Krajewski on lG (@JillKrajewski) February 13, 2017
Solange was not alone in her disgust. In fact, the backlash was so heavy the head of the Recording Academy Neil Portnow actually responded, denying that the awards has a "race problem."
"I don't think there's a race problem at all… It's always hard to create objectivity out of something that's inherently subjective, which is what art and music is about. We do the best we can," he said back in February.
Now, as of today, after releasing the complete nominations for 2018's 60th Annual Grammy ceremony, for the first time in 19 years the album category has no white men.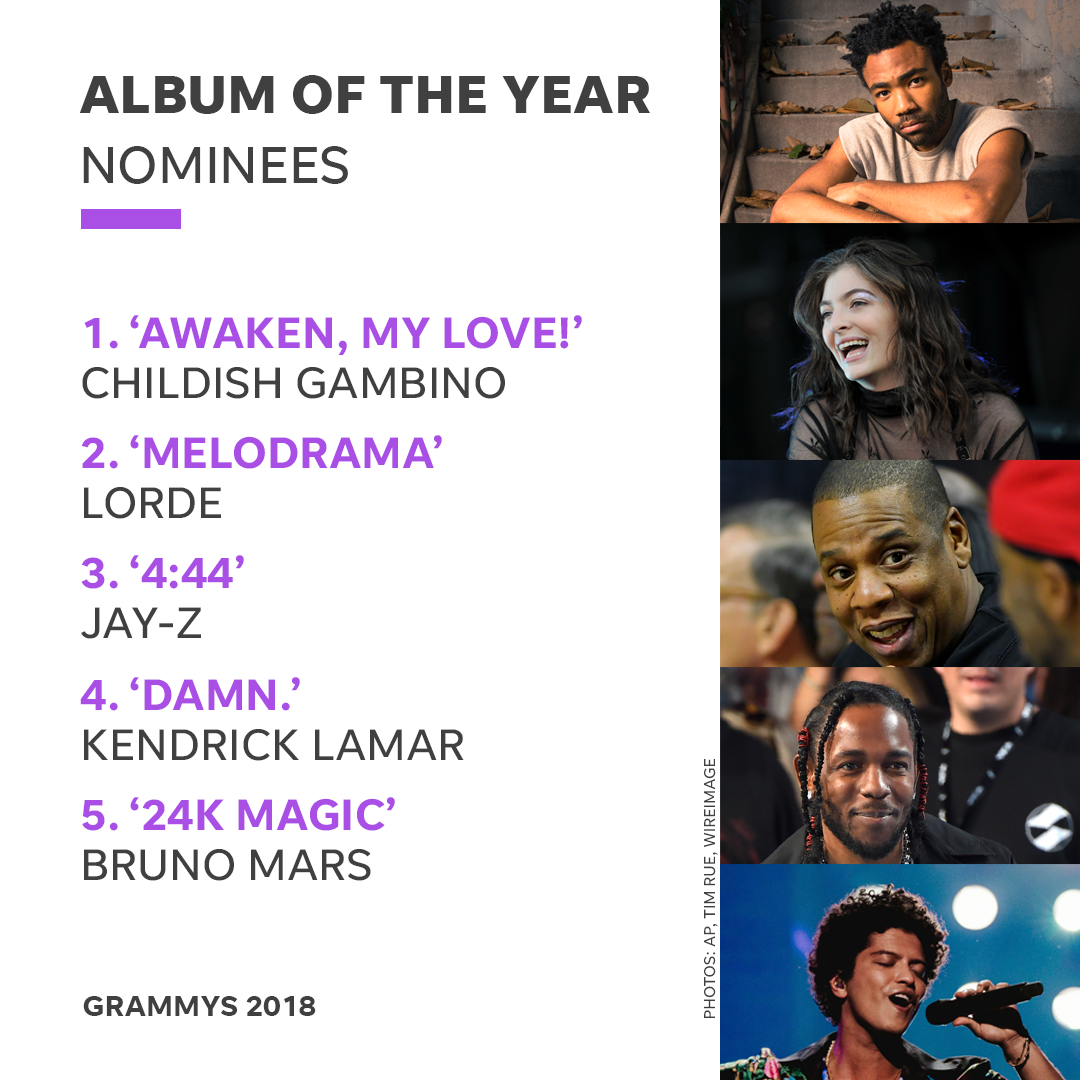 Figure that. This happened last in 1999, when five women were nominated for the category.
Jay-Z leads all artist with eight nominations followed by Kendrick's seven. If Jay were to win, it would make him the first non-white artist to win Album of the Year in over a decade, avenging his wife's snob last year.
Many are feeling that Ed Sheeran, who's album Divide is 2017's second best-selling album, behind Taylor Swift's Reputation, was snubbed by receiving no major awards noms, only earning two nods in the pop categories. Otherwise people were overall elated at the complete spread.
https://twitter.com/Im_Just_Isaac/status/935539232029986816
https://twitter.com/cthagod/status/935507135861051392
https://twitter.com/tommydorfman/status/935560650255843328
The eligibility window for the 60th GRAMMYs was Oct. 1, 2016, through Sept. 30, 2017, so many of this years favorites are not on the list.
It's going to be interesting to see how it plays out when it airs Sunday, January 28th.