The beauty of film is in how it can transport audiences into the perspective of people different from themselves. Black womanhood is often underrepresented in various sections of society. But it has been increasingly prominent in cinema both in front of and behind the camera.
The rise of Black women in the director's chair has pushed these kinds of stories to the forefront of cinema. With that said, here are five directors whose work captures the essence of Black womanhood.
---
Ava DuVernay
One of the most powerful and respected Black women in Hollywood, DuVernay came from humble beginnings that shaped her into the mogul she is today.
DuVernay started off in entertainment public relations, then transitioning into making her own films.
DuVernay is known widely these days for her groundbreaking Netflix series "When They See Us," chronicling the Central Park 5. But her first two feature films, I Will Follow and Middle of Nowhere portray the struggles of love and the tenderness of Black womanhood in ways that many haven't done before.
Her connection with Disney also places her in a historic filmmaking position. By directing Disney's A Wrinkle in Time, she became the first Black woman to direct a big-budget Disney film.
And most importantly, she strayed from the source material, making the main character a young Black girl, casting Storm Reid.
This is all in addition to her behind-the-scenes work. DuVernay places Black women in various production roles on OWN's "Queen Sugar."
DuVernay's Array Crew initiative also looks to expand behind-the-scenes opportunities for women of color. It's safe to say that DuVernay is a strong champion for Black women in filmmaking.
---
Radha Blank
Cinema genius Radha Blank is a triple threat. As a writer, director, and actor, Blank released her first film, The 40-Year-Old Version to critical acclaim in a partnership with Netflix.
The film also won the U.S. Dramatic Competition Directing Award at Sundance making her just the second Black woman to take the honor behind Ava DuVurnay.
The film places its perspective on older Black women. Radha herself plays a 40-year-old playwright who becomes a rapper to salvage her voice and creative expression. It's a heartfelt story of dreams and the fight to preserve creativity no matter a person's stage in life.
Youth is often romanticized throughout all forms of media. So to see Black women being represented at this age in film breaks barriers and makes way for a fresh story to emerge.
This is the appeal that brought many to Blank and her film that displays the resilience of Black women through Rahda's fight to be true to her art.
---
Dee Rees
Rees is a screenwriter and director most famous for the award-winning Netflix film Mudbound. Her previous two films portray an overlooked community of Black women and a legend of blues.
Pariah portrays a Brooklyn teenager struggling with accepting herself as a lesbian. Most films centered around the LGBT community focus on white characters. Dee Rees tackling this subject matter from the perspective of a Black woman makes it unique. And furthermore, it introduces audiences to this culture.
Continuing in the area of Black women in the LGBT community, Bessie is an HBO film that chronicles the life of Blues singer Bessie Smith. Queen Latifah plays the title character.
Rees not only portrays Smith's legendary career. But she also portrays other aspects of her love life and the people she held near and dear. It's a unique look at a legend of Black music and an even stronger portrayal of Black womanhood.
---
Stella Meghie
Stella Meghie is a Canadian filmmaker who centers Black womanhood in all of her films.
Meghie's first two films bring Black women into the comedy genre with Jean of the Joneses, followed by The Weekend. Both films allowed Black women the chance to see themselves as title characters in comedies centered around Black women, made for Black women.
Each film tackles the struggles and complexities of love lost and found. They also navigate what it means to be a Black woman in the modern world.
Meghie's most recent film, The Photograph brought the essence of 90s Black romance movies back to the modern era with a timeless story of unexpected love woven together by a single photograph.
It's a return to an era that seems long gone in filmmaking that Meghie, along with her previous films, wrote and directed herself.
Her next project, I Wanna Dance With Somebody will see her tackling the story of Whitney Houston, one of the greatest R&B/Pop vocalists of all time. Houston's life is one of love, tragedy, and triumph that deserves to be seen on the silver screen and no better person could be suited for the job than Meghie.
---
Gina Prince-Bythewood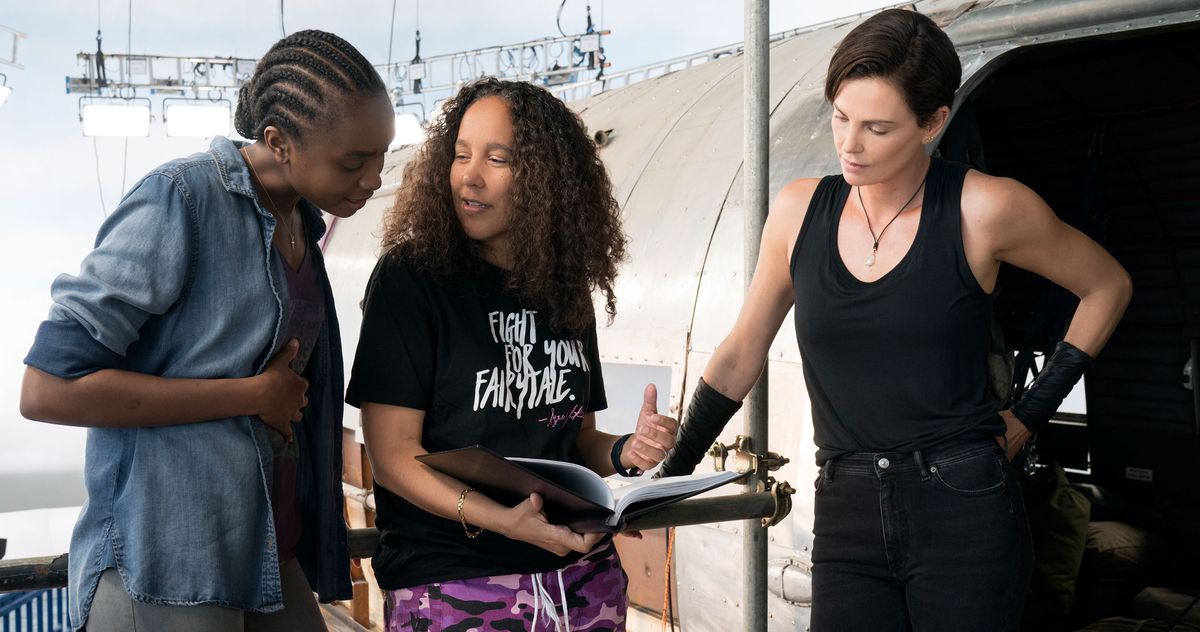 Gina Prince-Bythewood is another filmmaker who centers Black women in her films.
Bythewood directed the classic Love & Basketball putting her on the map as a feature film director. Since then she has directed various projects including The Secret Life of Bees, Beyond the Lights, and The Old Guard for Netflix.
Bythewood has done the classic love story for Black women but what sets her apart is her transition in the action film space with The Old Guard. Centering her story around Kiki Layne's character, Bythewood was able to show a Black woman superhero on screen, a rarity in filmmaking.
Bythewood is continuing this shift with her next film, The Woman King which will star Viola Davis as the general of an all-female military unit in their fight against the French military.
Her focus now is to put Black women in the strongest genre of films and allow them to breathe and be themselves, proving that nothing is impossible for these women.
---
For more on Black womanhood in film: