Awards season is officially upon us. The Golden Globes just wrapped up, the Grammy's just announced Alicia Keys as their host, and Tuesday morning the 91st Academy Awards list of nominations were revealed.
You don't have to be a movie fanatic or award show loyalist to know the history of the Oscars and how, without fail, every ceremony manages to disappoint in some way or another.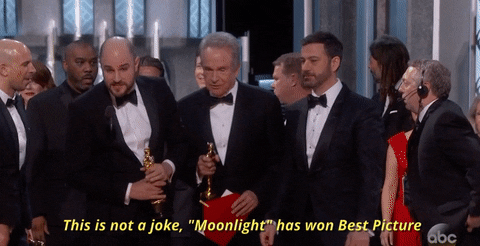 In 2016 the Oscars didn't include any nominations for people of color in any of the major categories, prompting the hashtag #OscarsSoWhite and in 2018 many were shocked when Moonlight failed to nab 'Best Film', losing out to a film about a woman who sleeps with a fish-guy.
You already know 2019 is going to have its list of surprises, snubs, and subplots. So, we took the time to break it down for you.
Host
We cannot talk about the Oscars without first talking about what happened to its host.
Initially, the Academy tapped comedian Kevin Hart to host the show, which he was excited about. But moments after the announcement old homophobic tweets of his started to resurface, prompting the Academy to ask him to apologize or step down.
Angry about the ultimatum and maintaining that he's already apologized, Kevin issued another one, except he removed himself from host role anyway.
I have made the choice to step down from hosting this year's Oscar's….this is because I do not want to be a distraction on a night that should be celebrated by so many amazing talented artists. I sincerely apologize to the LGBTQ community for my insensitive words from my past.

— Kevin Hart (@KevinHart4real) December 7, 2018
It's been a whirlwind. Many have come in his support and even asked for his to return as host, while others feel like it wasn't good enough.
Either way, as of right now, the show is without a host. So the program will be very interesting, to say the least.
---
Most Nominations
Art is subjective, but you can always get a good sense of which film resonated the most with the general public – or at least the academy — when nomination time rolls around, and this year both Roma and The Favourite are the runaways.
Roma is a Netflix film that tracks back at director Alfonso Cuarón's youth in Mexico, and The Favourite is a  period dramedy with an all-star cast.
Both are tied for most nominations with ten each and are the frontrunners for winning best picture.
---
Snubs
For as much noise as the film, A Star is Born has been making, the Lady Gaga, Bradley Cooper flick about making it in the music biz has been coming up short.
The film hasn't picked up any high-profile wins so far, which made yesterday's nom list hit a little harder for A Star Is Born which failed to pick up anything for best editing or best director.
Similarly, many are wondering why Timothée Chalamet was left out this year. After becoming one of the youngest men to be nominated for best actor last year, it was a shock to many that he wasn't a shoo-in for best supporting actor in his role for Beautiful Boy where he played a troubled drug addict.
---
Surprises
Black Panther made history as the first superhero film to ever be nominated for best picture and the film also nabbed a historic nomination for the production designer Hannah Beachler, who became the first African-American nominated in her field.
Netflix turned heads this year, making a statement for streaming services with it's best picture recognition at the Oscars as well as nominations for lead actress for Yalitza Aparicio and supporting actress for Marina de Tavira.
---
BEST PICTURE
Black Panther
BlacKkKlansman
Bohemian Rhapsody
The Favourite
Green Book
Roma
A Star Is Born
Vice
ACTRESS IN A LEADING ROLE
Yalitza Aparicio, Roma
Glenn Close, The Wife
Lady Gaga, A Star Is Born
Olivia Colman, The Favourite
Melissa McCarthy, Can You Ever Forgive Me?
ACTOR IN A LEADING ROLE
Christian Bale, Vice
Bradley Cooper, A Star Is Born
Willem Dafoe, At Eternity's Gate
Rami Malek, Bohemian Rhapsody
Viggo Mortensen, Green Book
---
There's no telling how the Oscars will shake down, how not having a host will turn out or if there will be any upsets. Until then all we can do is wait to find out. The Oscars will be premier on Jan. 22 on ABC.