After Kyrie trade, LeBron needs to bring his 'super team' to New York
There's no denying it – the 2017 NBA offseason has been absolutely insane.
Big name players like Paul George, Chris Paul, and Gordon Hayward all made moves to strong teams to play with fellow superstars.
This year's rookies might be the best incoming group since LeBron, D-Wade, and Melo headlined the legendary '03 rookie class.
But the wildest move happened last week, when the Celtics and Cavs pulled off a blockbuster trade, swapping all-star point guards Kyrie Irving and Isaiah Thomas.
Somewhere out there is a high school kid reading about the Kyrie Irving Isaiah Thomas trade not knowing he will eventually be a part of it

— Kevin Bielecki (@KBTrey15) August 31, 2017
All of these moves should make the 2017-18 season one of the most entertaining in recent years. That being said, it's pretty safe to assume that the Warriors will win another championship and every other team is going to spend the 2018 offseason scrambling to try and play catch up.
One of those teams is, of course, my beloved Knicks. You may be asking yourself – what the hell can this joke of a team possibly pull off to be even somewhat competitive? The real question isn't what the team can do, it's what LeBron needs to do.
We can all pretty much agree that there's basically no chance in hell that King James returns to the Cavs when his contract is up at the end of this season.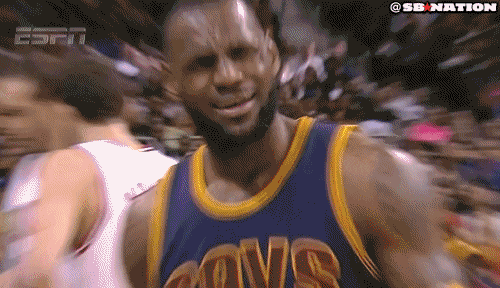 Even this far out, everyone and their mother is trying to speculate as to where LBJ might take his talents next.
Some people think he'll team up with Magic Johnson and take the Lakers back to their Showtime glory. Others say he'll join the freaks of nature currently balling out in Minnesota.
While some believe he'll head back to Miami, because anyone would be crazy to turn down an opportunity to build their empire down in South Beach.
All of that sounds dope, but there's really only one place that makes sense for LeBron to stop next – the Mecca. The Knicks need LeBron and LeBron needs the Knicks. The two are a match made in b-ball heaven.
https://giphy.com/gifs/lebron-X4chycv7D7Md2
MSG is still the most iconic place to play basketball and LeBron is still the most iconic person playing right now (don't even try to come at me with that Steph Curry b.s.).
In Cleveland, LeBron proved that he can take any team from the cellar to the top of the basketball world. The Knicks might be the biggest shit-show in the NBA right now and LBJ is the only person who could possibly save them at the moment.
NYC is the perfect place for LeBron and his super team of best friends (CP3, Melo, and D-Wade) to all link up. In New York, they can all continue to further grow their off court empire, while still playing for a big market team.
Besides all of the obvious reasons for King James to leave Cleveland for NYC, there's one other extremely interesting reason. The whole Kyrie trade situation made everyone realize that there was actually some bad blood between Kyrie and LeBron.
https://giphy.com/gifs/cleveland-cavaliers-kyrie-irving-kevin-love-oV4M4ul54f5Hq
Now that Kyrie is officially a Celtic, there would no better way of bringing back the Boston-New York rivalry than with LBJ in New York.
Just imagine – those two legendary franchises, both led by guys that can't stand each other, back at the top of the Eastern conference, duking it out time after time at the TD Garden and MSG.
Even if it's just for one season, LeBron James bringing his super team to New York would be a treat for Knicks fans and basketball fans across the country.