Y'all won: What the Cardi B and Offset breakup says about dating culture
There's a lot going on today.
The 41st President of the United States, George H.W. Bush, was put to rest, apparently there's a massive recall on ground beef that expands to more than 12 million pounds, and the aftermath of Special Counsel Robert Mueller's memo on former Donald Trump national security adviser Michael Flynn suggests he may have major dirt on the President.
However, none of that matters because Cardi B and Offset are officially over after one full year of marriage.
The news comes via Cardi B late last night on Instagram and looks as if she's serious this time.
View this post on Instagram
The only statement we've heard from Offset was a comment he left below the post:

I know you're probably thinking this news is irrelevant petty gossip and tabloid drama but you're wrong. Offset and Cardi B were for the culture and watching them was a hip-hop love story that made everyone feel good.
When Offset dropped to one knee in front of tens of thousands of fans at Power 99's Powerhouse concert in Philly earlier this year the earth stood still on its axis and the ring he got her made all of our collective jaws drop. This isn't even mentioning their precious bundle of joy, Kulture. Who doesn't like Black love and family?
So, while granted there are a lot of important things going on, there's a reason why Cardi B was the number one trending topic in the world this morning. But what's been more telling is the aftermath of the split's announcement.
Following her IG post, everyone felt the need to chime in, projecting their realities and principals on what they perceived transpired and it's troubling.
https://twitter.com/4masf/status/1070194372631764992
https://twitter.com/_marisadg/status/1070198842497294336
Martin Luther King had hoes in every state and Coretta stayed. You better than Coretta?

— Trill Axelrod (@TheTrillAC) December 5, 2018
While "Y'all won" may have been the triggering point for Cardi's fan base to hang Offset, I offer that we take his words to heart for a moment. First and foremost he admits that this, indeed, is what the general public wanted. It's important we come to this resolve.
Mind you, this was not the first time Offset was caught cheating. In fact, he's been caught on tape with another woman multiple times even before they married. Yet, she kept him and they stayed together.
It was Y'ALL — the onlookers and fans — who berated her with slander to the point where she had to make a public statement defending her decision to stay. She did not want this, you guys did. She wrote on IG:
"No, it's not right for a [n***a] to cheat…But what you want me to do? Go f**k me another n***a? Start all over again and get cheated on again? This sh** happens to everyone and I be too, you too…People handle they relationship different soo."
Similarly, when Cardi was pregnant with Kulture, Offset got caught slipping and much like the first time, stayed, but not without having to defend herself to YA'LL. Cardi even tweeted:
"That's why I name my album "Invasion of privacy. Cause people will do the most to be nosey about your life."
This why i name my album "Invasion of privacy" cause people will do the most to be nosey about your life .Welp fuck it . pic.twitter.com/U3uHFOT3qK

— Cardi B (@iamcardib) June 25, 2018
The same goes for this most recent fallout. Had information of Offset trying to sleep with aspiring rapper, Cuban Doll never leaked last night, who knows if they'd even split today.
So let's be clear, this is what the people wanted from the jump. Let's not flip it on Offset and Cardi as if we know the statutes of their union. She would not have defended him so staunchly before if it was as much as a dealbreaker for her as it was for Y'ALL.
Secondly, a lot of celeb couples who are deemed "goals" have gone through this very same thing — their only difference is their lack of transparency. In fact, it's Cardi's Achilles heel. She thrives off being herself at all times and lives her truths. The only issue is that when that juxtaposes the trend or current status quo, it backfires.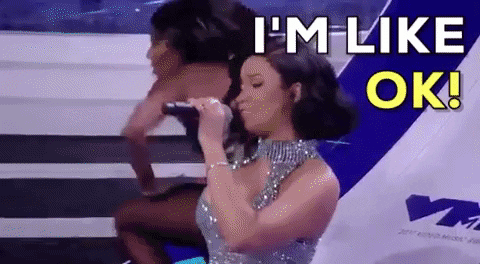 Why do we think Jay and Beyonce's situation went over so smoothly? Only a fool would think he only cheated once. They keep everything vacuum sealed tight because they know Y'ALL be wilding.
Similarly, Will and Jada have kept their mouths shut tight because Y'ALL don't get it and Y'ALL wouldn't let them live if they did. Let me guess, we know the nature of their bond now, too, huh?
She know u cheatin. The problem comes when everyone else knows u cheating. But y'all don't hear me tho.

— ICE: I Change Everyday (@OfficiallyIce) December 5, 2018
Kevin Hart is still with his woman and they're making it work, as did Martin Luther King and Coretta when he was out there doing his thang. Who knows if Kobe would still be in his daughters' lives had he and Vanessa split?
Look, I'm not for cheating. Cheating is lying and lying is for cowards. But on the same note, we cannot determine someone else's dealbreakers and, as Cardi says, tell them how to "work things out."
Relationships transform, grow and can evolve into something completely different. It's up to that couple to determine what it looks like in the end.
All is done now, though. Cardi and Offset are done — Y'ALL won.