WTF happened to rock music? How a dominant force became an aging genre
Rock music, once the preeminent genre of world music, has retreated into the shadows as a niche genre in recent years.
Nielsen Music released their mid-year report two weeks ago, aggregating data from the music industry in order to see what Americans were listening to as well as how they get their music.
While younger generations are driving the power of streaming services like Spotify and Apple Music, hip-hop and R&B have officially overtaken rock music as the most popular genre in the country for the first time.
This isn't altogether surprising, hip-hop and R&B have dominated the charts and popular music radio. But it begs many questions as to the current state of rock music.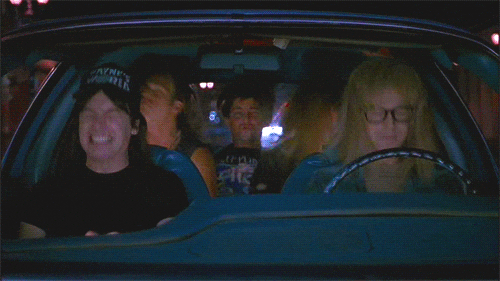 Is the genre dying a slow death? Do listeners not have access to rock music? Why is most contemporary rock music considered "alternative?"
As the most popular rock music is purveyed by bands that have been staples of the genre for years, where is new rock music coming from?
Significant rock releases this year include albums from Queens of the Stone Age, Arcade Fire, and Nine Inch Nails.
These are great bands, but with Arcade Fire, established in 2001, being the newest of this trio, they're hardly about to breath new life into a genre that's in significant need of fresh faces.
As is the case with all art, music is cyclical. This feels especially true of rock music.
Each new generation and style reacts to those that came before them.
It's possible to go all the way back to Chuck Berry, the British Invasion, the Summer of Love, the birth of heavy metal, punk rock, and hair metal and see how each subgenre of rock music responded to their predecessors.
For the sake of word counts and your millennial attention spans, we'll keep the history lesson relatively contained here.
In the '90s, grunge music dominated the rock genre, as well as popular music.
Seattle's angsty and flannel-clad sadboys sung about their depression and melancholy over heavy powerchords as a new generation fought back against the big-haired maximalism of '80s metal.
Nirvana, Soundgarden, Pearl Jam, Alice in Chains, and Stone Temple Pilots took back the genre from bands like Guns 'n' Roses, Van Halen, and Aerosmith.
Grunge music and its imitators became pretty stale by the late 90s.
Then by Woodstock '99, rap-rockers like Rage Against The Machine and Red Hot Chili Peppers took the throne.
I'm not here to argue about the virtues of Rage or the Chili Peppers, who are good, but this style also birthed Limp Bizkit and Kid Rock, who are very bad.
Rock once again had an identity crisis.
But then came THE GREAT REVIVAL.
The early 2000s saw rock music once again become cool.
As Lizzie Goodman writes in her new book Meet Me in the Bathroom: Rebirth and Rock and Roll in New York City 2001-2011 The Strokes' debut album Is This It was the official moment that rock was good and original again.
The Strokes behind the power of their 2001 album Is This It were hailed by retrophiles as the most important band since the '70s New York punk scene.
The New York rock scene was suddenly alive.
The Strokes, along with Yeah Yeah Yeahs, LCD Soundsystem, TV on the Radio, and their midwestern counterparts The White Stripes, were going to save rock music.
Music critics, as well as industry heads, were desperate for rock music to return and the ascension of The Strokes caused everyone to go out and find their own version.
This wasn't just an American phenomenon.
You had The Hives, tuxedos and all, from Sweden.
The Vines and their wild frontman Craig Nicholls from Australia landed on the cover of Rolling Stone. The excited headline read "Rock Is Back!"
This period and genre became known as "Garage Rock." As great as some of these bands and music were, they were hoisted up by an industry desperate for rock music to be great again.
It also spawned shitty and less-talented imitators like Jet (I had hoped to never hear "Are You Gonna Be My Girl" again).
The renaissance extended into the late 00s and beyond with Vampire Weekend, Phoenix, Dirty Projectors, and MGMT, but these bands felt less revolutionary and more niche than their predecessors.
As we get further and further away from the turn of the century, a time when rock music returned to the summit of popular music, even with non-"Garage Rockers" like Foo Fighters and Radiohead, it's starting to feel like a distant past, a brief flash in the pan that is now as insignificant as it felt important then.
So now what?
There's still good rock music being made.
Some rock releases that this writer has enjoyed so far in 2017 include Mac Demarco, Wavves, and (Sandy) Alex G. The prolific Ty Segall made some cool music this year.
Canadian punks PUP marked their place on the rock scene with an impressive debut in 2014 and a return in 2016.
But their lead singer's vocal cords ripping apart and them generally hating each other (the lead song off their second album was titled "If This Tour Doesn't Kill You, I will") has made for a quiet 2017 for PUP.
It's not that no one is making original and interesting rock music, just that most people don't really want to listen to or sell it.
A look back at those Nielsen numbers tells an interesting generational story. As hip-hop and R&B dominate the charts and streaming numbers, rock music still accounts for 40 percent of all album sales in America.
That's a pretty clear correlation between older people, who are still buying music (losers!), and rock music.
As parents buy rock records, their kids are streaming hip-hop on Apple Music.
https://giphy.com/gifs/the-strokes-8HhRU6BupmwO4
Music is a business and as the industry demands more and more trap rap and House of Balloons imitators, rock music is just not en vogue anymore.
Once again, this stuff is all cyclical. At some point a new crew of kids will put on leather jackets, cigarettes in mouth and Heinekens in hand, and make rock music important to industry executives again.
Until then, scour Bandcamp and ask your friend in art school what they're listening to. There's cool stuff out there.
And no, Tame Impala is not the answer.