Why we seriously can't wait for Netflix to drop Naomi Osaka's doc
Naomi Osaka is a superstar that impresses with her ability on the court and her maturity off of it. The Japanese tennis phenom is one-of-a-kind, and her story represents more than just athletic expertise.
Through a collaboration between Netflix and UNINTERRUPTED, audiences will get an inside look into Osaka's life in a documentary that is sure to be as touching as it is thrilling.
The doc follows Osaka's pivotal year, from the US Open in August 2019 to present-day as she prepares for the 2020 Tokyo Olympics. Where she'll represent her country on the biggest stage, under the brightest lights.  
View this post on Instagram

Osaka was born in Japan to a Haitian father and a Japanese mother, but moved to the United States and was brought up in New York when she was three-years-old. With this multinational identity, Osaka had the option of which country to compete for in the Olympics.
Under Japanese law, those with dual nationality must choose one before turning 22 years of age. And when her 22nd birthday came in October 2019, Osaka chose Japan.
According to Japanese public broadcaster NHK, Osaka said it gives her "a special feeling to try to go to the Olympics to represent Japan."
"I think I will be able to put more of my emotion into it by playing for the pride of the country," said Osaka.
Osaka has been ranked as the number one women's tennis player in the world by the Women's Tennis Association and is the first Asian player to ever hold the top ranking in the singles division. She won her first two Grand Slam singles tournaments back-to-back at the 2018 US Open and 2019 Australian Open.
In the former, Osaka defeated her idol Serena Williams, the superstar that inspired Osaka's father to teach his daughters tennis, and claimed her first major title. This resulted in increased international attention for Osaka. Additionally, she became the first Japanese woman to win a singles Grand Slam title.
Osaka's father watched Richard Williams and how he raised and taught his daughters Venus and Serena. Richard set the bar high and from him, Osaka's father looked to emulate this for his daughters, born 18-months-apart, Mari and Naomi.
"The blueprint was already there," Francois told the New York Times. "I just had to follow it."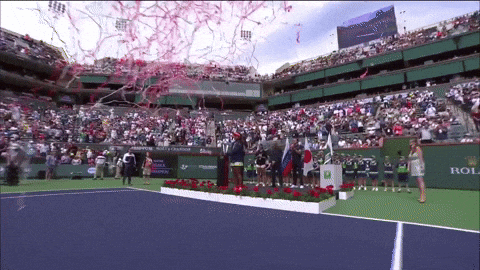 Osaka is only 22, yet her career is already teeming with accolades and iconic victories. In the 2019 Australian Open, Osaka entered the tournament as the fourth seed, but defeated her opponents, including Hsieh Su-Wei and Petra Kvitová, to win the tournament and claim the number one seed.
This documentary (the name of which has not yet been released) follows the Japanese ace through the rigorous training process required for top tennis talents as the Olympics approach.
It captures Osaka in her most intimate moments, explores her roots and her passions, and culminates with the end of an intrinsic journey that simply opens up another one.
"To be able to tell my story and let people in during this big year, working with a team that really understands me, has been a rewarding experience. It won't look like a traditional sports documentary, and I'm so excited to share it with everyone," said Osaka.
The doc, produced by Film 45, is directed by Garrett Bradley, whose short film "Alone," made with the New York Times OpDocs, was shortlisted for an Academy Award. Bradley also won Best Director at Sundance 2020 for her US documentary feature in competition "TIME."
View this post on Instagram

Osaka is a global tennis superstar and the face of Japan's athletic field. Traveling with Naomi in Japan, the audience will be treated to a journey of a woman just coming into her self.
We'll get to see her interests outside of tennis, her connection to her country and multi-cultural identity, and her path towards self-discovery as the clock ticks towards the biggest sporting event in the world.