Why the NBA's lucrative relationship with China is bigger than basketball
Since the 70s, America's business interests have superseded any issue the government has had with Chinese politics.
China is home to over a billion people, and the opportunities that its market offered to America proved lucrative and influential. Now, the U.S. is forced to confront the ideologies and practices of the almighty Eastern superpower that is China.
Through a set of random yet cataclysmic events, one of the biggest organizations in the United States (and most socially aware), in the NBA, is forced to pick a side…
Democracy, or its own bottom line?
How the NBA in China right now pic.twitter.com/bqBHInLyUO

— Josiah Johnson (@KingJosiah54) October 9, 2019
On Friday evening, Houston Rockets General Manager Daryl Morey tweeted a since-deleted image that said, "fight for freedom, stand with Hong Kong."
For a country that prides itself on its devotion to upholding democracy (though with each passing day this devotion comes further into question), this tweet seems rather inconsequential.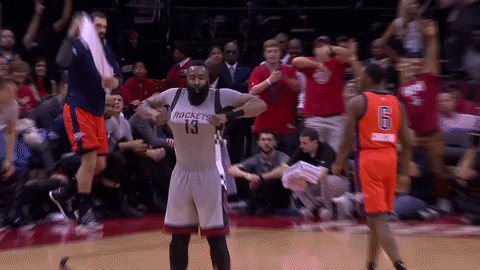 However, the money that the NBA and its players have tied in with China makes these words dangerous.
The protests in Hong Kong are due to the fact that Hong Kong is a semiautonomous state and special administrative region of China, and over the summer the government of China released a highly controversial legislative measure that would take some power back.
This measure would allow criminal suspects in Hong Kong to be extradited to mainland China. There is more to the bill, but this is the basis of it, and as The Ringer stated: much of this issue is that protestors believe it would undermine Hong Kong's legal independence.
Brutal protests have gone on in a seemingly leaderless movement, complete with facial-recognition technology used by the Chinese government. Laser scanners were used by the protestors to disrupt the government's efforts to identify them. Also, a heap of other devices was used by both parties that make this a political conflict that, in scope and magnitude, we have never seen before.
Houston Rockets owner, Tilman Fertitta, immediately responded to Morey's tweet and came at his neck.
Listen….@dmorey does NOT speak for the @HoustonRockets. Our presence in Tokyo is all about the promotion of the @NBA internationally and we are NOT a political organization. @espn https://t.co/yNyQFtwTTi

— Tilman Fertitta (@TilmanJFertitta) October 5, 2019
Basketball today is actually widely considered one of the most popular sports in China.
The Houston Rockets, interestingly enough, are the team with the most ties and fans in China, as NBA Hall of Famer Yao Ming (now head of the Chinese Basketball Association) played his entire career with the Rockets and helped grow the sport exponentially.
Fertitta recognized the issue with Morey's tweet, as China does not want to see growing support for its opposition, and if it holds power and can affect the interests of the party supporting it (it can), it will exercise that power unabashedly.
Though Fertitta tried to save face for his franchise, the damage is beyond repair. China is tearing down signs of NBA promotions. Sportswear brands are cutting ties with the Rockets, and China has suspended (and perhaps canceled) its relationship with the Houston Rockets.
The Los Angeles Lakers and Brooklyn Nets are slated to play a preseason game against each other tonight in China. Still, there is no guarantee this game will happen. China has canceled events in recent days and TV stations are refusing to air games after Morey's comment.
The latest from Shanghai – players are getting frustrated, and no one knows if Thursday's Lakers-Nets game is really going to happen. pic.twitter.com/qsH7lCG97x

— Rachel Nichols (@Rachel__Nichols) October 9, 2019
Adam Silver, the commissioner of the NBA, is in a very interesting place now.
Just weeks after coming into the job in 2014, Silver was faced with a big decision. An audio-tape of Clippers owner Donald Sterling was leaked where he was explicitly racist to black people, even his own players. In a move that now seems obvious, Silver banned Sterling from the league for life and was widely celebrated for his decision.
He became the clear best commissioner in sports, and head of a league that stands for equality, freedom, and social justice. But what does a commissioner do if standing for these ideals can crumble the league he runs and cost everyone involved millions of dollars?
The Chinese government's power runs deep, from censorship in the country to controlling markets all across Asia and the globe. Plus, China's control over its citizens and their speech remain apparent.
A 25-year-old Houston Rockets fan in China was arrested after threatening to burn the Chinese flag in protest at the ongoing dispute between Beijing and the NBA team https://t.co/EMBOXsduqD

— CNN (@CNN) October 9, 2019
Who knows if Chinese citizens are getting the entire story of what's going on in Hong Kong and with the NBA? It is doubtful.
By tearing down posters of NBA players, canceling telecasts of games, and ceasing to maintain a relationship with an NBA franchise, the Chinese government underscores a dangerous reality: it has control over everything its citizens see.
At first, Silver and the league office came out with a statement that was relatively impartial. It didn't concede to China by admonishing Morey, but it also didn't support him. However, it was always going to be impossible for Silver to please both sides, and so he quickly released another statement.
Adam Silver on the NBA's situation in China: "I recognize our initial statement left people angered, confused or unclear on who we are or what the NBA stands for. Let me be more clear…." pic.twitter.com/UfGqm7Kqax

— Rachel Nichols (@Rachel__Nichols) October 8, 2019
This entire ordeal is a huge issue, and it runs much deeper than the NBA.
America has had ties with China for decades now, but as Max Kellerman on First Take said, "The US-China relationship has always been based on mutual interests, not mutual values."
The relationship benefits both parties, but it all comes down to money. China felt Morey's comments threatening, and immediately showed its force in how much power it holds.
Adam Silver plans to travel to China and speak with authorities on how to resolve this issue, but it is uncertain if the Chinese will even agree to talk.
The biggest question is if Adam Silver, and by extension the NBA, concedes to China and turns a blind eye to the country's authoritarian and bullying practices, in favor of conserving the status-quo and lucrative deals for the league.
If Silver were to agree to cut ties with China, it would have a ripple effect on collective bargaining agreements, shoe deals for players, other leagues in America and even other businesses in America.
This story, all spawned by a single tweet of an image by Rockets GM Daryl Morey, could affect global commerce and the relationship between two of the biggest countries in the world for decades to come.