Why Marsha P. Johnson should be on your list of iconic activists
Marsha P. Johnson was one of the first drag queens to set foot in the Stonewall Inn. Known for her cornucopia-like headpieces, sequined robes, undying kindness, and red plastic heels, Johnson became a known figure advocating for the rights of gay and trans youth from 1969 to 1992.
Despite her tireless work, Johnson initially went unrecognized when it came to conversations about the gay liberation movement's progression. However, recently, and especially through the medium of film and social media, Johnson's name is being represented as a powerful but forgotten figure to be thankful for.
Johnson's narrative brings to light an important phenomenon as to how communities pick their idols and importance being reclaimed by communities repressed within its own subculture: Johnson's name has been reassigned importance due to the visibility of and persistent violence against trans communities across America.
Johnson could not be recognized as a figurehead of the LGBT community in life because she was a black, trans woman; her initial erasure from the greater gay liberation narrative made the gay liberation movement digestible for white, straight, middle-class allies.
As a homeless, black, trans woman, Johnson was forced to fight from the ground up. In 1973, Johnson was banned from participating in the gay pride parade by the committee who organized the event on the ground that the presence of drag queens at the marches were "giving them a bad name."
Johnson's initial erasure from accounts of the Stonewall riots was due to similar sentiments.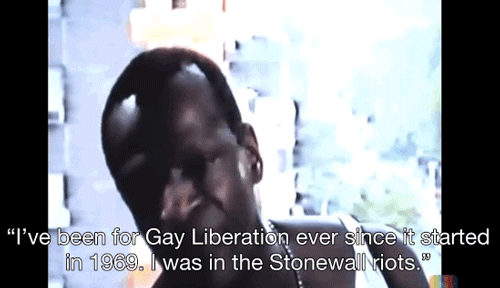 The constant exclusion Johnson faced paints a very clear picture as to how many orchestrators of the gay liberation movement wanted the movement to look as assimilative as possible to possible white/straight allies.
Johnson was unable to gain recognition for her activism during her life as she was barred from being represented due to her minority status as a trans woman of color.
It was only due to the development of social media and newfound accessibility of information due to corporations such as Twitter, Netflix, and YouTube that Johnson's legacy was able to be recognized.
This can best be seen by the two documentaries Pay It No Mind: The Life and Times of Marsha P. Johnson (2012), directed by Michael Kasino and David France's The Death and Life of Marsha P. Johnson (2017).
These two documentaries gave Johnson recognition on a national scale and were both accessible for casual consumption from your personal device: Kasino published Pay It No Mind on YouTube and France's work is a Netflix Original Documentary.
These directors brought to light a narrative of Johnson's life story that did not solely rely upon her involvement in Stonewall or her mysterious death; by interviewing Johnson's friends and family, both directors were able to uplift the image of Johnson as the women who started the first advocacy group for trans youth and fought for the rights of sex workers and those most effected by the AIDs epidemic.
Johnson's rise to fame on social media platforms should come to no surprise as social media has become one of the most viable options for minority voices to be heard the loudest.
This fact can be clearly seen in a recent study conducted by the Pew Research Center which juxtaposes the higher importance black social media users place on social media to express/get involved with political issues versus their white counterparts.
Therefore, social-media based activism and accessible platforms of entertainment, namely YouTube and Netflix, were crucial in forming Johnson as a new figurehead for trans rights in America.
Johnson's narrative perfectly fits into a cultural movement to recognize the trans community in a way that wasn't possible before, as the tragedy of Johnson's story is something that can relatable for a majority of trans-Americans.
"I think we read tales of terrible events not to see what happens to people but to find out who they are," writes essayist Scott Berg.
"Tragedy uncovers character, in the sense that it introduces new people to the historical record and also provides a greater, keener, and more complex understanding of their lives."
That does, in essence, illustrate the general tone of Pay It No Mind and The Death and Life–the tragic nature of her life mirrors the abuses of her larger community.
France employs the tactic of concurrently investigating the death of Johnson while including the narrative of the progress of the 2016 court case of Islan Nettles, a trans woman who was beaten to death in 2013, to illustrate exactly this.
Trans activists such as Mariah Lopez and Victoria Cruz look at Johnson's story and see their friends, partners, and even themselves.
As of Nov. 2018, 22 trans women of color have been violently murdered in America alone.
Further studies have shown that 55 percent of trans youth have been violently assaulted, 20 percent are homeless, and 41 percent deal with mental illnesses such as depression and suicidal ideation.
Johnson's story is a reminder that trans women of color especially need to have more support and safe spaces that they have, historically, been excluded from.