Why I'm done reasoning with Kanye and why I'm not waiting on 'Yandhi'
Kanye's ninth solo album — and sixth album this year —  Yandhi, was supposed to be released this past Saturday (Sept 29th).
Weeks leading up to Saturday, Kanye and his camp had been teasing the project, building anticipation by dropping hints on Instagram and video snippets of the project online.
Furthering the hype, on Sept 17th, Ye continued his prep of Yandhi when SNL announced him as the musical guest for its season 44 premiere. The announcement means it would be Kanye's seventh appearance. His last was just a year ago with Chance The Rapper right before releasing The Life of Pablo.
That same night he tweeted an alternate image of SNL's index cards featuring the name "Yandhi" in place of Kanye West, signifying that, like TLOP, this album was going to drop after the show.
Big day, big news. #SNLPremiere pic.twitter.com/r7o6nO5nyv

— Saturday Night Live – SNL (@nbcsnl) September 17, 2018
https://twitter.com/kanyewest/status/1041799969554886656?ref_src=twsrc%5Etfw%7Ctwcamp%5Etweetembed%7Ctwterm%5E1041799969554886656&ref_url=https%3A%2F%2Fconsequenceofsound.net%2F2018%2F09%2Fkanye-new-album-yahndi%2F
https://twitter.com/kanyewest/status/1045326579730006016?ref_src=twsrc%5Etfw%7Ctwcamp%5Etweetembed%7Ctwterm%5E1045326579730006016&ref_url=https%3A%2F%2Fwww.billboard.com%2Farticles%2Fcolumns%2Fhip-hop%2F8477204%2Fkanye-west-tweets-about-lil-wayne-tha-carter-v
It is now the second of October and such still isn't the case There is no Yandhi to be found.
Although initially betrayed by the pump-fake, what is expected to be the sequel to his 2013 solo opus, Yeezus, might not only be best delayed but not heard at all.
Nov 23 Black Friday YANDHI TRUST ME it is worth the wait 😱😘💦💰👑🔥🎥💋👅👏🏼💕😍🔌🤩

— Kim Kardashian (@KimKardashian) October 1, 2018
Much like his promo run for the string of albums he released this summer, Kanye's SNL appearance left a bad taste in a lot of mouths and had everyone ready to silence him.
Between mashing Trump's MAGA hat up against a Colin Kaepernick sweatshirt and his rant condemning Democrats, it's clear Kanye was attempting provocation.
He knew what he was doing praising Trump's trade deals and he knew he'd get headlines by claiming he got "bullied" for wearing the hat backstage.
Not all of it made the live airing but luckily Chris Rock caught it on is IG story. Kanye said in the clip,
"The blacks want always Democrats… you know it's like the plan they did, to take the fathers out the home and put them on welfare… does anybody know about that? That's a Democratic plan. There's so many times I talk to, like, a white person about this and they say, 'How could you like Trump? He's racist.' Well, uh, if I was concerned about racism I would've moved out of America a long time ago."
https://twitter.com/2Cool2Bloggg/status/1046273060259729408?ref_src=twsrc%5Etfw%7Ctwcamp%5Etweetembed%7Ctwterm%5E1046273060259729408&ref_url=https%3A%2F%2Fwww.etonline.com%2Fkanye-west-delivers-uncomfortable-pro-trump-rant-on-snl-as-chris-rock-tapes-it-110668
West continued,
"So many times I've talked to a white person about this, and he'd say, 'How could you love Trump? He's racist.' Well, if I was concerned about racism I would have moved out of America a long time ago.'"
Adding to fuel to the fire, Kanye doubled down on wearing the hat, taking to Twitter the next day to stand by his statement. This time he decided he'd mix it up by criticizing the 13th amendment.
https://twitter.com/kanyewest/status/1046466533973590016
As outrageous as his comments were and are, they achieved exactly what he was out to accomplish: publicity and attention.
Suddenly, everyone had something to say either about or to Ye and before you knew it we found ourselves trapped in this sick game that only Kanye seems to be enjoying to play.
.@kanyewest IS A HERO.

Shame on every single person, on both sides of the aisle, who couldn't see that early on.

He is moving this country and the world forward with sheer bravery.

Remember that when you write your meaningless articles.

Real bravery takes risk.

— Candace Owens (@RealCandaceO) September 30, 2018
There's nothing more maddening than debating someone who doesn't know history, doesn't read books, and frames their myopia as virtue. The level of unapologetic conjecture I've encountered lately isn't just frustrating, it's retrogressive, unprecedented and absolutely terrifying. https://t.co/4jCFwB4T5U

— Chris Evans (@ChrisEvans) September 30, 2018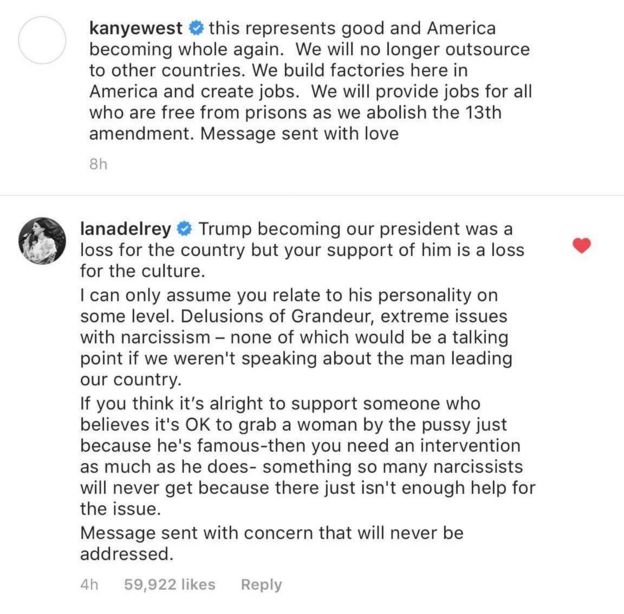 Since we manufacturing everything in America, kan you make my FUCK DONALD TRUMP hats @kanyewest ?

— yg (@YG) October 2, 2018
However, out of all the clammer caused by Kanye's "free thinking", Late Night host Stephen Colbert said something that resonated with me.
Wittily playing off Kanye's 2007 single featuring Young Jeezy, the comedian tweeted: "Not sure why we're still trying to reason with the artist who wrote, "Can't Tell Me Nothing."
And he couldn't be more correct.
Not sure why we're still trying to reason with the artist who wrote "Can't Tell Me Nothing."

— Stephen Colbert (@StephenAtHome) October 2, 2018
Reasoning with Kanye has been exactly all we've done. From when he first took a photo with Trump outside of the Trump Towers in 2016, to when he first wore the MAGA hat and sang of Trump's praises.
We've all tried to make excuses and extend, much too often, a lifeline that was never asked for. Snoop Dogg keeps making this mistake.
After the Make America Crip Again rapper initially condemned Ye, he gave him praise once he saw that Ye had been in Chicago and getting "back to his roots."
He said on Instagram earlier this month in response to Kanye defending his wife,
"See that n**ga done made it back to Chicago, got around some real n**gas. Some real n**gas. Now he back to being normal again."
But after Ye's latest antics, Snoop found himself on the opposite side of Ye again, calling him a "coon" under his MAGA post on Instagram. Yet, days later, forgave him after Ye was pictured wearing a shirt of the west coast rapper.
View this post on Instagram
View this post on Instagram
This kind of back and forth is what will happen with Ye. With Ye, there's going to be a rollercoaster of emotions and disappointment, which is why I'm done giving chances and trying to reason.
While Kanye will try to spin that this is about the freedom of ideas and the ability to think for oneself and non-conform, what he really is doing is ignorantly giving life to a base and an individual who has time and time again proven to be against the well-being of minorities.
While he says it's about free-thinking, the truth is that the thrives off of the controversy. The uproar and shock of his antics is a thrill he can't get enough of and he loves the idea of juxtaposing normatives, even if they are normatives that benefit him.
Yesterday he went back to TMZ — the place where he publically stated that slavery was a choice — to explain why he wanted to do away with the 13th amendment and all we got was a ramble.
While he has points about certain aspects of the 13th amendment allowing a door for mass incarceration, he's really doesn't care — Kanye is after the salacious jolt that results from making a statement so provocative.
https://youtu.be/f0CVIGZVynA
Same with pushing the album back to Black Friday, November 23rd. According to Ye, he needs to "go to what is known as Africa." He said of the project,
"I started incorporating sounds that you never heard before and pushing and having concepts that people don't talk about. We have concepts talking about body-shaming and women being looked down upon for how many people that they slept with. It's just a full Ye album and those five albums I dropped earlier were like superhero rehabilitation and now the alien Ye is fully back in mode… We're going to Africa in two weeks to record. I felt this energy when I was in Chicago. I felt the roots. We have to go to what is known as Africa."
I don't believe him because I know it's all talk and smoke and mirrors. I'm done letting the genius of his earlier work cloud my mind with the foolishness that now comes out of it.
I don't care if he went to the motherland or if he's out of the sunken place or how free he feels his mind is. I'm done reasoning with Kanye — the hoax is up. And I'm not waiting on Yandhi.