Why are Black creatives talking about Telfar? A new spot for sustainability
Walking in downtown Manhattan, you'd have to be blind to miss the proliferation of the vegan leather bag with its centered, quaint "T." The black-owned Telfar brand's product line and vision are actively redefining luxury fashion by expanding its realms of accessibility.
Telfar Clemens founded his self-titled brand in 2005 while studying at Pace University. The 36-year-old Liberian-American designer sees the brand as an extension of his own beliefs.
And he hopes the fashion industry becomes, as reflected through the Telfar brand's mission statement: "NOT FOR YOU – FOR EVERYONE."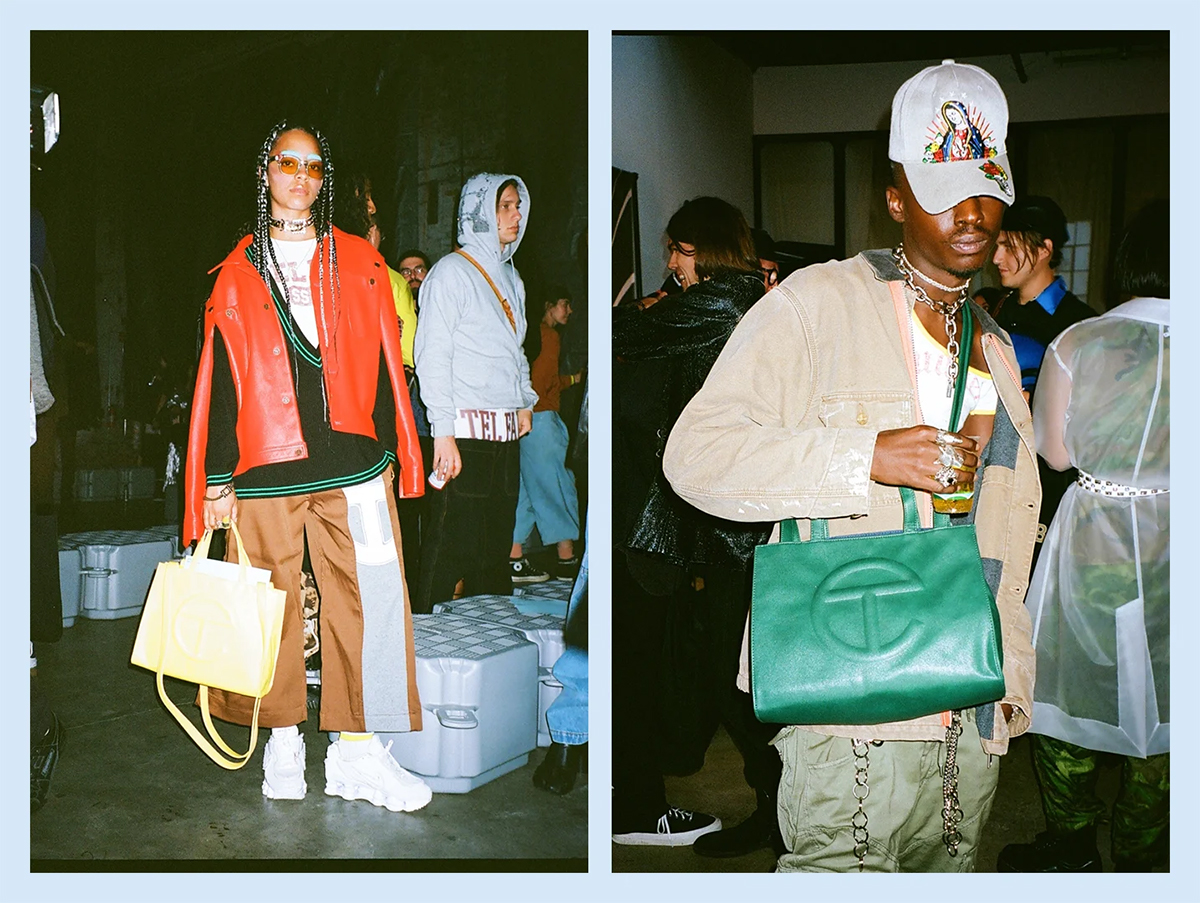 Clemens was inspired to launch the Telfar brand in hopes of distributing the type of clothing and accessories he felt were missing in society.
"My products are for people just like me… I tried to think about what I would pay for something, what I want to wear."

Telfar Clemens
Shopping bags & doo rags like you've never seen before
Telfar's shopping bag, nicknamed the "Bushwick Birkin," launched in 2014. And it has since become the most untraditional status symbol the fashion industry has ever seen.
The multitude of rich colors ranges from bright to deep hues. And it allows for the bags to serve as statement pieces, everyday accessories, and everything in between.
Telfar also carries doo rags, jewelry, and more on its site. The black-owned brand's aesthetic success hasn't gone unnoticed by fashion icons including Bella Hadid, Solange Knowles, and Lil Nas X to name a few.
Regardless of the widespread celebrity attention, Telfar has not lost sight of its vision, by continuing to create iconic pieces at 1/6 of its competitors' prices.
"I based the price off of…how much someone in night-life makes in one night… I want this to be something that goes around and something that people have."

Telfar Clemens on CBS News
---
Inclusive fashion
Clemens' "FOR EVERYONE" mantra seeps into every facet of the company, amplifying attention around one of the fashion industry's biggest issues: there aren't enough ways to express yourself through style on a budget.
With immaculate product-quality and bags starting at $150, the Telfar brand opens the door for nearly anyone who connects with the brand to acquire it. Of course, granted they keep up with the drop schedule.
Aside from its aesthetic mastery and ability to pair well with virtually any outfit, there are so many other reasons to fall in love with Telfar. Clemens advocates for economic inclusivity in addition to sustainable production.
The brand's vegan leather and limited quantity drops greatly minimize its waste – something high-end-designers can't usually say.
The "EVERYONE" in Telfar's mantra is also highly noticeable through the brand's social media presence, which promotes meme culture and the user experience in nearly every post.
Choosing to showcase the average user, rather than the free endorsement offered by celebrities who post themselves sporting Telfar, further underscores the sense of community the brand boosts.
---
The Telfar brand is more than the hype
2020 saw Telfar's popularity grow exponentially and was slowly growing to be regarded as "hype."
Consequently, buyers were implementing software to buy out irrational amounts of the Shopping Bag for profit through resale.
To this day, if you look up "Telfar" on fashion resale sites, you'll be met with a number of posts calling out people who try and diminish the meaning of the brand by grossly driving up its resale price.
As a result, the brand launched a bag security program in August, where it offered preorders of every size and color of the shopping bag for 24 hours.
There were few things that kept me going last season like the anticipation I had to receive my shopping bag.
---
Walking the talk with sustainability and accessibility
The Black-owned brand has seen some incredible collaborations over the last few years – such as Ugg and Converse. But none represent the brand's values quite like its 2017 White Castle collection.
Telfar partnered with the fast-food chain to create an avant-garde line of apparel that manifests at the intersection of fashion of American culture.
After almost instantaneously selling out, 100% of the proceeds went towards bail for imprisoned minors as they were held in Rikers Island awaiting trial.
Clemens took this a step further by redesigning a fresh White Castle employee uniform, which also rolled out in 2017.
Regardless of Clemens' immense success – as seen by being named in Fortunes' 40 under 40 and listed on Oprah's favorite things of 2020 – his humility and commitment to improvement continue to shine.
As major designers sadly crumbled in 2020, Telfar found a way to make its name bigger than ever before.
"The worst time in the fashion industry has been the best for me because we don't really fit into the fashion industry."

Telfar Clemens on the Tamron Hall Show
Clemens' aspirations for his brand and the collective future of the fashion industry is infectiously inspiring. Mostly because it's so damn sensible.
I'd love to live in a world where high fashion and exclusivity could exist in their own lanes. Some call him a rebel designer, I call him the most practical and hopeful name in modern fashion.
Next time you inevitably see one, compliment someone's Telfar!