Who is Noname? The recluse rapper from Chicago ready to blow up
Today, Chicago emcee Noname released her debut album, Room 25.
Now, you probably haven't heard of Noname and I don't mean that in the pretentious rap-head kinds way. She's barely in tune with social media, doesn't take many photos, and you can count the number of interviews she's done on one hand.
Yet, still, she's garnered the respect the music industries elite and has one of the most anticipated album debuts this year.
Noname about to humble ur fav

— ravynlenae (@ravynlenae) September 11, 2018
Noname is one of the best rappers I've ever heard.

— Mick (@mickjenkins) September 11, 2018
https://t.co/SPB2Eh8oyb
yeaahhhhhh finna tuck into this bad boy right here

— thebe kgositsile (@earlxsweat) September 11, 2018
The thing is, although Noname may be as obscure as rap artist come, she's no stranger to rhymes and has actually been doing music for a couple of years with critically acclaimed work.
Born Fatima Warner, Noname came up in Chicago's poetry circuit alongside the likes of Chance, Mick Jenkins, Vic Mensa, and others.
The tight-knit creative scene in Chicago served as an incubator for talent, nurturing the genesis of a lot of rap careers, and Noname's was one of them.
She's been a guest feature on Chance's Acid Rap and Coloring Book, Mick Jenkins's Waters and dropped the critically acclaimed EP, Telefone, just to give a short-list of her career moves. In the process, she's acquired a fanbase that one could describe as niche but in all actuality has a sound that's for everyone.
So why is so hard to know Noname? Well, one reason could be that she juxtaposes where the culture of rap is today. The braggadocious, flashy and, cocky nature of hip-hop at times can get like pro wrestling — there's a lot of flex, dramatic, and fights — and Fatima is nothing of the sort.
The 26-year-old has a shy innocence about her that's incredibly inviting. Unlike Cardi B and Nicki Minaj, sex-appeal is not a part of Noname's gimmick.
And even unlike Rapsody, she's independent. She's not backed by a streaming service, her marketing is sort of her just telling you she's about to release music, and she only works with friends, not industry pairings.
Everything about Noname is laid-back, which is a unique lane in the game.
The poetic background is evident when Noname raps. Her straightforward talk-like flow it's refreshingly soulful and her penchant for live instrumentation makes her complete sound a match made in heaven.
Her story-telling abilities and ear for melodies put her on an elite level of artists, which is probably why she is a revered as she is with as little exposure as she's had.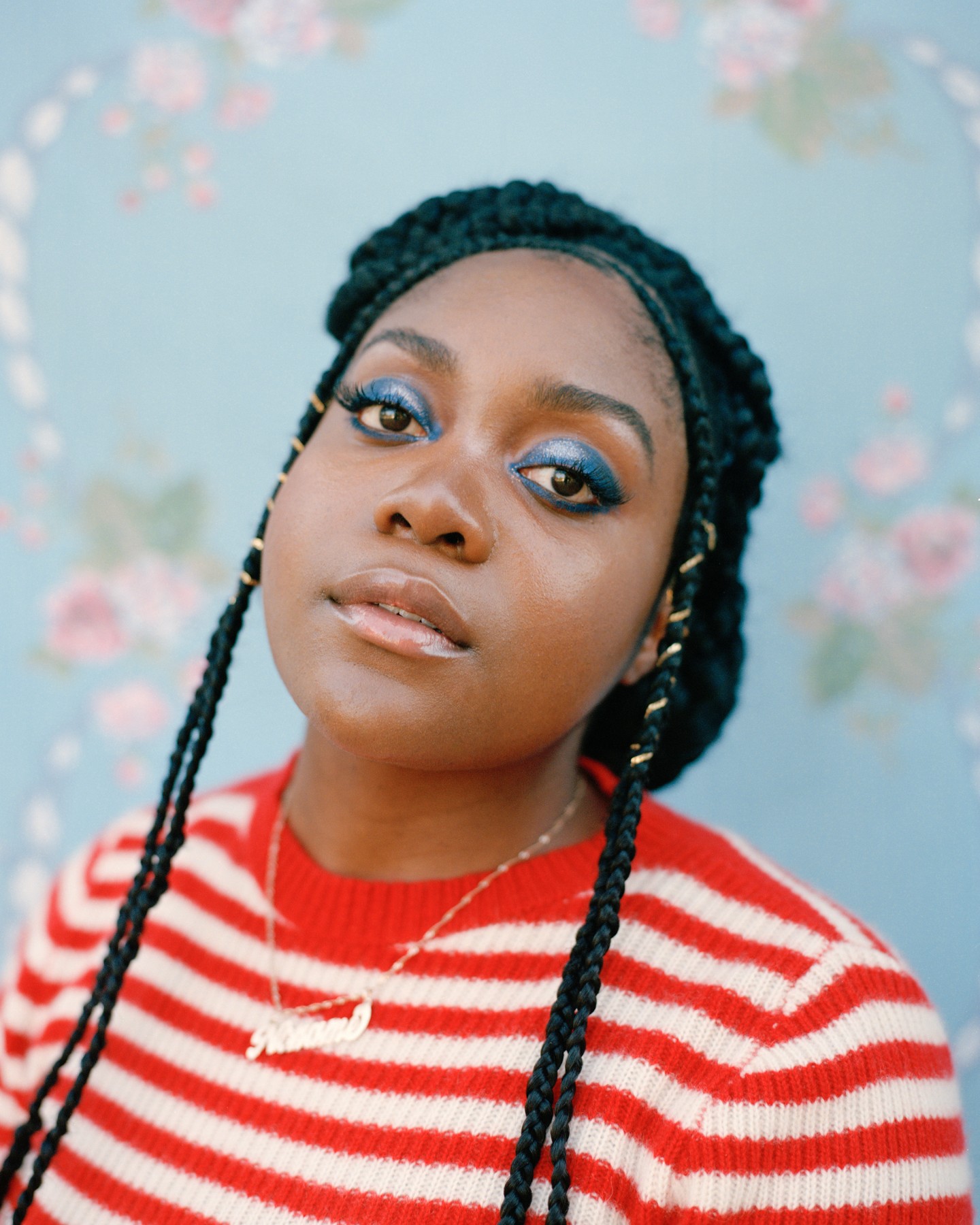 With her new album dropping today, we can expect much of what we heard on Telefone, except through a more mature lens. She's kept much of what has worked for her — incorporating a live band and curating an organic vibe — but we'll only truly know Fatima's growth once we peep Room 25. She tells the Fader in a rare interview,
"Maybe this project will show some of those people who think that I am this very, like, conscious female rapper that I'm just as regular and normal as everybody."
Noname isn't hiding, she just operates at her own pace. And it's not that she doesn't want you to know her, it's just that she is still finding her, herself.
There's something human about Noname and her approach to being a rap artist in 2018 that's unlike anything we've seen. If she was a book, she'd be the type you'd sit down and get comfortable to read, not a fast one-day skim through.
And tomorrow, with her debut album Room 25, we'll get the next chapter.
Stream Noname's debut album Room 25 here: