Who is Blueface? The off-beat LA rapper taking the internet by storm
New rappers pop up every minute it seems these days.
Every time you turn your head there's a new teenager with face tats, that almost always has been through some shit, and honestly, I have no clue where they all come from.
Thanks to SoundCloud and hip-hop's nonexistent barrier of entry, the proliferation of these artists are commonplace. Every once in a while, however, there comes along an artist out of the thousands that stand out — that the internet, for whatever reason, picks to be their next star, and LA rapper Blueface is just that.
Born Johnathan Porter, the Mid City-certified 21-year-old gangsta rapper rose to prominence with explicit, vulgar turn-up bangers like "Deadlocs" (4.3 million views on YouTube), "Thotiana" (2.3 million) "Respect My Cryppin" (5.4 million), and "Next Big Thing" (2.7 million).
From bars that will make you chuckle ("She pull up like some diapers"), to bars that are straight-up offensive ("Her ass look like two midgets in a sleeping bag"), to bars that will haunt you ("It's two dicks in my pants for a nigga that's trippin"), Blueface raps like he has nothing to lose — and it works oh so well.
BlueFace is hot cuz he made himself hot. He not crying about talent. Niggas say he off beat as fuck he just embraces it.

It be you niggas who think they can rap better than everyone else that don't make any moves! Expecting talent to just get you in the game is a fail.

— CHASE. (@ChaseNCashe) December 7, 2018
Blueface the new flow master…. he got the nicest off beat flow I ever heard.

— DJ Akademiks (@Akademiks) December 7, 2018
Hobo Johnson indie rap Blueface

— father (@father) December 5, 2018
Granted, he has face tats and is also young but there's something non-gimmicky about Blueface that has given him a mystique beyond that of a Yachty when he came out or Trippie Redd and even Rich the Kid.
Blueface's approach is that of a kid who is not going to compromise or fold who he is for anything, and there's an excitement to that. His rap moniker in itself both suggest his youth and his focus, being that it's of the new 100 dollar bills and a homage to his set.
Between his antics, his work ethic, and his absolute refusal to rap on beat, Blueface has propelled himself into the spotlight without a major label and he's only getting started.
View this post on Instagram

Unlike most Soundcloud rappers, even of those who've developed viable careers, there's another level of authenticity that Blueface brings to the table that simply makes his sound feel different. And part of it is that he just doesn't give a fuck.
The self-proclaimed "School Yard Crip" was believed involved in a recent shooting in Newhall, California after a reported dispute over a robbery.
He was released on a $50,000 bond, already a sizable chunk of his potential rap revenue. He's also very active on his Instagram, where you can find him crip walking and asking fans for money after "going broke" on a jewelry.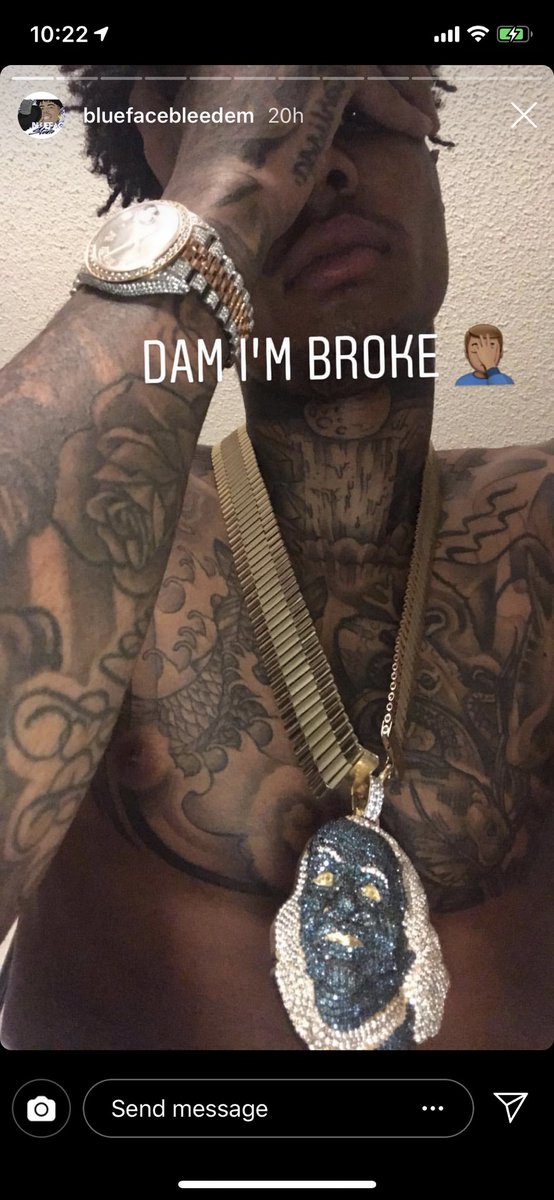 But even more so than his brash unpredictable behavior, he real-life doesn't rap on beat. Just last week (Tuesday, Dec 4th) he hopped on Real 92.3's Bootleg Kev & DJ Hed and delivered a freestyle doubling down on his style, rapping,
"I might be off-beat but don't get distracted from the message no such thing as right music just make sure I left an impression. These days niggas sound good on beat but they not saying nothing, I'm the opposite just close your eyes and listen for a second."
Luckily for Blueface, the people love it.
https://twitter.com/ShortySamir/status/1070892363160018944
"blueface is a terrible rapper" = "I don't get hoes"

— Alexander. (@KAlexanderr_) December 5, 2018
Even if you did think he was trash, he's already in line to receive the heralded Drake co-sign — and you already know it's a wrap after that.
This past November the Scorpion artist and his go-to producer Boi-1da reached out for a collaboration via Instagram, granting him the much sought-after blessing, officially making him "on."
Often compared to West-Coast rap legend, Suga Free, Blueface's come-up may be already written in stone. His stuff is West Coast to the core, incorporating bounce, funk and of course, gangsta.
While people troll and pretend it's the worst rapping they've heard, when you play Blueface over some loudspeakers at a club, it SLAPS.
Only the future really knows what's in store, but if the name Blueface is inescapable in 2019, you now know why.