Who Decides War? Ev Bravado is the hottest designer out
Who Decides War draws itself out along the cutting edge of the contemporary design scene. Everard Best, or Ev Bravado, has created a brand that has an intrinsic understanding of people, and the world at large.
In recent collections, lace adorned high-tops have come down the runway alongside raw Italian silks dyed in neutral tones.
Industry dignitaries, like Virgil Abloh, Heron Preston, and J-Balvin, have flanked the front row.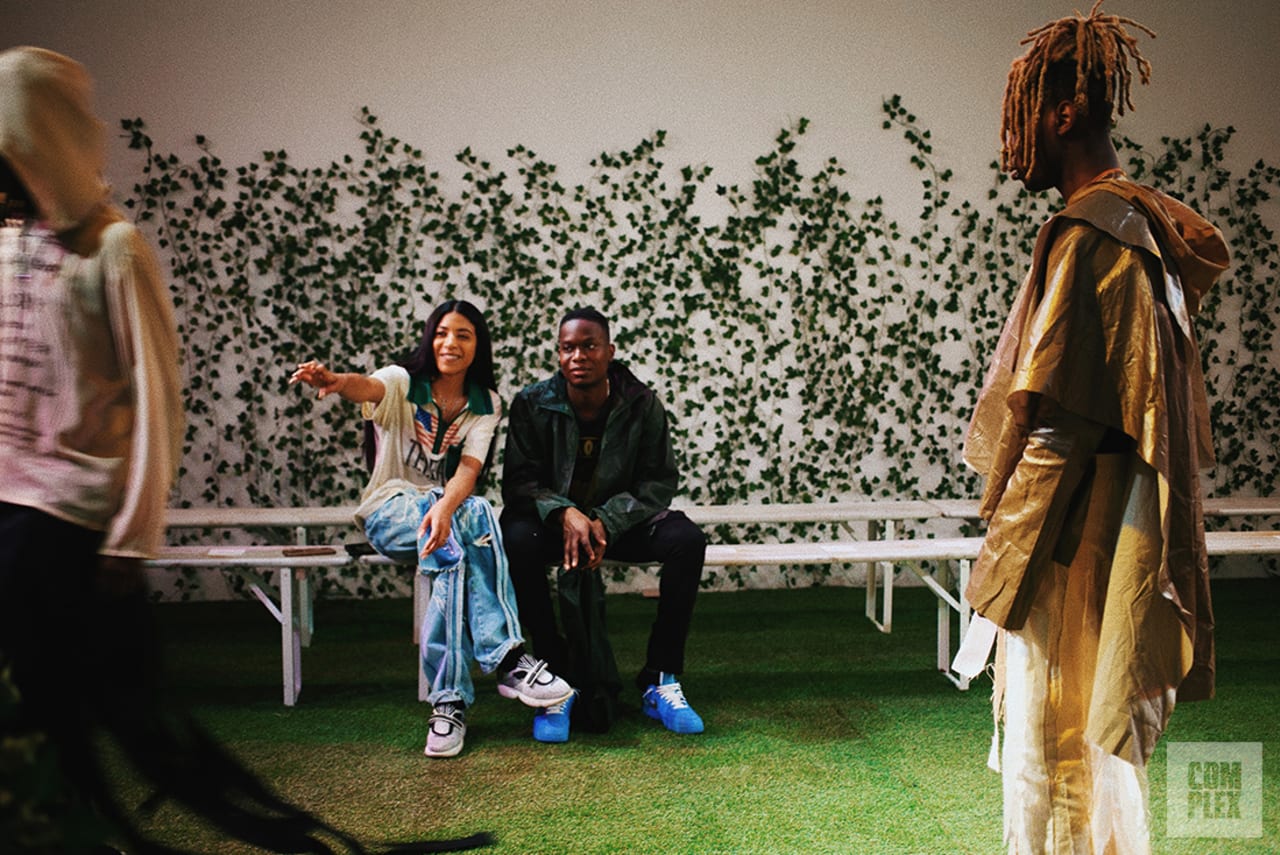 Redemption, conflict, and sustainability are brought together in a narrative that the garments tell, of age-old paradigms of human struggle.
---
The man behind Who decides War
Working with finance and design partner Tela D'Amore, the creative mastermind of Who Decides War has stepped behind the scenes, but the artistry of his pieces is a tell-tale sign of his involvement.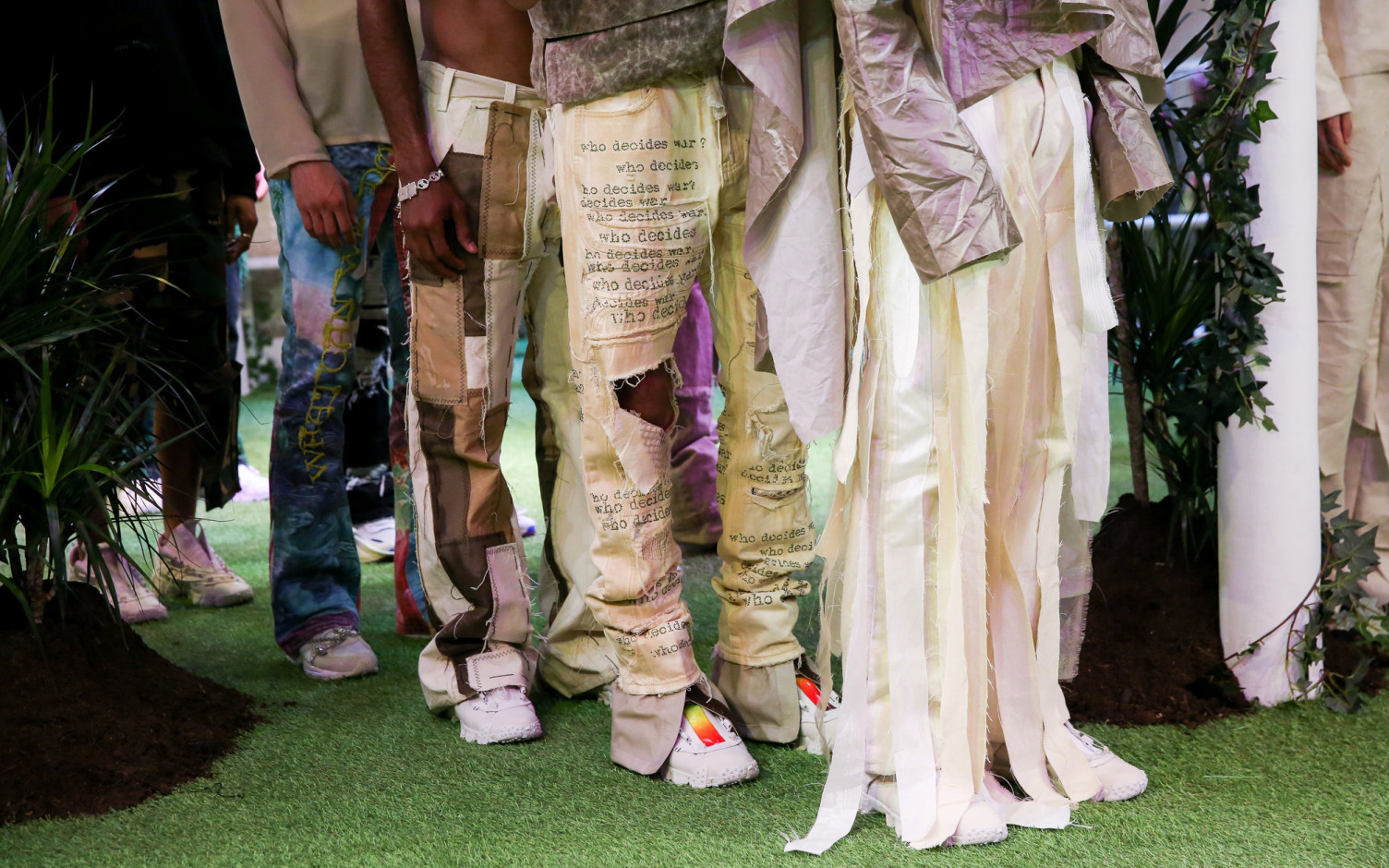 The man is Everard Best, also known as Ev Bravado, after the previous brand's header, or Murder Bravado online.
Who Decides War marks the newest chapter of the culture-shifting designer's career – a sophisticated elevation of his mainstays.
Everard Best carved out space for himself. Thus, with his meticulously hand distressed and embellished denim, he started and has since been credited for spearheading DIY denim as a new kind of couture. 
The journey starts in 7th grade: One day some random girl came at me and was like… 'Boy! You're mad fresh, like killing it OD. Where'd you get that from?' I was about to tell her and then I realized she was mocking me because I wasn't fresh at all. From that day I swore I would never ever have a weak fit again.

Everard Best for Grailed, 2016
---
Everard Best
Growing up in Elmont, New York (about seven miles out of JFK), Best was a fashion pioneer in his small suburban community.
He spent his childhood sitting between the machines and tape measures of his father's tailor shop, where he was first introduced to the luxury craft.
Best's style continued to evolve throughout high school, copping Stussy from Yellow Rat Bastard and pining after Bape wear that orbited at a higher budget.
By senior year, peers that once taunted him had come around, lacing the same Jordans they used to call 'dusty' on Best.
When a friend raised the idea of starting their own brand together, Best's first brand, Lease On Life Society was born.
---
Early denim inspo for Ev Bravado
Working out of his childhood home, Best began making samples of the vibrant denim that would later become the backbone of his namesake brand. Customized, fresh takes on denim wear quickly gained the attention of fashion influencers growing tired of hoodies and graphic T's.
Best relaunched the brand as Ev Bravado upon graduating college and started his move up the design world. But the notoriety had its own complications.
I was living this fake rock star lifestyle… The amount of substances that we were abusing and so on, I was going down a path that I could've really died.

Best for High Snobiety, 2019
When the lifestyle he had adopted started to take a toll on the quality of his work as well as his life, Best decided to turn himself around.
The rebranding of Lease On Life Society, a trial and error free-for-all, into the world-famous Ev Bravado, marked a fresh start for the young designer. 
---
Shocking audiences worldwide
Ev Bravado took the most successful elements from Lease On Life Society, and began turning out garments that shocked audiences with their artistry.
The brand continued work on the signature distressed denim that became immediately recognizable as Best's meticulously hand-crafted work.
The label "straddles the line between punk and hip-hop," and features messages of positivity that reflect Best's personal journey through young adulthood.
When asked who he would like to dress if he could dress anyone, Best responded "Jesus. Jesus, let me swag you out. We need him in a 'Satan Sucks' shirt."
The denim is a very intimate thing because I do each sample by hand. The process is a pain but the outcome is always beautiful.

Best for High Snobiety, 2019
His attention to detail and approach to fashion as a vehicle for change attracted the attention of major designers, most notably Heron Preston and Virgil Abloh.
Heron Preston connected Best with Virgil Abloh, who invited him to design the denim for his SS19 collection.
Then Abloh introduced Best into the limelight as the next generation of design, even calling him "the young version of me."
---
Who really decides war?
Ev Bravado was dressing celebrities like Playboi Carti and Joey Badass in colorful denim and embroidered parkas.
In a quick succession of events, he became an international luxury sensation supported by celebrity and industry figures alike. 
Of his role models, Who Decides War founder Everard Best says that their willingness to uplift the youth and dedication to a craft bigger than themselves reflects his own values as a designer. 
That's what it's all about, rather than just me as an individual, it's about the community, whether that be streetwear, African American and black, or the odd kids, whatever. We have to put on for what we believe in, and what we believe in is pushing the boundaries.

Best for Flaunt Magazine, 2018
A family man, the next major shift in Best's career came with the birth of his son, Judah, and the close collaboration he began with designer turned partner in crime, Tela D'Amore.
Tasked with the responsibilities of fatherhood, Best began seriously considering his impact as a designer. 
Who Decides War is emblematic of the political awareness that Best has brought to his work throughout his career.
It is a sort of culmination of these efforts that pushed Best to shift focus from himself as a designer to how his work can tell the story of what's going on in the world at large.
We are always at war, whether it is between two countries, two people, or you against yourself. No matter the conflict, it is nothing that one single entity can control.

Best for Coveteur, 2019