Westbrook and Harden together again is so crazy… it just may work
Is there enough basketball for both of them?
Russell Westbrook and James Harden are superstars in the NBA, clear top-20 players, and in Harden's case, top-10.
So why, once the trade was announced that the Oklahoma City Thunder were sending Westbrook to the Houston Rockets for Chris Paul and a couple of picks, did everybody immediately cast doubts and displeasure on the move for the Rockets?
Because both of these guys LOVE to hold the basketball.
Westbrook has a knack for holding onto the ball when he should dish it to a teammate. He is not a good shooter, hence the nickname Westbrick, and solid shooting around Harden has been the makeup of the Rockets during their successful runs these past few years. Westbrook also has a tendency to take awful shots at the end of games.
This is especially bad when a teammate of his is a better shooter and decision-maker. Some would say this is part of the reason Kevin Durant and Paul George left him to go to the Warriors and Clippers, respectively.
"Why not"Westbrick* 🤣🤣 #HaHa https://t.co/0YHw2VBnYm

— Jusuf Nurkić (@bosnianbeast27) January 23, 2019
Now for Harden. He dribbles even more than Westbrook does, and while he has been more successful than Westbrook the past few years, his game is his game, and that rigidity looks like it could be a problem. Harden often dribbles out the clock just to take a contested, step-back three-pointer.
Sure, he makes this shot a lot of the time, but how is that gonna work with Westbrook chilling on the wing? Is he gonna be okay with this several possessions a game for the whole season? Both these guards also don't have an affinity for playing defense.
After all the red flags and reasons for why this partnership won't work, and all the sports analysts and "experts" putting their sour opinions on the new-look Rockets, there is a giant reason to be optimistic.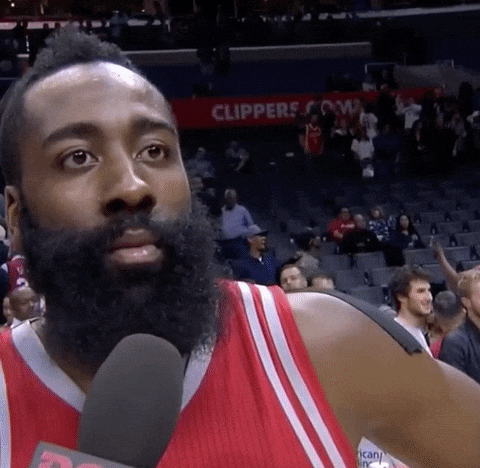 These dudes are boys. Harden lobbied for the Rockets to get Westbrook, and Westbrook's first choice, once he asked to be traded, was to head to Houston. With this fact, Rocket fans can be less worried about how the two will coexist in their funky, unique styles.
Sure, your friends can get under your skin with their annoying tendencies, but you always remember why you're cool with them, and see their positives at the end of the day.
And if you don't want to believe all that shit, Harden is right in the middle of his prime. Westbrook is probably right at the end of his prime, but surely closer to it than Chris Paul was. They are both quick, crafty, and especially in Westbrook's case, supremely athletic.
P.J. Tucker and Austin Rivers are both great defenders who can make up for the blemishes on that side of the ball for Westbrook and Harden. If this goes well, it has the potential to go really well — I'm talking championship.
Now I don't think it will happen, but I do know the Rockets are better today than they were a month ago. And a month ago they may have been many people's pick to win it all next year.
The Rockets are James Harden's team, and Westbrook has to understand this. The success that Houston has had, particularly coming within a game of the NBA finals 2 years ago, has solidified that using Harden as a ball-dominant guard can lead to success in the postseason. But can it lead to a chip? And can it work with Westbrook?
No matter what anyone says, we don't know. The extreme excitement that NBA fans had going into the season is only elevated with the new backcourt of the Rockets. The storylines going into next year added one more for the count.
Bandwagon NBA fans won't remember that Harden and Westbrook used to play on the Thunder together, and went to an NBA Finals in 2012. But real ones do. *Deep sigh* We do.
They are indeed different players now, with different egos. Harden especially, as OKC would not for a second have traded him if they knew he was going to be an eventual MVP.
Harden and Westbrook together is kinda nuts. Two ball-dominant guards, who don't really play well off the ball and don't make the best decisions when it matters most. It's crazy, but a good crazy, because the potential for this pairing is very high.
It could just be so damn crazy and stupid that it actually works.