We dissected today's NBA to see if it'll still be lit in 2029
It's July 1, 2029.
Luka Doncic just led the Miami Heat to the franchise's fourth title, Kevin Durant just wrapped up his farewell tour with the Seattle Amazonians and Bronny James is getting set to team up with Zaire Wade in Cleveland (the city has a burgeoning tech scene that NBA players find very attractive… it's 2029).
In the 2029 NBA Finals, Doncic launched 20 three-pointers per game, dazzling millions of viewers around the world with his slick ball handling and creative playmaking.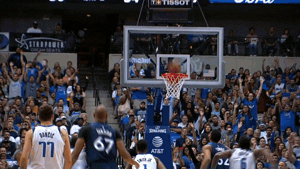 Still, rumors swirled all year that Doncic was unhappy after he told the media in a December press conference, "I don't owe Pat Riley shit, if he wants to send an army of Armani suits to find me this summer, he knows where I'll be."
NBA Twitter exploded and fans used hashtags like #PettyLuka to laud him for standing up to a patriarch of the NBA who has been the mastermind behind seven titles.
It's cool, it's fun and Doncic is "trending." This is the NBA in 2029. Star players jump from team to team, rag on their teammates in the media, and sign massive contracts only to ask for trades months later.
The precedent for this future NBA is being set right before our eyes.
Players express discontent with their current situation, ask for a trade, and then get moved. If that doesn't work, they team up with their friends after front offices publicly and "illegally" court their services for months. Sound familiar?
Sure, Kings fans can admire Mike Bibby's newly chiseled body and Hornets fans can marvel at Michael Jordan's bootcut jeans, but is there even a reason to watch these teams that don't have a chance at attracting top talent or winning a championship?
Let's go a step further, has it ever been worth watching the games?
The NBA is at a crossroads and everyone is too scared to admit it. There are a number of reasons for this: the NFL is racist and unsafe, baseball is unwatchable and hockey is well… Canadian.
The NBA is great right now because the superstars are immensely likable, the product on the court is more entertaining than ever, the players are empowered, and experiencing this sport in the social media era is new and fun.
But at what point does all of this become stale?
Is there going to come a time when we long for the days of Kobe Bryant dropping 35 points per game with a cast of subpar players and glaring at Smoosh Parker or storming out of the arena after Lamar Odom missed another game-winning jump shot? Or what about John Starks giving up on a career of bagging groceries to go play for a scrappy Knicks team that never had a real shot at winning a title.
It's too easy to blame social media or the fickle nature of young people in America or LaVar Ball or Skip Bayless. And basketball fans love blaming AAU for everything so I won't do that either. Honestly, I have no idea how the NBA is going to fix this situation or what the root of the issue truly is. But, I think league executives know the current system is not sustainable.
Anthony Davis, a top-5 power forward of all time, is too great of a player to play at 50 percent for the last three months of the season as his team finds a trade suitor. Kyrie Irving, Kawhi Leonard, and Jimmy Butler are tremendous talents- I want to watch them without dissecting each tweet or statement they make to a reporter.
Sure, this really fun right now and I'm certainly enjoying the ride with everyone else but in 10 years, won't this all just get old?