Virtual reality is getting so real that it's getting people smacked
We live in a world that is obsessed with technology and visual sensation. Every day someone, somewhere, is mystified by what technology can do to fill their visual appetites.
This definitely invokes some fear and might be a little disturbing, but it is very true. Just the notion of technology out-evolving humans and visually hypnotizing us to the point of no return still plays out like the best sci-fi movie ever made in my mind.
Still, it is a possibility. Especially if we are starting to alter our minds using virtual reality as a drug.
Yes, you did read that correctly. There are VR programs and applications that can simulate and evoke the same feelings as if you were tripping balls on a psychedelic drug or even a near death experience.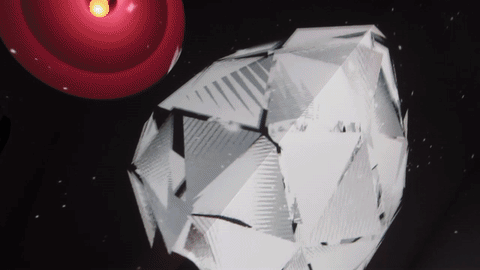 If you are looking to get a cyber head trip and perhaps a flashback to a more trippy time, look to the Cyber Mushroom Mixed Reality Experience.
Upon the first gaze of the mixed reality experience of Cyber mushroom, your mind will do what it can to process the techno-wizardry.
What the program is supposed to do is bring your pictures to life, but the way it's done is probably the most psychedelic representation of the mind you will ever see.
The visual and app was designed by Batuhan Bintas, an interdimensional multidisciplinary psychonaut, based out of London, who is well versed in VR, augmented reality, and mixed reality technologies.
According to Bintas, Cyber Mushroom, once finished, will be dedicated to creating "a cyberspace where the archetypes of the imagination find their embodiment within the characters in the portraits; once activated, portraits become alive and the spirit of creation talks to the audience."
Sheesh! Might not even need that whole eighth of magic mushrooms after all. Seems as if the VR and AR experience alone is enough.
Anyway, The Bintas and his crew are definitely onto something spectacular. Peep a preview of the Cyber Mushroom.
Up next lies PyschFi and boy is it an experience that won't break your pockets. All you need to experience this VR universe is a Google cardboard and a smartphone that has access to the Play Store or the Apple App Store.
At the Liverpool Pyschadelic Festival last year, VR fans were able to step inside of a PyschFi booth that took them to an alien planet. Those who stepped into the booth said it was analogous to that of a really hard acid trip.
The app that's available for download right now doesn't take you to an alien planet but a technologic virtual world. Still very visually satisfying and is a wild chase for a trippy ride. Definitely worth the download.
Who knows, the visually entertaining and realistic alien world might come to app users everywhere. For now, check out a preview of it below.
Within the virtual community, people are experiencing an awakening. The Virtual Awakening is 360º photography and video experience that takes the viewer through various stages of a near-death experience, NDE.
During a near-death experience, you will see your life flash before your eyes. This same feeling has been compared to outer body experience hallucinogenic drugs like DMT.
This is the objective of Virtual Awakening, to explore the inner space. According to their site when they created the Death is Only the Beginning art installation the brains behind the work believed,
"THE NEXT GREAT FRONTIER FOR HUMAN DEVELOPMENT IS NOT OUTER SPACE, BUT INNER SPACE. WE HAVE GIVEN OURSELVES WONDERFUL FREEDOMS IN THE PHYSICAL WORLD. WHAT WE NEED NOW IS THE INNER FREEDOM–FREEDOM FROM OUT-DATED BELIEFS AND VALUES–THAT WILL ALLOW US TO MANAGE OUR LIVES AND THE WORLD AROUND WITH WISDOM"
The NDE virtual trip is aimed at evoking feelings within the viewer that'll make them see their life in a more positive light.
Do you think you'd be down to death trip? It could change your life.