Wah de bombaclot Trump deh tweet to mi boy Usain fuh?
For those who don't understand patois, that translates to – Why the fuck is Trump tweeting at Usain Bolt?
In a recent tweet, Cheeto Jesus decided it was a good idea to use my Jamaican national hero to prove his point about American athletes respecting the anthem.
"Even Usain Bolt from Jamaica, one of the greatest runners and athletes of all time, showed RESPECT for our National Anthem," tweeted Trump.
https://twitter.com/realdonaldtrump/status/912848241535971331
He's finally gone too far for me, I hate this mother. Bolt is my beacon of light and Trump is my beacon of darkness.
In no way, shape, or form should the two be brought up in the same tweet or discussion. My eyes almost fell out of my skull when I saw this in my news feed this morning. I felt my Jamaican ancestors shake in their grave. The rolling calf must be prowling the streets.
The Jamaican Olympic team agrees they tweeted, "Please leave The Boss out of your politricks."
Please leave The Boss out of your politricks. https://t.co/jMi4r4ajEL

— Team Jamaica (@JamaicaOlympics) September 27, 2017
Trumpito ya mus be mad! Jamaicans don't have time to be involved in your nonsense. You are talking to big men, you little boy.
Even if Bolt cut his interview short to respect America's national anthem, this happened five years ago at London's 2012 Olympic Games. The good ole days when Obama was president. I'll always miss you Barry *Pours out the rest of 40*.
Trump's tweet is embarrassing. It only proves that he's not seeing the bigger picture. Just because one 'Black' foreign athlete respected the anthem five years ago does that mean Black athletes now should have respect for an anthem that doesn't convey the current situation of the athlete's country?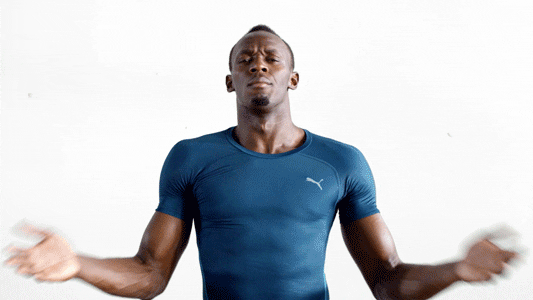 There is no freedom here. There is no equality here. So, no.
It actually makes him look more racist and demented AF. Trump you are out of touch with the times my youth.
Trump, why don't you take your rasclot Twitter fingers to hell and leave Jamaicans out of this? Especially a hero of the country.