There's more to Ezekiel Elliott: The NFL's richest runningback is also the most charitable
When a boy is transitioning into manhood, trouble seems to lurk around every corner. If there is any slip up along the journey, a second chance is hard to come by. But when you've been a superstar since high-school like Ezekiel Elliott, who is now in his fourth year in the NFL, it comes with the success.
Since becoming the Dallas Cowboys' fourth overall pick in the 2016 NFL draft, Zeke continues to live up to the hype. As a rookie, Elliott was crowned the NFL's leading rusher in his first year in the league.
In 2018 Elliot found himself in a Deja Vu moment reclaiming his throne as the league's top back, rushing for 1,434 yards while leading the league in touches (381). Zeke's on-field dominance has been nothing short of impressive. However, has anyone ever stopped to think about how Elliott balances it all?
A very special moment for @dallascowboys RB @EzekielElliott. #NFLDraft https://t.co/OF5CkXj9aT

— NFL (@NFL) April 29, 2016
Since entering the league, domestic violence rumors has been the looming attack on Ezekiel Elliott's character. Although the 2x All-Pro was never arrested or charged with domestic violence, in 2017 the NFL slapped Zeke with a 6 game suspension.
On the Dallas Morning News, the Cowboys' owner, Jerry Jones, showed his support for his star running back when asked about the situation: "Absolutely nothing anywhere that indicates anything other than what they told us when we left training camp and that is that they have no cause there is just nothing. I know I would have heard about it. I would have the information if there were something. I know that."
Through all the ups and downs that come with success, Zeke is still one of the NFL's most lovable faces. With a smile that can light up the room, coupled with a heart full of gold, Elliott is constantly evolving as a leader in his community.
Over the summer, Zeke was on a mission to give back. In May, football phenom, Jaylon McKenzie of Belleville, Illinois was only 14-years-young when he was shot and killed at a party. McKenzie's football career was a promising one. McKenzie was featured in Sports Illustrated's' "Six Teens Who Will Rule the Future in Sports."
JAYLON MCKENZIE: I spoke to Jaylon's mom, @sukeena5, who says that someone on behalf of @EzekielElliott reached out to pay for her son's funeral costs. That's so incredible, since Jaylon used to watch Ezekiel to improve his own skills. @ksdknews pic.twitter.com/W0j6Yxatqa

— Justina Coronel (@JustinaCoronel) May 8, 2019
This hit too close to home for Zeke, who grew up 35 miles from Belleville, IL. After hearing the heartbreaking news, Elliott opted to pay for Jaylon McKenzie's funeral expenses. In an interview with the Bellville-News Democrat, McKenzie's mother, Sukeena Gunner, gave Elliott her thanks.
"For him to reach out to me was unbelievable. Jaylon loved Ezekiel Elliott. He talked about him all the time. When Ezekiel was playing, he would sit in front of the TV. His eyes were glued to the TV, watching him. Just for him to reach out to me and help me in this difficult time leaves me speechless."
Elliott also hosted a youth football camp for the Mathews-Dickey Boys & Girls Club. Being able to inspire the youth first hand at the grassroots level of football is life-changing for him and all the kids involved.
Coming into the 2019 season, Elliott is now the highest-paid running back in the NFL. Inking a six-year $90 million contract extension with $50 million in guarantees to stay a Dallas Cowboys, at 24-years-old, Zeke now is back in the spotlight. Right after signing the deal, Elliott donated $100,00 to the Salvation Army.
TMZ Sports caught up with Elliot and talked about his lucrative donation. Zeke said,
"In my time here in Dallas, I've formed a really good relationship with the Salvation Army, and I wanted to pledge $100,000 to help them build their new facility to help support the people of need in Dallas."
This isn't the first time he delivered big for the Salvation army either. In 2018 he decided to match every $21 donated to the kettle he jumped into during his rookie year. He also matched another $21,000 with the Cowboys organization and helped spur another $250,000 of donations from the fanbase.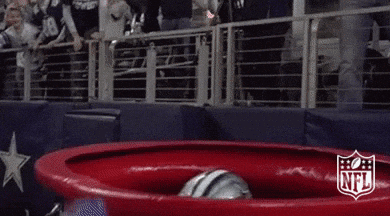 Successfully fighting off being painted as a villain by the media, Zeke's true character is finally being cast into the limelight. Elliott has managed everything thrown his way with poise and grace. Coming from humble beginnings to being a multi-millionaire by 19-years-old, it comes with its obstacles.
Through it all, Ezekiel Elliott never forgot who he was as a person and is continuing to redefine who he is as a man.