The 'Nipsey Hussle Effect' proves that his marathon continues through books
There a lot of lessons we've learned from the rap game, but what is the Nipsey Hussle Effect?
Last year, a Nipsey Hussle fan took to Twitter and in appreciation shared some of the books he's rapped and spoke about in interviews and compiled them in a post.
here's an updated list of the gems nipsey had read. pass the baton. 🏁 pic.twitter.com/nfwUo7DC75

— simran k. (@simrankaleka) April 13, 2019
If anyone knows Nipsey, the late legend, was a huge fan of books. In several interviews and recorded songs, he would not only highlight the literature he has read but would speak on how it has affected his life.
The compiled list of over 50 books was shown on an unforgettable picture of The Great. Some of the books include "The Invisible Man," "Between the World and Me" and "Rich Dad Poor Dad."
The tweet has since then gone somewhat viral and in appreciation of the late rapper's legacy, many communities have taken it upon themselves to create book clubs.
What the LA Times has dubbed the Nipsey Hussle Effect, now stands to impact not only Black communities across the United States but fans of Nipsey Hussle's music and the rap genre worldwide.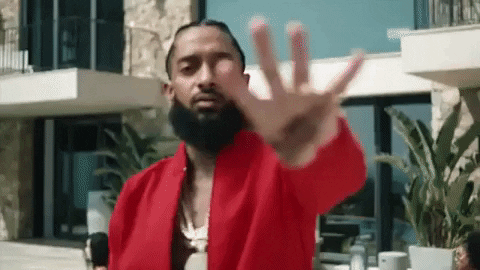 According to the LA Times, the serge of supporters came by way of Simran Kaleka, a 31-year-old lawyer from Wisconsin who was in search of a way to help Hussle's fans process the grief of his passing.
Kaleka lost her uncle and five other loved ones to a white supremacist who opened fire inside a Sikh temple in Milwaukee. It was Hussle's music that helped her cope with the loss of those close to her. And through the legend's music, it is where she stumbled upon the literature he used to educate himself.
Kaleka told the LA Times,
"I fell into probably the darkest place in my life. Listening to his music was therapeutic and it helped me ascend and helped me navigate."
Songs like "Bigger Than Life" and "God Got Me" helped the 31-year-old lawyer push through tough times. Still, it was his debut album Victory Lap that revealed to her and pushed her to jot down every single book Nipsey mentioned in his lyrics.
Thus far, the April 12 post has been shared over 8,000 times and has inspired many to pick up the same books Nipsey read. In fact, fliers started to pop up across neighborhoods of South L.A.
Now, chapters of The Marathon Book Club, inspired by the creative meme are not only pushing Nipsey's message even further but are also putting the culture onto the authors who helped the rapper curate his message.
Kaleka told the LA Times,
"It's not the end of his victory lap. Maybe the other part of his victory lap is us applying what he taught us."