The NBA's old heads are running the league and it's type fire
Past their illustrious primes or not, veterans win in the NBA. Young guns may be flashier, more durable, and more exciting at times, but experienced veterans win in this league.
Last night was a clear indication of this. It was a night that showcased the all-stars of old, and illustrated the resurgence of the once-forgotten or doubted players of this generation.
This was a helluva night for 2010 NBA all-stars

Carmelo Anthony: Game winner in TOR
Derrick Rose: Game winner in CLE
Chris Paul: Closed out BKN
LeBron James: Still doing 👑 stuff
Dwight Howard: Hit a 3
Dwyane Wade: Getting jersey retired

— Michael Lee (@MrMichaelLee) January 8, 2020
---
Melo is in full effect
A year ago, Carmelo Anthony was sitting on his couch at home, fielding no offers from NBA teams and questioning whether or not his career was over. The Houston Rockets waived Melo after a slow start to the season, ostensibly blaming him for their troubles.
Other teams took notice, and general managers wondered if Melo could work in the modern NBA, with catch-and-shoot 3s, defending all positions, and the ability to swallow his pride if he didn't get the minutes he wanted. Melo was in basketball purgatory.
Fast forward to last night, when Melo made a game-winning jumper against the Toronto Raptors in classic Melo style, a play emblematic of Melo's successful comeback this year for the Portland Trailblazers.
CARMELO ANTHONY.

GAME WINNER! pic.twitter.com/STOu2UXagz

— Portland Trail Blazers (@trailblazers) January 8, 2020
Anthony told The Athletic earlier this season,
"It's deeper than basketball. It's a mentality of not giving up and staying in the fire when you're going through it."
He continued, "Showing people that I'm going to stand for what I believe in. I'm going to stand for myself. I know me. I had to get the opportunity to know myself more."
Still Melo 💪 pic.twitter.com/EWkCFcxgdN

— Bleacher Report (@BleacherReport) January 8, 2020
Carmelo wasn't the only star of old to have a highlight play in the midst of a strong season last night. Remember Derrick Rose? 2011 MVP? The guy who was going to revitalize Chicago and be the possible successor to Lebron James as the face of the league?
Well, we know he went through it, and that last part didn't hold out to be true. Through catastrophic injuries that affected his mental state possibly as much as his physical one, Rose had a lot to overcome.
It wasn't a hot take before last season to say his career might be over.
Derrick Rose furthered his case for Sixth Man of the Year with the final go-ahead shot last night 🌹

He's averaging 22 PTS, 4.7 AST over his last six games pic.twitter.com/QdfUwRHDF3

— Bleacher Report (@BleacherReport) January 8, 2020
---
Derrick Rose the knee up
Now, Rose is the second or first best player on an NBA team, and while their talent isn't very deep, Rose makes the Detroit Pistons fun to watch. Derrick Rose's comeback makes him one of the biggest fan favorites in the league.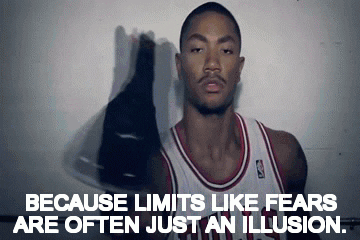 ---
CP3 brings the noise in the midwest
The list doesn't even begin to stop there. Chris Paul was shipped to the Oklahoma City Thunder this offseason for Russell Westbrook, and fans laughed at the floor general being dropped off in American obscurity in OKC.
Paul has an enormous contract which the Houston Rockets wanted to get off of, but Westbrook is on an even bigger one, and the Thunder received extra first-round draft picks just to take on the Paul deal.
Instead of sulking for being shipped to OKC where the biggest nightlife is a 24-hour Hooters, Paul has embraced his veteran role on a team full of youngsters and has been absolutely balling as of late.
CP3 truly put on a clinic in Brooklyn. 20 PTS in Q4/OT to lead the Thunder to victory.

(via @NBATV)pic.twitter.com/O2bl9ubcR8

— SLAM (@SLAMonline) January 8, 2020
Fans and even people within the deeper circle of the NBA believed Paul might be going to OKC to die.
But with a resolve that can only be seen as commendable, Paul has willed his Thunder teammates to wins and showed that he never "fell off."  He's been a winner his entire career.
"Flashback? From what?" 😂

@3DTV catches up with @CP3 after his heroic 4th QTR/OT performance! #CenterCourt pic.twitter.com/Z3iyeObGsl

— NBA TV (@NBATV) January 8, 2020
Even with the beautiful story of Melo's comeback, Rose's tireless efforts to recreate himself and play the game he loves at a high level, and Paul's resiliency, the best revival of this young NBA season might not fall to these bright men.
---
Enter Dwight Howard.
Howard was well-documented as being immature and a bad teammate for the past several years. His first stop in LA didn't work out, and then the same results occurred in Houston, Atlanta, Charlotte, and Washington.
The Lakers took a flyer on Howard this offseason after Boogie Cousins went down, signing him to a non-guaranteed contract. Lakers' fans groaned and the opposition laughed at the Lakers' desperation and futility.
Since then, however, Howard has been one of the best backup big men in the league, has played his role to perfection, and has been a consummate professional and voice of reason in the Laker locker room. And he's hitting 3's?
Dwight Howard for 3?!

Sorry Knicks… pic.twitter.com/xRYIn1zqp4

— Dime (@DimeUPROXX) January 8, 2020
Howard reshaped his body over the offseason, and with a perfect dosage of minutes off the bench, has been a force on the glass and in the paint. But the even more surprising aspect of Dwight's turnaround is his positivity and leadership for the Lakers.
Dwight Howard seems to perfectly sum up the @Lakers vibe this year: "It's great. All our guys are just happy, and just want to win. There's no egos, there's no pride. There's nothing but pure joyful basketball." pic.twitter.com/tNPJOWZ5xP

— Check out @FirstBallotPod (@GotEm_Coach) January 8, 2020
With Melo and Rose hitting game-winners, Paul willing his team to a win, and Howard hitting a three and becoming a Laker fan favorite, last night was truly special.
The stars of the beginning of the '10s listed doesn't even include Lebron James and the absolute show he is putting on at age 35. He is set to lead the league in assists, a feat he has never accomplished, in his 17th season.
Also, Dwayne Wade might be retired, but his entry into work off the court has been as seamless as his work on it was.
Wade is a role model husband and father, and though he is no longer playing, there is no player in the last 20 years of the league that commands more respect than Wade.
The young guns of the NBA (Giannis, Luka, Ice Trae) may be deservingly getting a lot of the shine right now, but it is clear, the old heads still run the league.