The iPhone X is finally here and pretty much everyone got dubbed
If you were able to pre-order the iPhone X consider yourself lucky. This was one hell of an investment because it sold out within 20 minutes.
Even if you were able to bypass the bugged out Apple Store App it could still take a while. During the pre-order kickoff, shipping times continued to worsen.
After the first five minutes, delivery estimates in the US went from 1-2 weeks falling rapidly to a 4-5 week wait. Some people might not even get their phone until Christmas.
The unlucky ones are the iPhone lovers that missed out and can't wait for Apple to produce more. They will have to cop elsewhere.
This made me realize that this isn't Fall, it's hustling season and iPhone X fanatics are about to be played like a Gameboy.
After researching the resale prices on eBay and Craigslist, smartphone hustlers are about to make as much as the price of a used car.
Originally the 64GB iPhone X went for $999 and the 256GB for $1,149. Now resale prices for the phone have skyrocketed to around $6,000 and up.
That's a come up.
We even came across an eBay listing for an iPhone X that was priced at a whopping $60,000.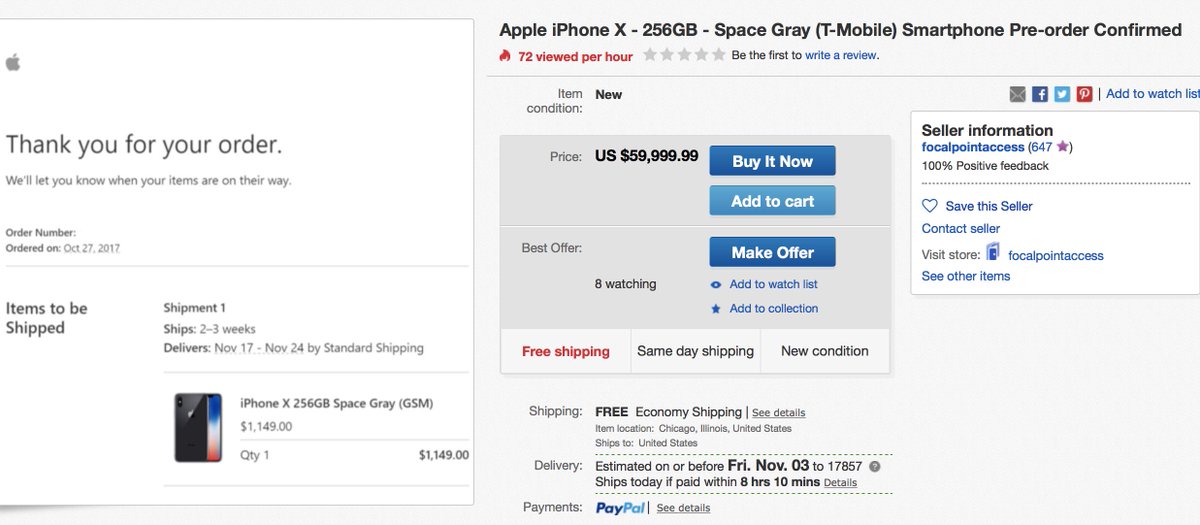 Sheesh!
Just to put the price into perspective if someone did drop that much cash on a phone the seller would be able to drive away in a brand new BMW 5 Series and still have $10,000 to spend.
https://giphy.com/gifs/what-jackpot-Tp1o9XT262WUU
That's a lot of coins. The funny thing is that this is real and people are probably going to drop an unbelievable amount of guap on the iPhone X.
The supply won't meet the demand until 2018. According to tech analyst Ming-Chi Kuo in a report from MacRumors, this is the most expensive phone Apple has ever produced,
"We believe the fullscreen design and facial recognition features will drive replacement demand for the iPhone X. However, due to supply constraints, we expect market demand won't be fully met before 2018."
That fullscreen design will also break your pocket. if you don't have AppleCare a replacement screen will run you $279. That is the most expensive repair to date.
The iPhone 6 screen replacement is $129 and the iPhone 8 screen is $169. According to the pricing analysis done by MacRumors, all other out of warranty repairs will break your tiny Apple heart.
If you fuck up your iPhone X and the warranty doesn't cover it look forward to dropping $549.
Yes, $549! People are better just buying two iPhone Xs. Dropping the paper on that broken phone would be just like investing in an old car you love. I can't believe that I can compare fixing a phone to a car repair.
Really reminiscing on the old days when phones were simple. They were just used to talk and text. Might just have to go back to a flip phone.
OOOOOF!