#TBT to the 10 most pivotal wrestler theme song changes of all time
A wrestler is usually defined by in-ring action as well as how they can speak on the microphone. Other aspects are taken into play like ring attire and whatever wild backstory WWE concocts for that character.
A really underrated aspect wrestling fans take in when seeing a debuting wrestler is theme music. Sometimes theme music sets the tone for a certain character.
Most of the time, we sing along to themes such as with Shinsuke, Bobby Roode, John Cena, etc. Some theme songs make us dance while some sound badass.
Some wrestlers ditch an old, uninteresting, or horrible theme and grab one that wakes up the fans signaling big things ahead.
Here are the ten best theme switch-ups in WWE.
1. Triple H from "My Time" to "The Game" by Motorhead
Triple H cemented himself as a main event heel, going from the goofy leader of DX to a main event-level heel by joining the Corporation.
He adopted a new theme "My Time " in accordance with his slow rise to the main event.
He had won three WWF championships by the time 2001 rolled around.
Triple H began to dub himself as "The Game" claiming that he's the best in the game and received new entrance music.
Sung by Motorhead, the Valkyrie-esque rock vibe as well as the scratchy vocals of Lemmy changed Triple H's perception in the WWE.
He went from a rising main eventer to a reliable worker and icon in the ring as well as out.
---
2. Edge from "Never Gonna Stop" to "Metalingus"
Edge was an amazing tag team wrestler winning 12 tag team belts and being one of the innovators for the TLC match.
As part of the Brood, they had a pretty sick entrance song and Edge and Christian as a team, had a pretty nice theme.
They got over with the audience due to their comedic skits such as the Five Second Pose as well as in ring.
https://giphy.com/gifs/wwe-edge-royal-rumble-1NJirF1oQSplS
After going on to win KOTR in 2001 he got a theme in "Never Gonna Stop," but the theme seemed awkward and didn't fit Edge well.
Edge needed that nudge to push himself into the main event.
He adopted a new moniker "The Rated R Superstar" and changed his theme to "Metalingus" by Alter Bridge which fit the character of Edge perfectly.
Plus the opening riff to that song is so badass that you're swinging your head along to it while Edge does that march to the ring.
It's an iconic theme and one Edge utilized perfectly.
---
3. Kane from "Out of the Fire" to "Slow Chemical"
Much respect to Kane, as the dude's been wrestling for more than 2 decades and accomplished a lot.
He debuted at Badd Blood 1997 as the kayfabe brother of the Undertaker. He ripped off the doors to the Hell in a Cell structure and attacked Undertaker.
Kane debuted with a pretty generic dirge as his theme but during the late '90s, that all his character needed.
As he went back and forth from face to heel, he always seemed like his theme needed an update.
In 2003 after Kane had unmasked for the first time, he debuted a new, darker theme. "Slow Chemical" was a welcome change to Kane's old and tired theme.
Kane became a more calculating and cold character and the black towel? Nice touch.
---
4. Stone Cold from "Ringmaster" to "I Won't Do What You Tell Me"
"Stunning" Steve Austin was a midcarder in WCW. He was apart of the Dangerous Alliance and reigned as WCW Television Champion.
He was promised a main event push and a match against Sting for the World Title, however it was all scrapped when Ric Flair and Hogan came in.
He found tag team success as part of the Hollywood Blondes along with Brian Pillman but more disputes with WCW led to his firing via fax.
Pissed off, Austin ventured into ECW, where he cut vicious shoot promos on WCW and wrestling in general, showcasing amazing mic skills.
https://giphy.com/gifs/city-hate-lot-6skHqnfSxzh5e
When Austin was signed to WWE, he was given the very forgettable "Ringmaster" gimmick and Ted DiBiase Sr. as his manager.
Austin asked for a gimmick change and WWE gave him horrible names like Otto Von Ruthless, Ice Dagger, Fang McFrost, and Chilli McFreeze.
Over a cup of tea, he came up with the Stone Cold moniker.
With this, he grew a goatee and shaved his head bald and adopted a more aggressive anti-hero persona.
https://giphy.com/gifs/stone-cold-fHNmkxrfqZ5o4
He also changed his music to that iconic glass shattering rock that has become synonymous with Stone Cold.
Once he won King of the Ring in 1996 and dropped the famous Austin 3:16 promo, Austin became a megastar in the WWE.
https://giphy.com/gifs/xUPGcCSglJXB5WR6bC
Once you hear that glass shatter, you know that it's time to raise hell and whoop ass.
---
5. Hulk Hogan from "Real American" to "Rockhouse"
Hulk Hogan was one of the biggest stars in the early days of the WWE. He helped put the company in the mainstream.
The popularity of the Rock n Wrestling Connection helped stage the first ever Wrestlemania.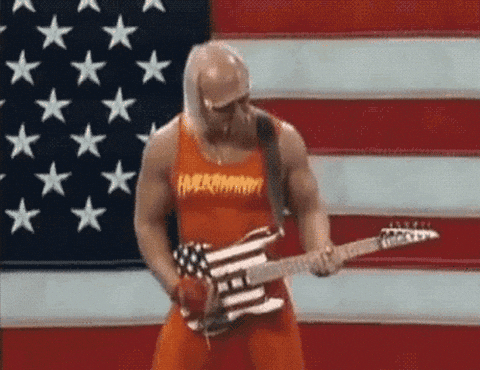 Hogan was a charismatic wrestler who was the everyday American hero: big muscles and that iconic red and yellow attire.
His "Real American" theme song was one of the most iconic theme songs of the '80s.
His return in WCW was pretty similar to his WWE run with all cartoon villains beating down the babyface hero.
However, audiences had evolved by the '90s. Fans were tired of the same old cartoon garbage so the business began to adapt.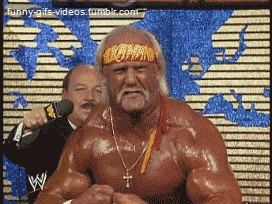 July 7, 1996 will forever live in wrestling history as the day Hogan turned heel.
He traded in his red and yellow tights for black and white emblazoned with lightning bolts and dubbed himself "Hollywood" Hulk Hogan.
His heel turn and faction, the New World Order would gain a new theme called "Rockstar," which was a much darker rock song than the upbeat "Real American."
The nWo would skyrocket in popularity and the Monday Night Wars between WWE and WCW were in full swing.
---
6. Shane McMahon from "No Chance in Hell" to "Here Comes the Money"
Shane McMahon is probably one of my favorite authority characters simply because of how much he punishes his body for the fans' entertainment.
He had a talent for the business but started off as the boss' son and was always following his father.
He initially came out to his Dad's theme, however, he started to break out of his dad's shadow by doing crazy maneuvers in the ring.
Shane may not be a ring technician but he sure knows how to fly.
https://www.youtube.com/watch?v=JvHuQ4QoRyU&spfreload=10
He separated himself from his father and got that awesome sounding "Here Comes the Money" theme.
He fell 50 ft. from the Summerslam scaffolding, went through riot glass twice, and finished the match concussed as hell. Dude even jumped off the Hell in a Cell last year at Wrestlemania.
https://giphy.com/gifs/shane-mcmahon-vjGrTETKR4pig
Shane really is one of the greatest high flyers of all time.
---
7. John Cena from "Basic Thuganomics" to "My Time Is Now"
John Cena made his debut in 2002 and to me his run as the "Doctor of Thuganomics" was entertaining.
After turning on his tag partner Billy Kidman, Cena became a heel and debuted a character who rapped and rhymed all of his promos.
The "Basic Thuganomics" theme fit the heel Cena perfectly as he'd verbally toast crowds everywhere.
Also, that theme was made by Cena himself, who has some pretty good skills on the mic.
As he grew into the main event babyface that would never turn heel again, Cena adopted that meme factory theme song also made by Cena.
"My Time is Now" is synonymous with Cena and cemented him as the next big face of the company.
https://www.youtube.com/watch?v=5LitDGyxFh4
Cena is currently tied with Ric Flair for most World Title reigns at 16 and is a positive figure outside of WWE, granting the most wishes in Make-A-Wish Foundation history.
Love him or hate him, Cena is a great worker and has built a legendary career.
---
8. Brock Lesnar from "Enforcer" to "The Next Big Thing"
Brock Lesnar is just a monster in and out of the ring. When he debuted in 2002, he looked like a beast doing things most guys couldn't.
A guy of his size shouldn't be able to move as fast and agile as Lesnar does.
He debuted with some generic jabroni garbage that sounded pretty ok for his character.
He entered the 2002 King of the Ring tournament and got a theme change in the form of "The Next Big Thing" which was also what Paul Heyman had dubbed Lesnar.
https://www.youtube.com/watch?v=iAzjumNPxaI&t=10s
After beating RVD in the finals of the KOTR tournament, Lesnar went on to become the youngest WWE Champion in WWE history by beating the Rock for the belt.
Lesnar's star only shot higher as he went on to become UFC Heavyweight Champion, IWGP Heavyweight Champion, snap the Undertaker's streak, capture the WWE and Universal titles later in his career.
The Beast Incarnate truly lives up to that moniker.
---
9. Batista from "Testify" to "Monster"
Batista was one of those guys who debuted with the right idea but wrong gimmick.
He debuted as "Deacon Batista" the guardian of Reverend Devon's "building fund" and had that horrible "Testify" theme.
He looked like a freak of nature and more of the muscle of the group than a church figure.
Once he got away from the Deacon gimmick, Batista became the muscle of Evolution and went on to win Tag Team Gold with Ric Flair.
Batista began to grow as a star and won the 2005 Royal Rumble and went on to beat his former mentor Triple H at Wrestlemania for the World Title.
Batista's skyrocketed and became a staple of the main event over the years even with his acting career starting to take off around the same time.
He plays Drax in one of my personal favorite Marvel movies: Guardians of the Galaxy.
Batista does it all in and out of the ring and is one the greatest superstars in recent memory.
---
10. Randy Orton from "Burn in My Light" to "Voices"
Randy Orton started his career as a babyface before turning heel and joining Evolution.
Under Ric Flair and Triple H's management, Orton grew on the mic and in the ring. He went on to win the Intercontinental Title at Armageddon 2003.
He also became the youngest world champion at the age of 24.
Once he separated himself from Evolution, Orton went on to greater success and soon enough he went from "Legend Killer" to "The Viper."
The Viper persona was more cold and calculating and he embodied many snake-like traits like his eyes and body movements in the ring before hitting the RKO.
He got a new theme in "Voices" which cemented his new persona.
Orton went on to win 14 World titles and won 2 Royal Rumbles in his career.
Even though he can be sometimes boring in the ring, you can't even hide the fact you tried the RKO when it blew up as a meme.