Tottenham Hotspur F.C. is coming off arguably its most successful season in club history, one in which they finished fourth in the Premier League table and reached the club's first UEFA Champions League Final.
Today, they are extraordinarily better. On July 2, the Spurs, or better known as just signed Tanguy Ndombele for €62 million ($70 million), and a possible €10 million in add-ons.
🇫🇷 #WelcomeTanguy 👋#COYS ⚪️ #THFC pic.twitter.com/2LMwHXfAwO

— Tottenham Hotspur (@SpursOfficial) July 3, 2019
A year without any ink, that's an extremely long time for a club. Before Ndombele's signing, Tottenham had not entertained the idea of a new player since Lucas Moura in January of 2018.
Still, even without new signings, the Spurs reached great heights last season. Under the team's current manager, Mauricio Pochettino, they consistently finished in the top four of the Premier League.
Pochettino has not been shy of his admiration for Ndombele, a player that perfectly fits his system. Pochettino has been at Tottenham for five years, and every year the team has improved.
Now with Ndombele, this season should play out even better. The midfielder, footballing Frenchman was born to parents of D.R. Congolese descent. After being released from Guingamp Academy at 16-years-old, Ndombele thought football might be over for him.
But he got a chance at Amiens, a club one division lower than Lyon, and after leading them to promotion in 2017 for the first time in the club's 116-year history, Lyon signed him for €7 million. This was a huge trajectory indicator to where he is now.
https://twitter.com/COYS_com/status/1146062059483717634
In the Champions League Final only a couple of months ago against Liverpool, Tottenham's midfielders looked outmatched against the stronger and fresher Liverpool players. Ndombele was sure to fix that.
The decision to sign Ndombele was very lowkey, but that makes it even better. This record signing for Spurs could be widely accepted as a bargain in a few years, as Spurs have Ndombele signed until 2025. The Frenchman is only 22, also, and could enjoy the best part of his career while at Tottenham.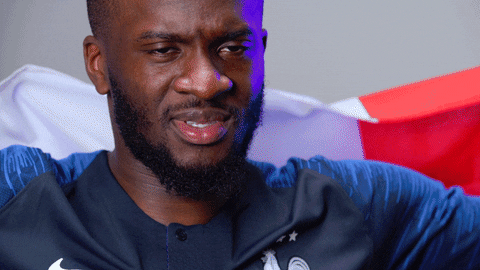 For one, it shows that the club is willing to spend. Daniel Levy, chairman of Tottenham, has been frugal at times in the past, sometimes excessively so. In the final meeting with Ndombele, Levy told him, "you will not leave until you have signed with us," (L'Équipe).
Secondly, this move shows that Pochettino has the full support and trust of Levy, which is paramount to a successful team. And why shouldn't he? Before Pochettino, Spurs were swapping in new managers every year or so, and with new managers comes new systems, and, also, new problems.
Levy is reaping the benefits of the culture and style of play Pochettino has imposed, which is even more important as Spurs just moved into a new stadium in North London in 2018.
Ultimately, the signing of Ndombele fills the biggest hole in Tottenham's squad. Their front three of Dele Alli, Harry Kane, and Son Heung-min are signed and set.
View this post on Instagram
Their defense is as strong as it has ever been. Ndombele completes their midfield and is set to be a presence in front of central defenders. He'll perfect provider of passes to the star forwards.
Nbombele is strong and wisely uses his body to shield off opposing players from the ball. He is also very quick and precise with his passes. He reminds me of Paul Pogba, and not just because they are both strong and French, but because oth players craftily use their bodies for leverage and in tight spaces.
They both use their long legs to chip the ball over defenders and take long touches. And of course, they are both great at intercepting and passing the ball.
His control of the ball and game is astounding.
https://youtu.be/bRe_gxXO6yM
The Spurs have always been a top club and in the scope of success, they come very close to their English rivals Manchester United, Chelsea, Arsenal, Liverpool. Now, with Ndombele the throne is within reach.
Tottenham's next goal should be to add depth to their roster (possibly after the sale of Trippier and Eriksen). Their fatigue was evident in the final against Liverpool, and they need quality substitutes to replace out of form players.
For a club that has been fairly ridiculed for "bottling" or "choking" in big matches and spots, Tottenham could have done the same here and saved their money. Instead, they continued their recent trend of squashing this narrative.
Tangy Ndombele may very well already be a superstar. Just most of us just haven't seen enough of him yet.