The legacy of Nipsey Hussle was about Black and Brown communities organizing and dominating economically in order to fulfill generational success. Still, there are others that preach and inspire the same sentiments.
One of those people continuing the marathon is Killer Mike aka Michael Render and his political views are important to consider.
The Panel
On a recent panel for REVOLT TV made possible by mogul Mr. Sean Combs, Killer Mike struck a chord with Black audiences tired of the political reality of America.
After a very polarizing conversation between the conservatives and liberals on the panel, discussing disappointment and anger towards the democratic and republican parties respectively, Killer Mike stepped in.
"What y'all are seeing right now are free people arguing over who got the best master."
https://www.youtube.com/watch?v=xX1ZbBgRntU
---
Killer Mike's Politics
Killer Mike has always expressed his interest in uniting the Black community and using successful past strategies to do so. His knowledge of history especially that which pertains to Black, Brown and Native History in the U.S. provides a solid base for his political thought.
As a staunch anti-gun proponent, his pro-gun views actually make sense. Despite the very logical understanding abolishing gun ownership, the anxiety is that giving away a right would affect the safety of Black communities first.
His controversial (and subsequently diluted) interview on NRA TV created a rift with progressives who are often anti-gun persons.
---
The Plan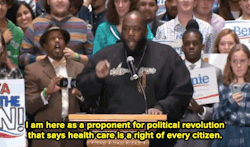 But Michael Render is not a talking head for conservatism, neither is his support for Bernie Sanders based on democratic allegiance. Killer Mike's message has been reiterated in interviews, in his songs, on his Netflix show Trigger Warning, and finally clearly laid out on the REVOLT TV panel.
Do your research. Act as a unified group. Create an agenda.
Require government powers on the local state and national level to contend with that agenda. Vote, support and engage civically with that power. It all seems vague, but if you dig deeper into Killer Mike's political views there are specific ways in which this economic and political power can be wielded.